Pacific softball: Kadena still has Kubasaki's number
---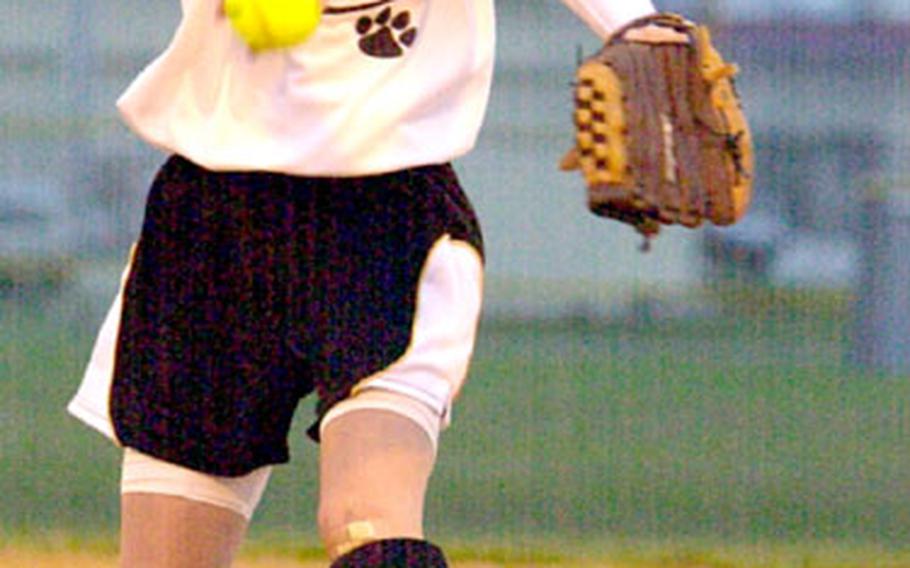 CAMP FOSTER, Okinawa — Different type of softball, same result.
Senior Lindsey Davis belted two extra-base hits, drove in two runs and stole home, and her freshman sister, Kara, pitched no-hit ball for 4 2/3 innings Thursday as the Kadena Panthers beat the Kubasaki Dragons 18-8 in five innings in their first meeting this season.
"Very good night for them," said the Davis' father, Tony, the team's assistant coach.
Kadena continued its perfect run against Kubasaki. In 2003 and 2004, the teams played slowpitch softball against each other; this season, the league has converted to fastpitch, and Kadena has four returnees and eight freshmen on its 13-player roster.
The key, Tony Davis said, is not so much the team's ability or numbers, but its attitude.
"They work hard, every time they hit the field, be it a game or practice," he said.
Lindsey Davis' bat helped Kadena take a 9-0 lead after 2½ innings. She tripled in a run and scored on a wild pitch in the first, added a sacrifice fly in the second, then doubled and stole home in the third. Kara Davis added a run-scoring fielder's choice in the third.
Davis also appeared heading toward adding her name to a series of stellar Pacificwide pitching performances this season. She retired the first 10 Dragons in order, striking out four, before Monique Chino reached on an error, stole two bases and scored on another error.
Kadena padded its lead with a nine-run fourth inning, keyed by freshman Samantha Fox's bases-clearing double. She scored on Trista Ritter's double.
Kubasaki broke through for seven runs in the fifth. Chino singled in two runs and Courtney Griggs added an RBI hit — the only hits Kubasaki managed in the game — off reliever Stacey Ware, who began the game at second base. Kara Davis, who moved to the outfield, returned to the mound to get the last two outs.
Seoul American's Goodman passes test against Korean team
YONGSAN GARRISON, South Korea — After winning his first two games by a combined score of 21-0, Seoul American Falcons left-hander Mike Goodman expected a tougher test against Young Nam High School, a Korean team.
He gave up his first two hits of the season and issued five walks, but struck out 14 in a complete-game shutout as Seoul American prevailed 1-0 at the Lombardo Field FourPlex.
"They definitely follow the ball better, they were students of hitting, they had good mechanics," Goodman said of his Korean opposition.
"This was a good outing for Goodman," said coach Boe Roberts. "He came up with big outs when (Young Nam) threatened (and) he kept us in the game and gave us an opportunity to win the game."
Giovanni Rosa doubled in Goodman for the game's only run in the third inning. Goodman had two singles in two at-bats.
It could have been worse for Young Nam; the Falcons (5-0) stranded 12 baserunners.
"We have to do a better job of driving in runs when we have guys in scoring position," Roberts said.
After easy victories in recent Department of Defense Dependents Schools-Korea League games, Roberts was pleased his team passed a stern test.
"I thought the team did a good job of handling a tight ballgame," he said.
Goodman has not allowed an earned run in 14 innings and has allowed eight walks and two hits while striking out 32 batters, an average of 2.3 per inning and 16.1 per game.
"My mechanics are coming along," Goodman said. "I can place my curve, I can place my fastball, I'm very happy. It's the velocity I need to work on, bring that up a bit."
---
---
---
---