Pacific hoops teams fine-tuning lineups for upcoming Far East tournaments
---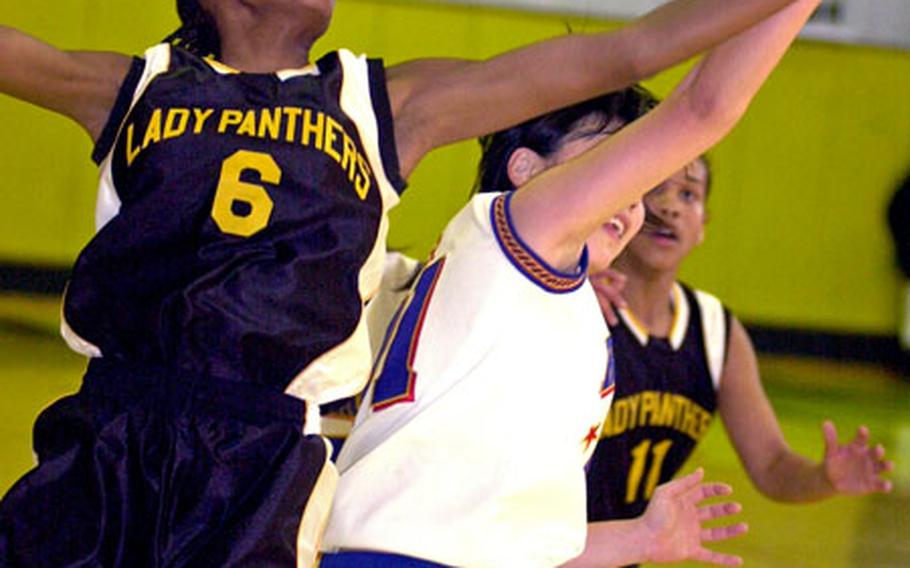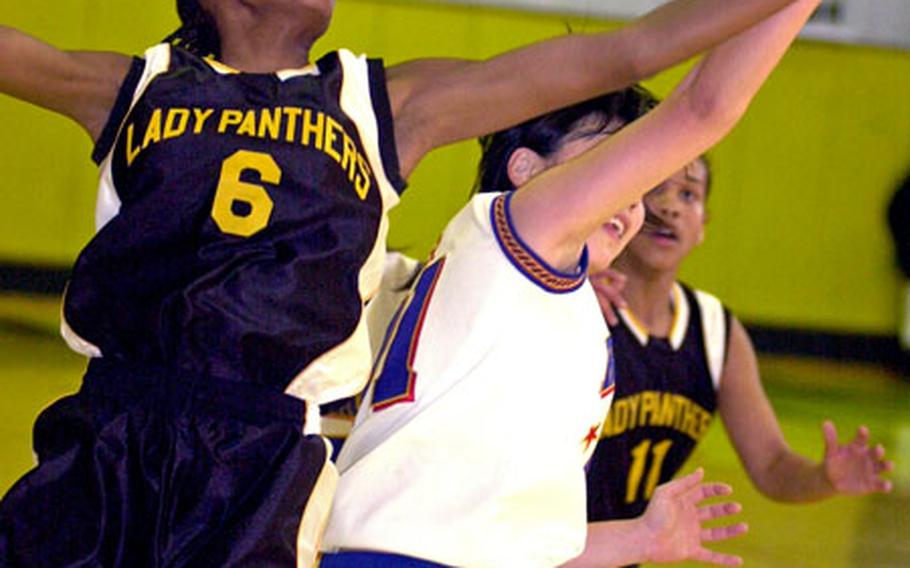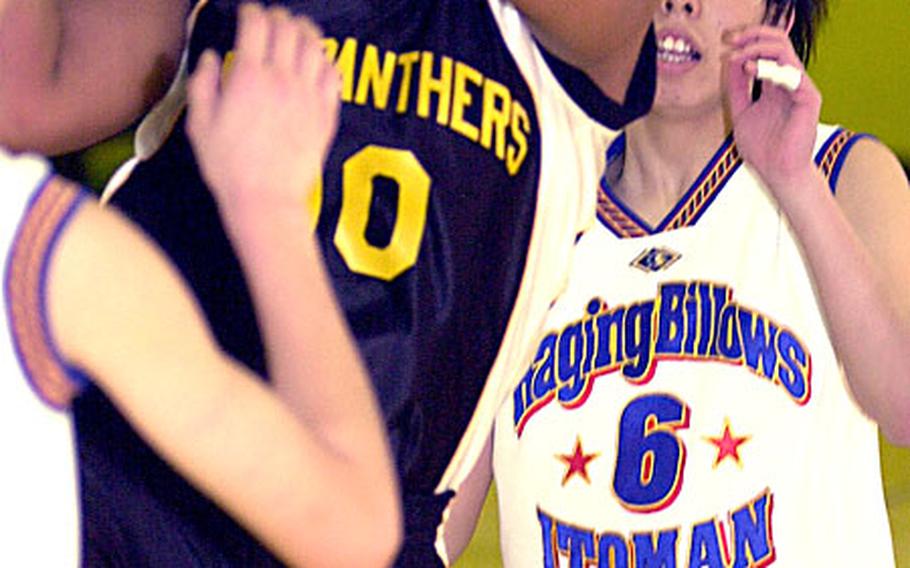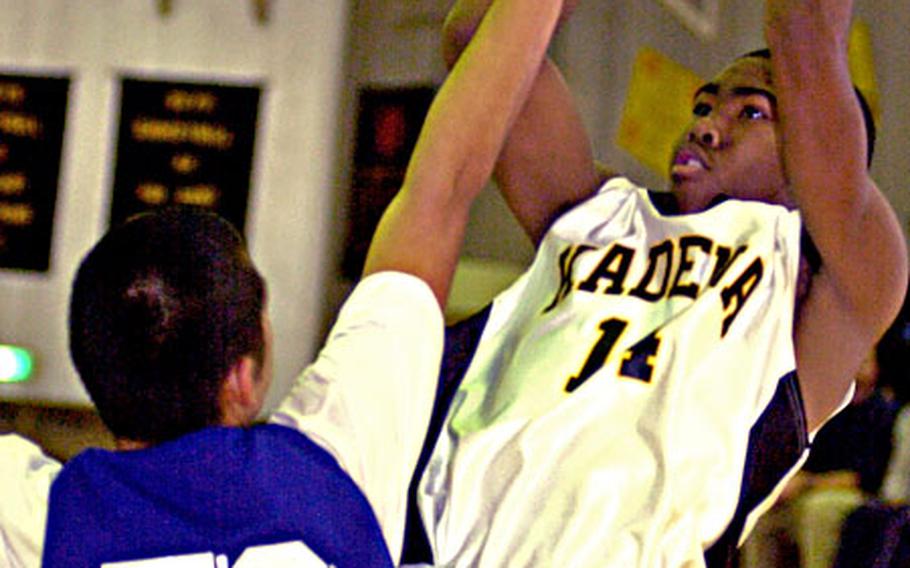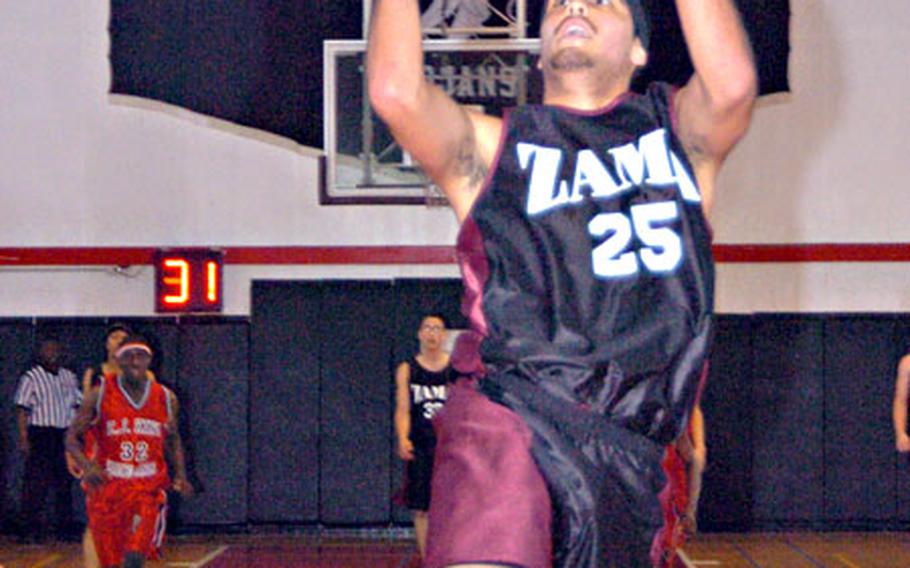 Folks used to seeing familiar faces playing for their favorite high school basketball teams might have noted a slight change of pace this weekend.
Some coaches held out their starters, some to avoid the risk of injury, others to try different lineup combinations. Some sought the best possible chemistry. More wanted to see how subs could handle clutch situations.
All that was part of an effort over the weekend by Department of Defense Dependents Schools basketball coaches from Misawa to Okinawa to determine their best lineups for next week's Far East tournaments.
"Right now, we're carrying 12 players and we can only take 10" to the Girls Class AA Tournament at Seoul American, coach Ken Hudson said after his Kadena Panthers fell 68-67 to Itoman, a Japanese team, in Okinawa-American League play Friday at the Panther Pit.
His team probably could have won the game, Hudson said, if he'd stuck with just his starting lineup and a couple of subs. But this game was about his last-in-line players proving themselves.
"We had to give up a little something and give those others a chance to make the traveling squad," Hudson said. "And we still made a pretty good run at it."
Hudson's boys counterpart, Robert Bliss, hoped to see how well his Panthers could manage without star junior Z'aire Jackson, scoring in the 30s and rebounding in the 20s all season, for much of the game.
Jackson had 29 points and 12 rebounds, but in only 18 minutes, as Kadena rallied from a 13-point deficit to defeat Itoman 83-73.
"I was happy the way the team played without him in the third quarter," in which Kadena outscored the Raging Billows 23-15. "That will be important (at Far East). Somebody needs to take the pressure off of him. We need more consistency."
The Boys Class AA tournament is Feb. 21-26, as is the girls, with Kadena and Kubasaki co-hosting on Okinawa.
Coach Bob Driggs of defending Girls Class AA champion Kubasaki said he'd like to have two extra players, since the round-robin schedule has some teams playing three games in a day.
"We just have to get healthy," Driggs said of a team he calls "a bit bruised. It would be nice if we could carry 12 on the roster."
His girls beat Oroku 87-73 on Friday, while Kubasaki's boys trounced Gushikawa 96-71. Dragons boys coach Chris Sullivan also fears injuries, given Kubasaki's home clash next Friday with Kadena — the final tuneup for both teams heading into Far East.
"Like any coach, I'm nervous about injuries," he said. "We hope that we're peaking and playing better as the weeks progress. We hope we're playing at our best two weeks from now."
The ordeal experienced this weekend by the Japan League-leading Yokota girls is what Ric Cabral hopes will prepare his Panthers for Class AA — they traveled 800 miles by bus to and from Misawa Air Base and played four games in a 20-hour stretch, winning all four.
"That's what's going to happen at Far East," Cabral said.
His Panthers opened by downing Matthew C. Perry 53-28, a Class A team, using mostly subs and a handful of JV players.
Then came three tough contests, 63-53 and 69-63 victories over host Robert D. Edgren and a 66-57 win over the Misawa Jets base team. Those two squads showed a variety of defensive looks that "rattled" the Panthers initially before they regained composure and exhibited solid execution, Cabral said.
Hampering the development and preparation for Korean teams was an unprecedented two-week break in the Korean-American Interscholastic Activities Conference due to the Lunar New Year.
So Taegu American's girls team, preparing for the Girls Class A tournament Feb. 21-25 in Pusan, South Korea, were grateful for the chance to play the Osan Defenders of the Korea Traveling League post-level circuit. Osan beat Taegu 61-51.
"Overall, the girls played well, but still made a lot of mistakes," coach Michelle Chandler said. "Hopefully we can pull it together" for the KAIAC tournament Feb. 18-19 and Class A.
One Class A team that enjoyed a confidence boost was E.J. King, which wrapped up a 14-9 season on Saturday by edging Zama American 54-52 — the Cobras' first victory over a Class AA team this season.
"This win will give us an extra boost of confidence as we head into Far East next week," Cobras coach Bridget Vertin said.
St. Mary's wraps up perfect mat season
Tokyo's St. Mary's International Titans can't participate in the Far East High School Wrestling Tournament later this week at Yokota Air Base, Japan, but they ran away with the Kanto Plain Association of Secondary Schools Tournament title, capturing six individual golds at their home gym — and impressing their DODDS opposition.
"They showed their stuff," said Zama American coach Ian Harlow of a Titans team that won all five of its Kanto Plain dual meets and all four tournaments it entered this season, including last weekend's Nile C. Kinnick Invitational "Beast of the Far East."
"It was their house, they have a great group and they wanted to give their seniors and [retiring coach Jon Rhodes] a good sendoff. They're a tough team," Harlow said.
In an upset, St. Mary's Sonny Libero (158) took down Kinnick's Yamato Cibulka, who'd beaten Libero four times this season.
"I voted for him [Libero] as Outstanding Wrestler because of it," Kinnick coach Robby Rhinehart said. St. Mary's Mark Striegl (141) took the honor instead.
St. Mary's scored 95 points, followed by American School In Japan and Kinnick with 49 each. Yokota placed fourth (46), followed by Zama (36) and Christian Academy In Japan (24).
Two Yokota wrestlers won individual gold, Jeremiah Saffold (101) and Zach Dopslaf (180). Kinnick's Joey Wood (168) and Zama's David Burnett (215) each repeated their tournament titles of a year ago.
St. Mary's and other international schools are no longer eligible for the DODDS Far East, as ruled by the DODDS-Pacific Far East Activities Council in September.
---
---
---
---