Pacific high school roundup: Kinnick girls win Kanto crown
by
Grant Okubo
May 10, 2010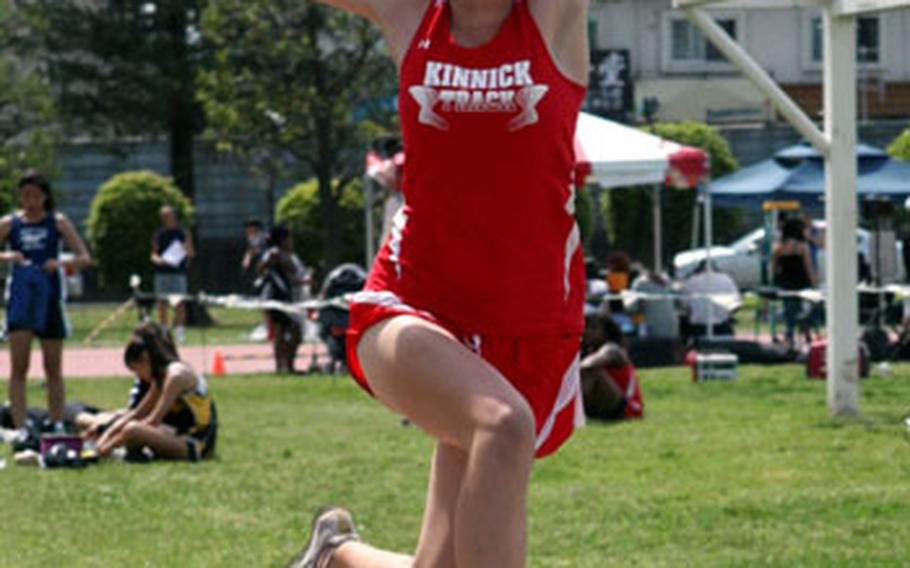 YOKOTA AIR BASE, Japan — The Nile C. Kinnick girls track and field team, an also-ran last year, on Saturday completed an unbeaten regular season and won the Kanto Plain Association of Secondary Schools championship.
"Last year, we weren't even in contention, and this year we made such a large turnaround," Kinnick coach Al Garrido said. "The attitude was different, and a lot of the leader girls like sprint captain Ashley Barnes really stepped up. Their attitude and work ethic was so good this year. I would have been happy even if we hadn't won today."
No league records fell in the meet, considered a prelude to Saturday's Kanto Invitational at Tokyo's Oi Pier Ground and the first Far East meet May 24-25 on Okinawa.
Kinnick, with 120 points, outdistanced American School In Japan (96) and Christian Academy Japan (58) for the girls title; ASIJ (149) easily won the boys meet, followed by Kinnick (97) and CAJ (84).
Multiple winners among the girls included Kelsey Scott of Yokota in the 100 and 200 and CAJ's Sungji Kim in the 100 and 300 hurdles.
Boys multiple winners included Kinnick's Chaun Lynn, the lone triple gold medalist in the long jump, 100 and 200. Distance specialist Sam Krauth of ASIJ won the 1,500 and 3,000.
Sunghoon Kim of CAJ pulled something of an upset in the 400 hurdles, outrunning favored Cory Serfoss of Kinnick 57.2 seconds to 59.2. Serfoss held away in the 110 hurdles with a 15.9.
Kubasaki, Kadena repeat OAC baseball, softball titles
KADENA AIR BASE, Okinawa — Behind the pitching and hitting of Mary Schweers and Desirae Seals, Kadena won its eighth straight Okinawa Activities Council girls softball championship Saturday, sweeping Kubasaki 11-3 and 13-3 in the best-of-three series at Ryukyu Middle School.
This will be the first season that a bigger pot of goal lies ahead — the Far East tournament May 17-20 at Kadena's Four Diamonds complex.
"We still have something else to play for. It's not over," Panthers coach Jesse Costa said. "It's going to be nice to play somebody other than Kubasaki. This legitimizes our sport."
Schweers and Seals each went the distance, with Schweers driving in four runs in the opener and Seals two in the nightcap.
Kubasaki's baseball team also repeated its OAC championship, leaving nothing to chance in a 13-1, 13-1 sweep of Kadena at Camp Foster's Field 9.
Kaleb Robinson went 5-for-5 with three homers and 10 RBIs. P.J. Varner went the distance in the first game and Patrick Duffy got the win in the nightcap.
Coach Randy Toor said he was especially pleased for his six seniors, three of them pitchers, two of which he's had for four years and three for three years.
"They believed in our system and program and took it over," Toor said. "They knew what I expected from them and they produced."
Stars and Stripes sports correspondent Dave Ornauer contributed to this report.