Pacific H.S. roundup: Rain finally makes way for soccer openers on Okinawa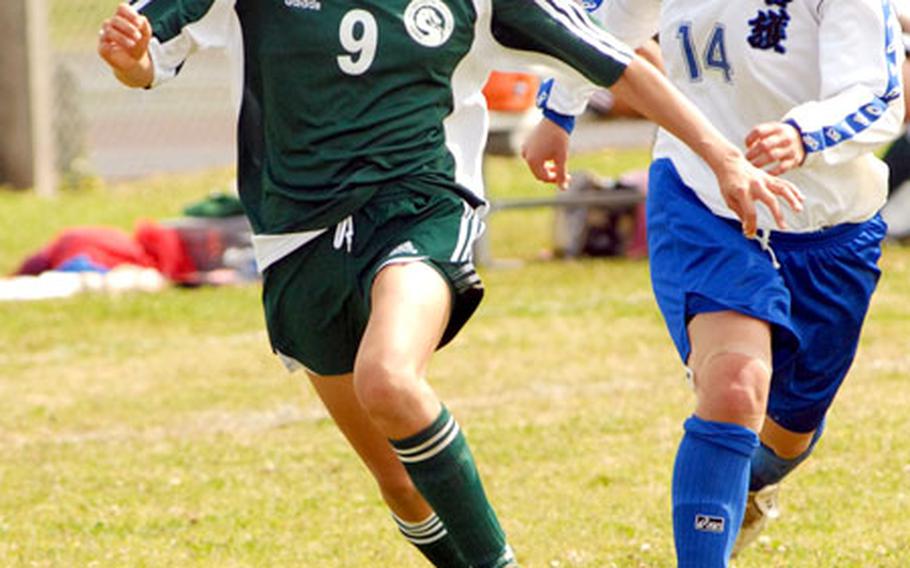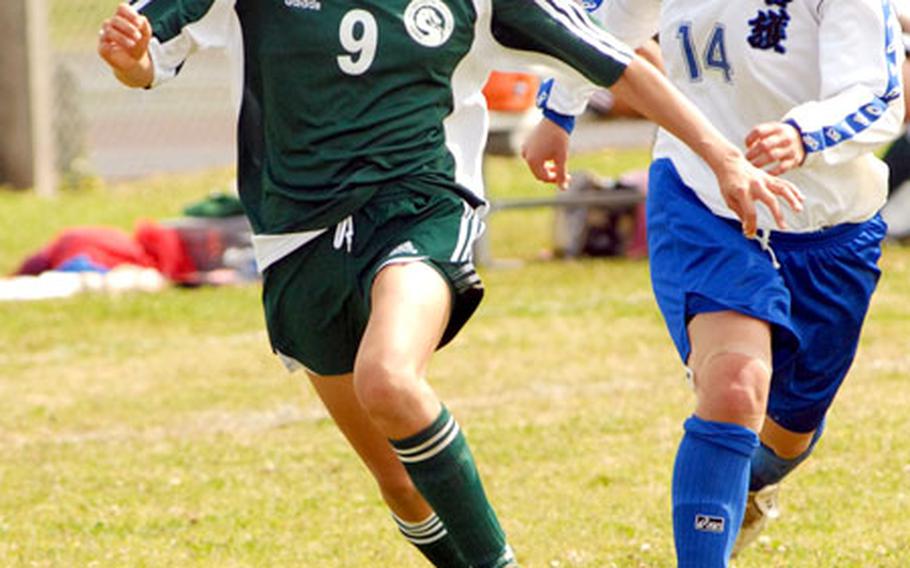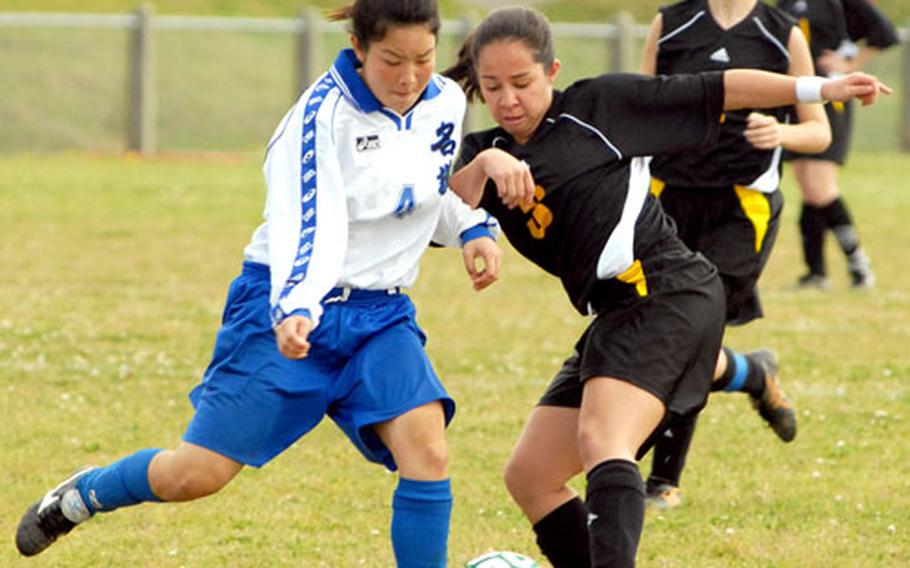 (See scores and summaries here.)
The rain finally moved on after more than a week of showers and downpours, allowing Kadena and Kubasaki to play their openers on Okinawa.
Jen Abel, who holds the Pacific record for goals in a season, scored twice and assisted on Kelsey Decker's score as three-time defending Class AA girls champion Kadena defeated Nago 3-1.
But it was the play of Kyla Feeney on right wing that proved the deciding factor, Kadena coach Hoa Nguyen said.
"She opened things up for the strikers," Nguyen said. "They had two people on Jen (Abel) and that left the left and right sides open."
Newcomer Jessica Osborne scored twice and Kara Koeneke once and Kubasaki held off a second-half rally to edge Nago 3-2.
"A good first effort," Dragons coach Terry Chumley said, adding that her team needs to "tighten up on defense" to prevent late rallies such as Nago's.
Kubasaki's boys opened this season the way they started the 2006 campaign, battling Urasoe to a scoreless tie. The Dragons knotted Kadena 0-0 in last year's season opener.
"We're good at these scoreless ties," Kubasaki coach Chris Kelly said. "It was a pretty even game. We each had a couple of chances."
Dean Harkum's second-half goal rallied Kadena's boys to a 1-1 deadlock with Urasoe.
"We stepped up late in the game," first-year coach Tom McKinney said, adding that the Panthers need to "work more on passing, learing the basics of staying outside and not bunching up the middle."
Falco proves invaluable as third leg of Kubasaki relayMost times, the "anchor leg" runner garners the lion's share of attention on a track and field relay team. But Kubasaki senior anchor Kyera Tennyson deems Gaby Falco, who runs the third leg of the Dragons' 1,600-meter team, as invaluable.
The two combined to help Kubasaki edge Kadena's team by 1.82 seconds, 4:39 to 4:40.82, in the final event of Saturday's Okinawa All-Comers Meet at Kubasaki's Mike Petty Stadium.
"She has the Serafina effect," Tennyson said of a former Dragon, second-leg runner Serafina Smith, whose long strides repeatedly rallied Kubasaki's relay teams in the 2003 and '04 seasons. "Without Gaby, I don't get a chance to help us win."
In other events, Kadena sprint specialist Jeff Morton captured the 100 and 200, while Far East cross country champion Matt Coon of Kubasaki took the 800 and 1,600. Tennyson won the girls 200 and Loren McKinney of Kadena the 100 and Okinawa Activities Council cross-country champion Julie Monti took the 800 and 1,600.
Saturday's meet attracted about 150 entrants, 140 of whom were high school students and just 10 adults, something on which meet organizer and Kubasaki coach Charles Burns hopes to improve by staging another All-Comers' meet in May.
"We want to get more GIs out for that," Burns said.
Zama girls get over defeat, earn soccer split vs. EdgrenZama American's girls team could have been forgiven for dwelling on Friday's heartbreaking last-minute loss to Edgren in the first of two DODDS-Japan Soccer League matches.
Instead, the Trojans used the defeat as a motivator. Freshmen Aubrey Ashliman and Whitney McWherter scored two goals apiece as Zama earned a split by winning 5-3 Saturday after falling to the Eagles 3-2 on Friday.
"I think they were angry about that," Trojans coach Vanessa Little said of Friday's loss. "They just brought it today."
Youth served the Trojans well throughout the weekend, as freshmen and sophomores were chiefly responsible for their scoring.
Sophomore Maia Miller and freshman Anna Park put the Trojans up 2-0 in the first half on Friday, and Zama led through the first 55 minutes ... until the lights went out at Trojans Field, causing a 15-minute delay.
Afterward, Edgren answered with goals by Amber Kers, Mia Angelella and, with two minutes left, the winner by Alyssa Rodriguez.
"We just lost momentum," Little said.
Zama left little to chance Saturday, leading throughout on goals from McWherter and Ashliman goals and a tally by sophomore Rachel Ravelo. Rodriguez and Chelsey Melillo scored for Edgren.
Little and Edgren coach Larry Allen said their squads have plenty to work on.
"Communication," Little said. "The girls aren't used to playing with each other yet."
"This was a learning experience," Allen said, adding that the Eagles need to build depth. "It was an education."
Moving Massey to forward helps Eagles boys soarNew Edgren boys coach Jose Pumarjo first planned to put Brandon Massey at midfield, but prior to the weekend's DODDS-JSL matches at Matthew C. Perry, he decided to move him up front and put veteran Nathan Fine at center-midfield.
The move paid immediate dividends — Massey scored nine goals in three matches as the Eagles soared to a three-match sweep, 7-0 and 4-0 over Perry and 3-1 over E.J. King at Iwakuni Marine Corps Air Station.
The combination of Fine in the middle and Massey up front "seems to be working well. So far, so good," Pumarejo said, adding that he's "surprised" by the Eagles' early success.
"The players are starting to get comfortable with their positions. They're working hard and coming together as a team. The more they play, the more I'm sure of them."
Burns' move sparks FalconsAs Massey's move up front paid off for Edgren's boys, first-year coach Swink Patterson's move of Daniel Burns from right-midfield to center-midfield helped Seoul American's boys "exceed expectations" so far this season, Patterson said.
"I was not expecting us to do this well. I was scared," Patterson said after the Falcons tied Osan American 1-1, giving them a 1-1-1 record after three matches. Patterson cited having just over a week of practice and still deciding on player positioning as reasons to worry.
Following Wednesday's 8-1 loss to Seoul Foreign, Patterson said Burns, a sophomore, approached him and asked to move from right- to center-mid. Seoul American responded by blanking Seoul International 2-0 Friday before Saturday's tie with Osan.
"It gets him more involved with the ball," Patterson said of something that Burns is used to as a basketball point guard and football quarterback. "He asked me to try him there, see how things go and I gave him 15 minutes and he did extraordinarily."
---
---
---