Pacific H.S. roundup: Kubasaki boys end scoring drought on way to first win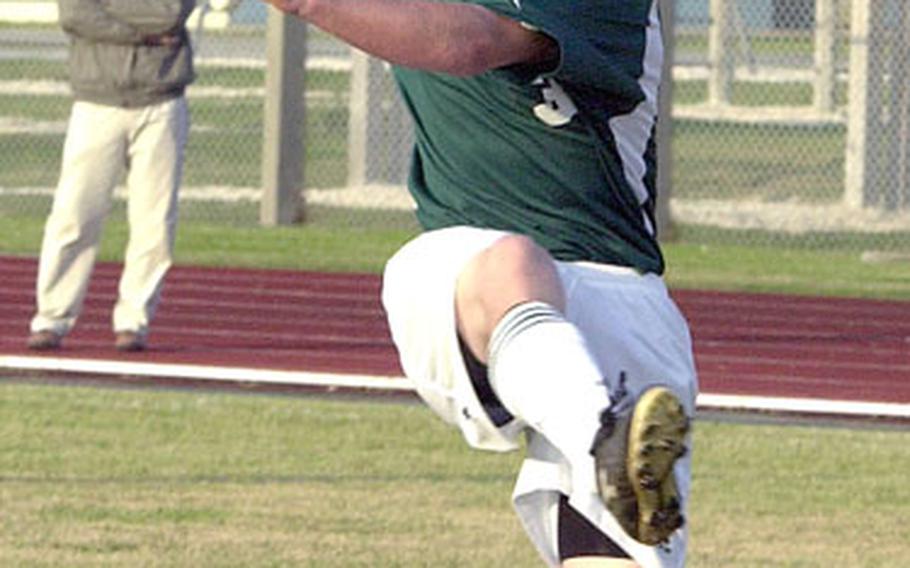 It was starting to seem like the Kubasaki boys soccer team might never score. Following a scoreless tie in last Friday's season opener at Kadena, the Dragons went 49 minutes without a goal in Wednesday's Okinawa-American League contest against Chatan.
Then senior Chris Monroy broke the ice — and the floodgates opened.
Kubasaki scored four times in the last 31 minutes of a 4-1 victory over their Japanese counterparts.
"Motivation and extra push," Monroy said of what helped the Dragons end the scoring drought, which lasted the first 129 minutes of the season. "After we scored, everybody was fighting for the ball. Nobody wanted to give up."
Chatan tied it 1-1 in the 57th minute, but Kubasaki answered two minutes later when senior James Reyes put the Dragons ahead to stay. Monroy added a goal in the 74th, then assisted on Eric Isley's goal a minute later.
It was a strong showing for a team that has struggled since capturing their second Far East Class AA title in 2002. The Dragons reached the 2004 Class AA final, but have gone 18-26-2 the past two seasons, and last year didn't have one goal scorer in double figures.
"We don't want to lose this season," said Monroy, a center-midfielder who led Kubasaki with nine goals despite missing half of last season with a leg injury. "We want to work hard and take it to the top this year."
Kadena's LaGrave ramps up offensive gameIn his sophomore and junior seasons, Kadena center-midfielder Nathan LaGrave spent much of his time creating plays for others. In his senior year, coach Michael Callahan views him as more of a scoring weapon.
LaGrave put the Panthers ahead for good in the 57th minute and the Panthers matched Kubasaki's 1-0-1 start by edging Urasoe, another Japanese team, 3-2 at Kadena High School's Upper Field.
"He's improved in all areas," Callahan said of LaGrave, who will play next fall on partial scholarship for Division I Bucknell. "But he's raised his technical level and has increased his knowledge of the offensive third of the field. We need him to be more of a striker."
Kinnick girls going strongWith 38 goals in their first five games, all victories, Nile C. Kinnick's girls have begun comparing themselves to past Red Devils powers, such as the team that reached the 2000 Class AA tournament final and the one that took third place in 2004.
"I would say we measure up well," coach Nico Hindie said after Kinnick's 11-1 rout of St. Maur International on a cold, rainy night at Ikego Heights Naval Housing Facility.
The difference, he said, is Kinnick's attack isn't centered around one or two scorers but is instead spreading the wealth among a variety of weapons. "We don't have the superstars," Hindie said. "Instead, we have 18 girls working really hard and it's paying dividends."
Seoul American teamss suffer first losses of seasonAfter winning their first five matches, Seoul American's boys and girls soccer teams suffered their first setbacks of the Korean-American Interscholastic Activities Conference season, each falling at home to unbeaten Seoul Foreign.
The girls game was settled when Stephanie Lim tallied her 10th goal of the season in the closing seconds of Seoul Foreign's 2-1 victory.
"I thought it was over. I thought we were out of time," Crusaders coach Joon Myong said of the goal, which came during stoppage time placed on the clock due to in-game injuries. "That gave us the extra time we needed. We know they (Falcons) always have athletes and that it would be a tough match. Respect is definitely there."
The boys game was more one-sided, as sophomore Remco Rademaker, the Pacific's scoring leader with 19 goals, got his 50th in 1½ seasons as Seoul Foreign blanked Seoul American 3-0.
Kadena baseball back on winning trackPutting a nightmarish opener behind it, Kadena's boys baseball team got back on the winning track, as Michael Mizell pitched three-hit ball and helped himself by going 3-for-4 with three RBIs in a 12-2 victory over Naha Spirit on Tuesday at Chibana Recreation Area near Kadena Air Base. The game ended after five innings due to rain.
Kadena rebounded from an 18-4 loss to Kubasaki last Saturday, the Panthers' first loss in 13 tries against the Dragons.
"Today, we played like the team I knew we were, solid in all aspects of the game," coach Allan Mizell said. "This type of performance is what I expect out of my players on a daily basis. It was nice to come out and show what we can actually do on the field."