Pacific H.S. roundup: Kadena sets 400 relay records, sweep Okinawa track crowns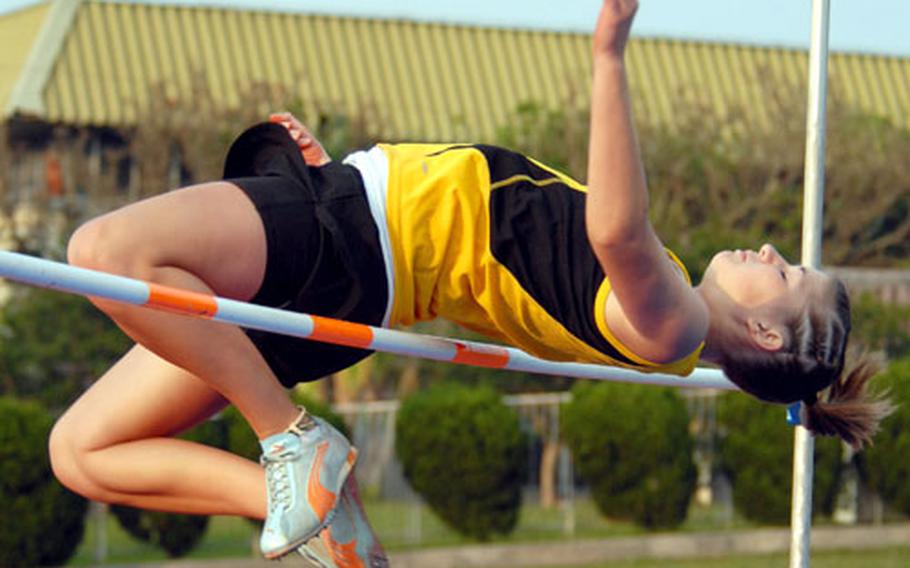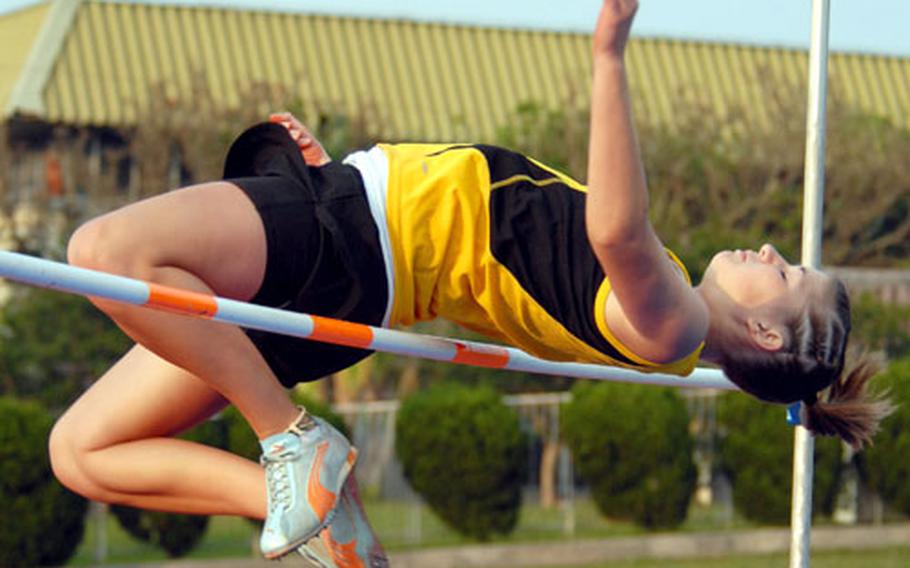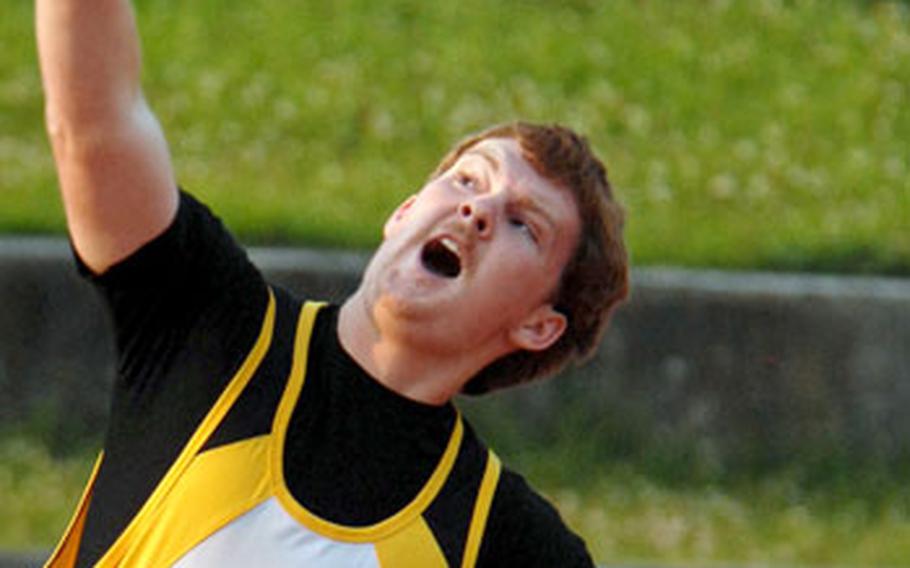 Whether as part of Kadena's 400-meter relay teams or as 100-meter sprinters, Shun Bowens and Lorien McKinney showed they felt the need for speed Friday.
Bowens, a senior, and McKinney, a junior, ran personal bests in the 100 and anchored the Panthers' relay squads to meet records in the Okinawa Activities Council district track and field championship.
One caught a hint, perhaps, that the 400 relay records were going to tumble after Bowens rallied to catch Kubasaki's Marquette Warren halfway through the 100, edging him 10.98 to 11.09 seconds.
Warren took about a meter's lead from the start and appeared to have the race in hand, until Bowens flagged him at the 60-meter mark.
"My finish isn't good," Warren said. "I had him easy. I had everybody easy from the jump. But in the middle, he caught me."
About 40 minutes later, Bowens, fellow seniors Roosevelt Payne and Ernest Carr and junior Brandon Harris broke the 400-relay mark. Bowens' final leg ensured a finish of 43.83 seconds, topping the 2-year-old mark of 44.2, also set by Kadena.
"That's how we do it," the exultant Bowens said after his anchor leg.
McKinney outlasted teammate Jazzmine Baker 12.80 to 13.00 for her second straight district title. Kelly Colbert of Zion Christian Academy was third in 13.21.
"It feels special," McKinney said of being the fastest high school female on the island. But the junior feels she can do better.
"I have one more year," she said. "I hope I can improve by the end of my high school years, by at least a second, in the high 11's. I think it's possible."
But she wasn't done for the evening. Running anchor, she helped Kadena complete a rewrite of the 400 relay record book, clocking a 51.90. That edged the old record set last year by Kadena by .08 seconds.
"That's an example of what team can do," Kadena senior captain Shelby Witschen said. "I expected us to win. A record is always good. I knew we had it in us."
The records helped Kadena capture both the boys and girls team titles, outdistancing Kubasaki 86-59 and 62-53, respectively, and leaving Panthers coach Beth Pulaski bursting with pride.
"They worked really hard and earned it," she said. "Sometimes, the journey is more valuable than the result. It was, in this case."
All that highlighted an OAC district meet held for the first time in an off-base venue.
Koza Civic Stadium, just outside Kadena Air Base's south Gates 2 and 5, opened its doors to the meet. Until this year, Kubasaki's Mike Petty Stadium hosted the meet annually.
"It's pretty fun," said Kadena junior Roman Harris, who won the shot put with a throw of 37 feet, 6½ inches. "Different from Petty. The stadium is great. The facility is awesome. If we could hold all our season meets here, that would be great."
Soccer: Kubasaki seizes season series from KadenaIt took another razor's edge finish, but defending Far East Girls Class AA champion Kubasaki earned its first OAC season-series victory over Kadena since 2003. That came via a 4-3 shootout after the teams went scoreless through regulation.
"They have the shooters," Kadena coach Hoa Nguyen said. "They played good defense and they hit four of five in the shootout. Solid. They deserved it."
Meanwhile, the boys season series will come down to a final contest on May 9 at Mike Petty Stadium. Kubasaki edged Kadena 2-1, tying the season series 2-2 with the goal margin dead even as well.
"It wouldn't be Kubasaki-Kadena if we didn't make it interesting," Dragons boys coach Chris Kelly said after the victory.
In South Korea, junior Sarah Eades and senior Erica Anglade teamed to score four goals each in powering Seoul American to the Korean-American Interscholastic Activities Conference girls Division I soccer tournament final. Seoul American hosted Seoul Foreign on Saturday.
Also, Remco Rademaker notched two hat tricks, running his Pacific record season scoring total to 58, and Seoul Foreign (20-0) reached the KAIAC boys tournament final against Yongsan International-Seoul.
In Japan, Julia Martel also tallied a hat trick as Yokota (12-2) continued the finest season in school history, winning 3-1 Friday at Robert D. Edgren.
Jon-Jon Green and John Bogen each scored twice as defending Boys Class A Tournament titlist E.J. King came back from a 2-1 halftime deficit to edge Nile C. Kinnick 5-3 at Sasebo Naval Base.
On the diamond at Daegu's Civic Stadium, Seoul American's Tristan Heckerl outlasted Daegu American's Nick Dunsmore, striking out 17 to Dunsmore's 14 as the Falcons edged the Warriors 7-6 and took a two-game lead in the DODDS-Korea standings.