Pacific H.S. roundup: Kadena's Bishop, Kubasaki's Powell go the distance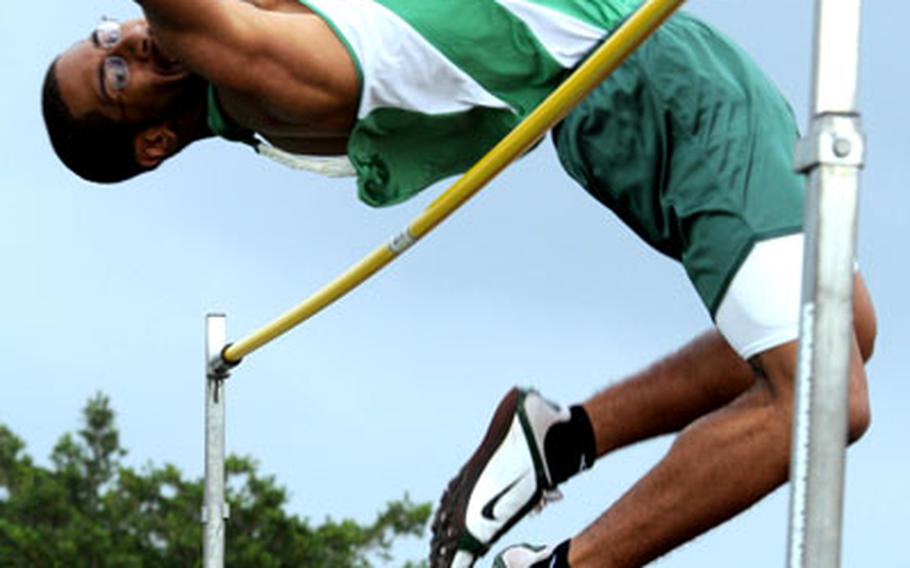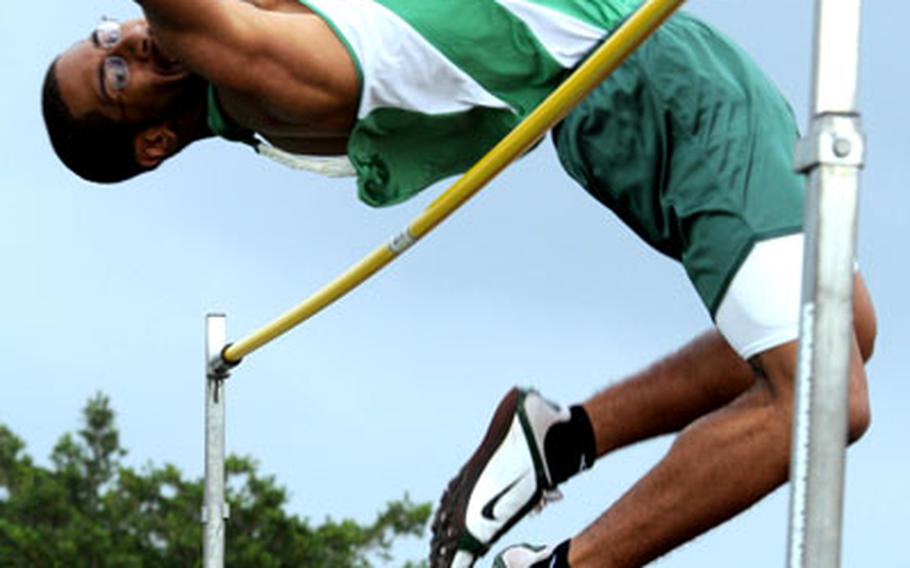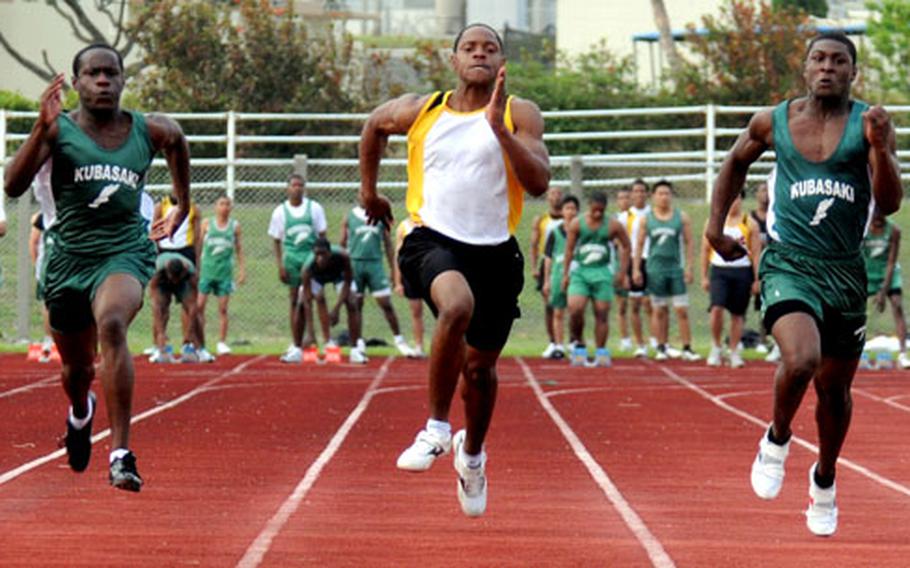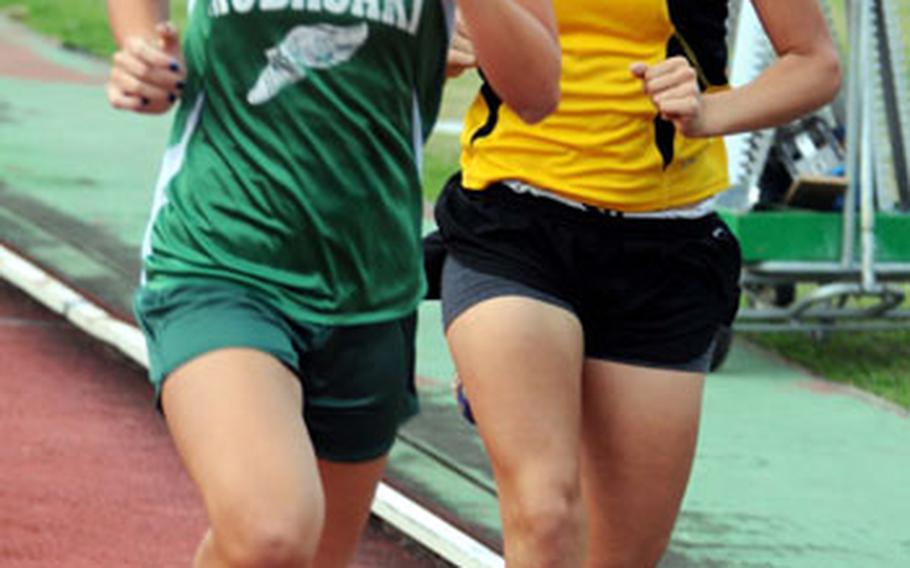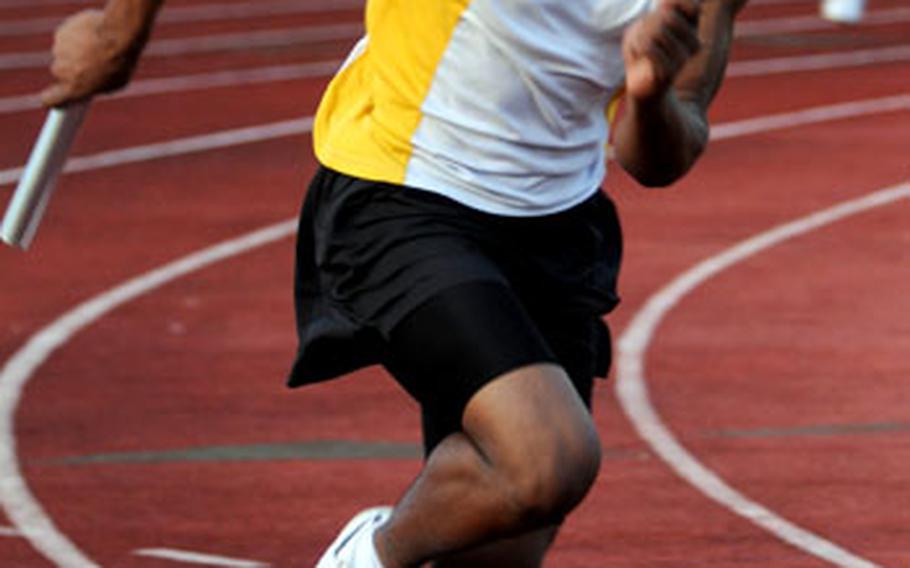 Two new long distance stars have arrived on Okinawa's high school track and field scene.
Kadena sophomore Jacob Bishop, a transfer from Zama American, and Kubasaki freshman Jessica Powell swept the mile and two-mile races in Friday's season-opening Okinawa Activities Council meet on a sunny, warm afternoon at Kubasaki's Mike Petty Stadium.
Bishop clocked his two-mile in 11 minutes, 6 seconds.
"He's been running 11s in practice, and he's anxious to run faster," coach Sergio Mendoza said. "He has one of the best work ethics I've ever seen in a distance runner."
"He's built like a miler. It looked like he was warming up for a sprint or something. He looks like he might give his old teammate some competition" in next month's Mike Petty Memorial Meet, Kubasaki coach Charles Burns said of Bishop's former Zama teammate Andrew Quallio.
Bishop ran the mile in 5:11.
Powell, who calls swimming her signature sport, was timed in the two-mile in 13:07 and the mile in 6 minutes.
"Swimming works a lot of muscles. And my dad's a runner, so it must be in the genes," Powell said.
While those new faces stepped up to claim early season distance bragging rights, some of the usual suspects resurfaced and reignited rivalries, some of which have spanned two seasons.
In the day's signature race, the boys 100, Kadena senior Brandon Harris clocked 11.65 seconds, edging out Kubasaki's Marquette Warren (11.88) and Lewis Finney (12.01).
"They're really strong and competitive, which drives me to be faster," said Harris, adding he hopes to run as fast as 10.8 this season. "I was a little nervous. I'm always nervous before a race. We've been practicing with blocks all week. I credit that to the coaches."
For this point in the season, the times and distances seemed ahead of normal pace. "Southern style," Burns said. "That's what you get when you have good weather."
Kubasaki swept both team titles, the boys outgunning Kadena 76-54 and the girls outdistancing Zion Christian Academy 73-40.
Warren did win two events, the 200 in 24.43 and his last throw of 37 feet, 1 inch was enough to win the shot put. Kadena's boys won both relays, clocking the 400 in 46.5 and the 1,600 in 3:45.86.
On the girls' side, aside from Powell, multiple winners abounded.
Zion's Kelly Colbert secured the 100 in 13.34 and the high jump in 4-11. Retsel Alvarez of Kubasaki captured the shot put and discus, Kubasaki's Dee Dee Viskinda won both hurdles events and Sarah Wilson of Zion won the 200 and 400.
Edgren girls strikers continue to give Zama nightmaresOn the girls soccer pitch, at least, Robert D. Edgren seems to have Zama American's number.
After the Trojans had won their first four matches and outscored opponents 31-2, the Eagles came to Naval Air Facility Atsugi and held Zama to one tally in a 1-1 tie at Reid Memorial Stadium.
It was Edgren's first time outdoors; because of snow, the Eagles usually practice indoors until late March. Edgren ended Zama's Far East Class AA Tournament title hopes last May 2-0 at Yokota Air Base.
"Our goalkeeping was fabulous and our defense was marking in the box well," Eagles coach Mark Pierce said. "It was a team effort. We were pleased. Not having any practice time on a soccer field. They're gutsy kids. They just didn't give up."