Pacific H.S. roundup: Kadena, Kubasaki split soccer games
---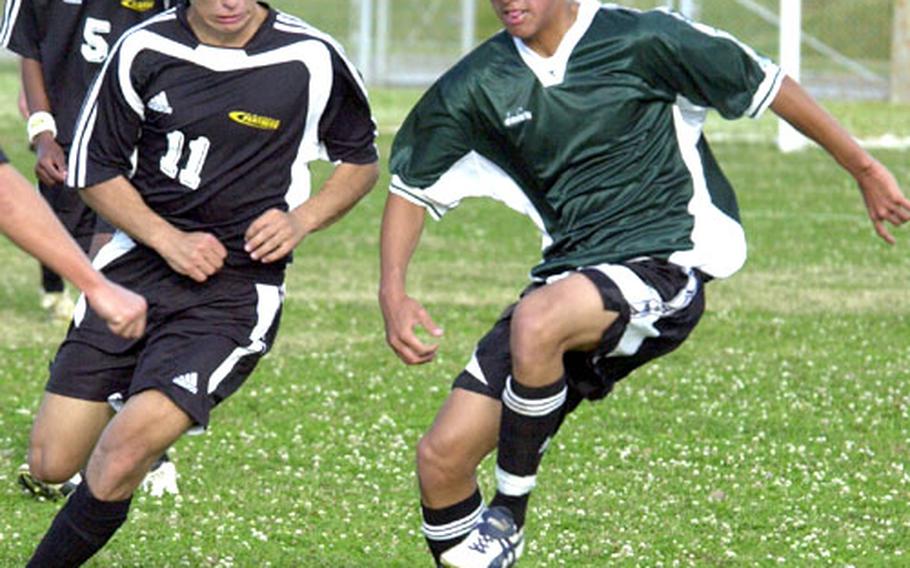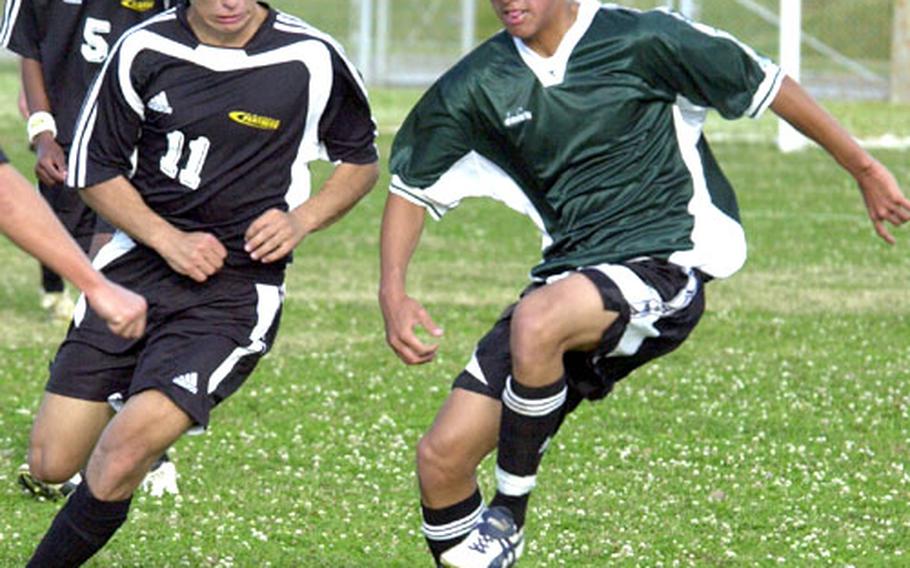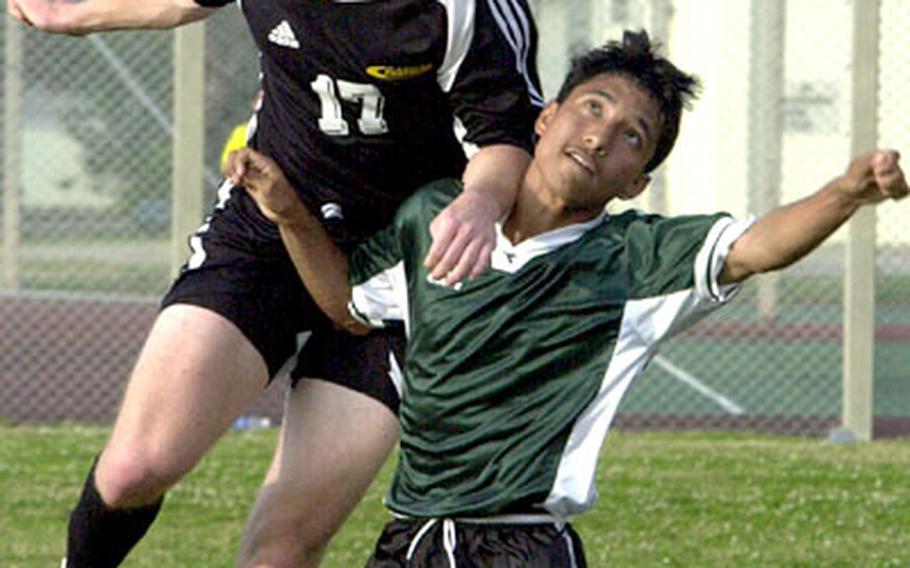 (Game summaries at end of story)
CAMP FOSTER, Okinawa — Kadena goalkeeper Ted Awana's play gave no indication that Thursday's match against Kubasaki was his first of the season.
Awana got at least a finger on every shot the Dragons sent his way and recorded a shutout by making nine saves, many of them spectacular, in his season debut after recovering from a shoulder injury.
"He has incredible reflexes, good positioning and good goalkeeper sense," said Kadena coach Mike Callahan after the Panthers improved to 4-0 after their first match since March 23.
Awana admitted to being only 80 percent healthy on Thursday. In Callahan's eyes, Awana's 80 percent is better than most keepers' 100 percent.
"He's vocal. He's the leader in the backfield. And he's a fierce competitor," Callahan said.
Ben Zendejas, Aaron Zendejas and Devon Copeland scored in the first meeting of the teams since Kadena rallied past Kubasaki 3-1 in last year's Far East Class AA championship.
The girls teams also played a rematch of last year's Far East final on Thursday, and Kubasaki recorded its first win over Kadena since the 2003 season, 4-1.
Both matches were played at Kubasaki's upper field.
Ben Zendejas converted a rebound of an Anthony Soroka shot in the ninth minute, but the Panthers seemed punchless the rest of the half.
In the 48th minute, Aaron Zendejas angled a corner kick into the net over Kubasaki goalkeeper David Motu. Then Copeland iced it by heading in a cross pass from Brenden Stanford.
"It was a tough match," Callahan said. "Our first match in two weeks and it showed. Maybe the guys were too aggressive, got pulled into too physical a game. But it says a lot that we were able to win."
The Dragons girls wasted little time avenging their 2-0 loss in last year's Far East final.
Emily Short converted Erin Foote's corner kicks in the seventh and ninth minutes, and Kimi Cece threaded a direct kick through Kadena goalkeeper Liz Cotto's hands in the 14th. Levinia Tyrrell tapped in a direct kick by Cece to cap Kubasaki's scoring in the 27th minute.
The Pacific's leading goal scorer last season, Dianne Abel, scored her fifth and sixth goals this season but it wasn't enough for the Panthers.
"Scoring early in the first half and having a substantial lead played a big part in our success," coach Terry Chumley said.
It was Kadena's first loss in 24 matches dating back to the 2003 Far East tournament. The Panthers went 21-0 last season. Kubasaki had lost five straight matches to Kadena.
"It could go either way," Chumley said of the teams' scheduled match on May 7 at Kadena. "That's the way it should be. We both have very good teams."
Pacific H.S. sports results
Girls basketball
Tuesday
Guam High 70, George Washington 39
At Santa Rita, Guam
GW 9 4 11 15 39
Guam High 15 20 15 20 70
Leading scorers—Guam High, Keonna Jukes 25, Jade Pardillo 20, KeKe Combs 17.
Boys soccer
Thursday
Kadena 3, Kubasaki 0
At Camp Foster
Kadena 1 2 3
Kubasaki 0 0 0
Goals—Ben Zendejas 1 (2), Aaron Zendejas 1 (2), Devon Copeland 1 (1).
Assist—Brenden Stanford 1.
Saves—Kadena, Ted Awana 9.
Wednesday
Seoul International 6, Osan American 1
At Songnam, Korea
Osan 0 1 1
Seoul 3 3 6
Girls soccer
Thursday
Kubasaki 4, Kadena 2
At Camp Foster
Kadena 1 1 2
Kubasaki 4 0 4
Goals—Kubasaki, Emily Short 2 (2), Kimi Cece 1 (2), Levinia Tyrrell 1 (1). Kadena, Dianne Abel 2 (6).
Assists—Kubasaki, Erin Foote 2, Kimi Cece 1; Kadena, Sara Ragland 1.
Wednesday
Seoul International 2, Osan American 1
At Songnam, Korea
Osan 1 0 1
Seoul 0 2 2
Girls softball
Thursday
Kadena 7, Kubasaki 3
At Camp Foster, Okinawa
In the closest game between the teams in three seasons, the Panthers managed a rare victory over the Dragons. Stacey Ware went six innings, giving up three hits and striking out five. Lindsey Davis issued two walks in the seventh but got the last three outs for the save. Samantha Fox had two hits and scored twice for Kadena.
---
---
---
---