Pacific H.S. roundup: Albaladejo returns to mat in style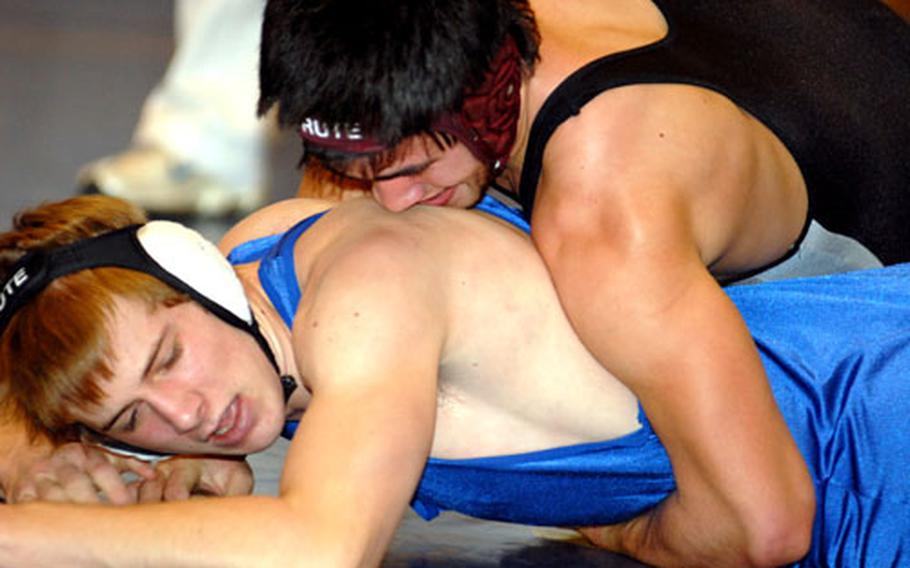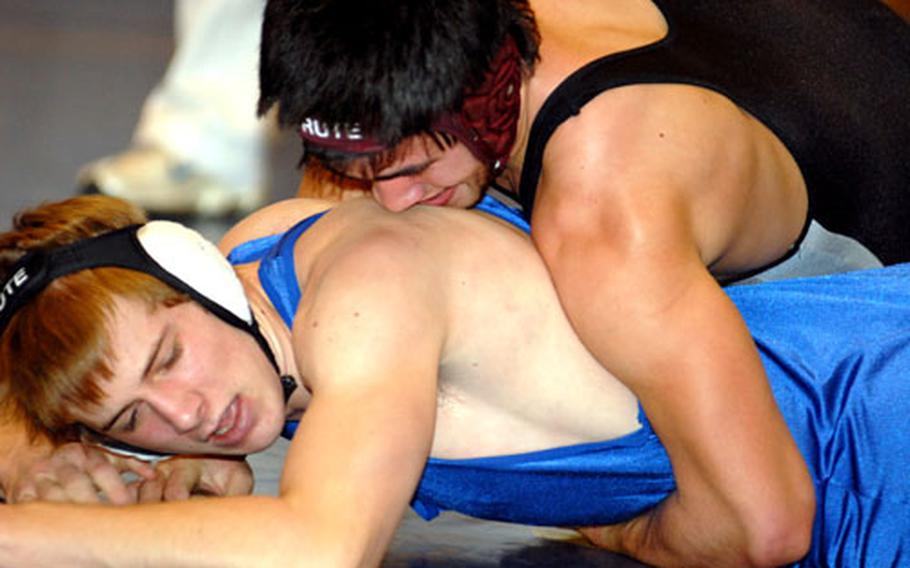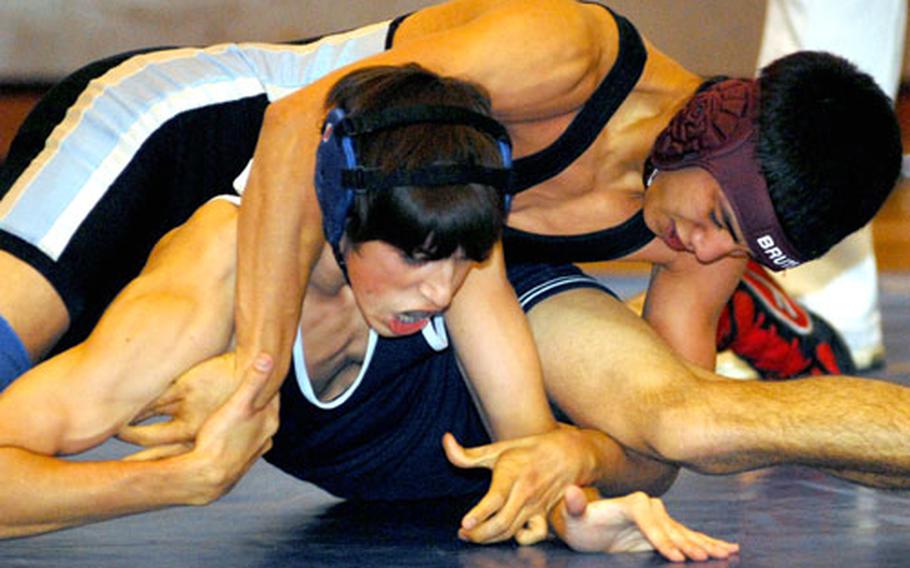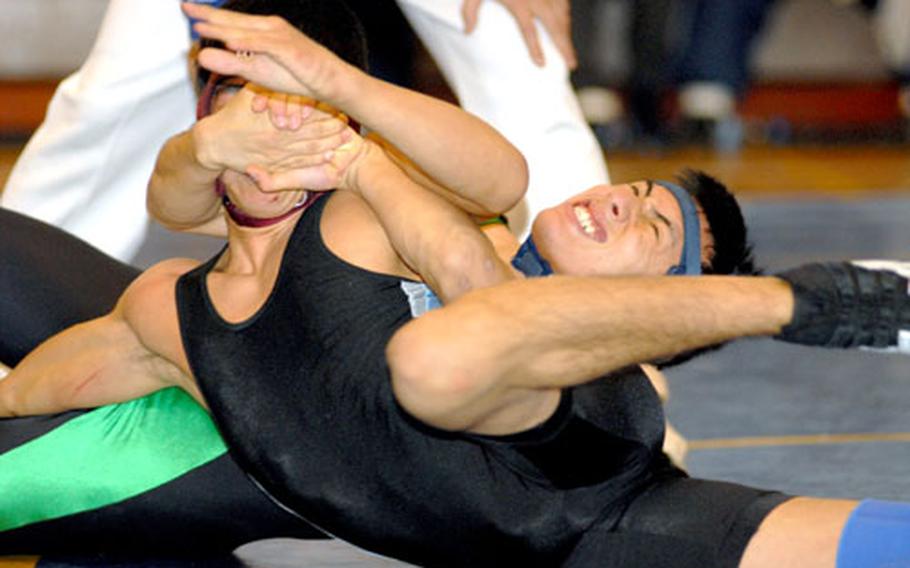 CAMP GEORGE, South Korea — In the final regular-season competition before the holiday break, Osan American's all-around sports hero, Carlos Albaladejo, returned to the wrestling mat in style after a month's layoff due to a football injury.
Albaladejo, the reigning Stars and Stripes Male Athlete of the Year, scored a pin and a decision Saturday in a DODD-Korea tri-meet at Taegu American School. He pinned Taegu American's Clinton Kim in 2 minutes, 10 seconds and outlasted Peter Madsen of Seoul American 2-1 in 158-pound bouts.
"It wasn't a very good day," Albaladejo said. "I wrestled sloppy. I just have to step it up in practice."
It was his first competition on the mat since suffering a neck stinger during the Far East Class A football championship last month.
The only mark on Albaladejo's body after Saturday's meet was a left-eye shiner suffered against Madsen, and he admitted to jitters before stepping on the mat against Kim.
"I was nervous. This was my first bout," Albaladejo said, adding that he refused to let memories of the football injury deter him. "I didn't think about that. I'm fine."
Osan remained winless this season, falling 38-11 to Seoul and 33-21 to Taegu in the second of six regular-season tri-meets.
It was the second of three tri-meets scheduled at Taegu American, and once more, all three teams sported nearly full lineups — far better than in years past, when Taegu and Osan only fielded squads of between three and six grapplers.
"It's a win-win situation for everybody," Seoul American coach Julian Harden said, adding that he's gratified to see first-year Taegu American coach Bill Riggs putting a full team in very short order. "It makes everybody better."
"We need as much preparation as we can get" for the Far East tournament scheduled for Feb. 15-17 at Yokosuka Naval Base, Japan, Seoul American 168-pounder Clark Campbell said. "It's better. We're getting that now. It's better than it used to be."
Twin freshmen helping keep Edgren wrestlers competitiveSASEBO NAVAL BASE, Japan — Turning heads in Saturday's E.J. King Invitational Tournament for DODDS-Japan schools were a pair of Robert D. Edgren freshmen twins, Kenneth and Kevin Radford. Kenneth took third place at 148 pounds and Kevin earned Outstanding Wrestler honors by winning the 158-pound class as the Eagles finished third in the tournament.
"They are solid with good fundamentals," Yokota coach Brian Kitts said of the Radfords. "They understand freestyle wrestling the way others don't. They each have a good ankle-lace move, good balance, smart on their feet and they capitalize on mistakes."
Yokota won its second tournament in as many weeks, with four wrestlers, Chris Cournoyer (101), Mark Meade (108), Nick Guzman (122) and Robert Rodell (129) capturing golds. The Panthers outdistanced second-place Zama American 82-66, but Kitts said he's not taking anything for granted.
"The same thing happened last year, and look what happened at Far East," Kitts said of his Panthers, who won the DODDS-Japan tournament last year but stumbled to fourth place in the Far East freestyle team standings and finished fifth in the dual-meet tournament.
"Titles in these tournaments don't mean much. We have to keep our nose to the grindstone," Kitts said.
Meanwhile, Zama also grabbed four individual gold medals — Josh Johnson (141), Adam Godfrey (148), Daniel Polaski (168) and Tim Campbell (180). Edgren took third with 59 points, with Radford and Joseph Allibone (115) taking golds.
Fourth-place Nile C. Kinnick (46 points) got gold-medal performances from Chris Sanders (215) and defending Far East tournament heavyweight champion Phil Ergus; he scored the tournament's quickest pin, in 25 seconds. Host E.J. King was last with 22 points, with David Heitstuman remaining unbeaten and winning gold at 135.
Experience, unity contributing to Zama boys' great startCAMP ZAMA, Japan — After a weekend DODDS-Japan sweep of E.J. King, including Saturday's 76-59 victory over the Cobras, Zama American's boys basketball team sat at 12-0, their best record from the start of a season since coach Tom Allensworth's first season in 1993-94.
Experience and unity as a team are the biggest contributing factors, Allensworth said.
"They've been together for two years, working in the same system and they like each other," Allensworth said, adding that to the players, it doesn't matter whether Carlos Walter, Wilberto Badillo, Ben Bishop or any other player leads the way as long as the Trojans win.
"If all four guys score in double figures, they're just as happy. And they're playing good defense, too," he said.
Having junior three-point specialist Sean Wise transfer over from Taegu American hasn't hurt. "He sure adds something" to the team, Allensworth said of Wise, who netted eight threes against the Cobras this weekend. "He sure can shoot."
Wrestling summariesSaturday, at Camp George, South Korea
Taegu American 33, Osan American 21
101 pounds-Not contested108-Christine Marowsa, Osan, by walkover115-Niko Kim, Taegu, by walkover122-Not contested129-Josh Mendez, Taegu, decisioned Edwin Rodriguez, 2-0 (3-2, 4-2)135-Andrew Davenport, Taegu, pinned Tucker Rhodes, :48141-Greg Jones, Taegu, pinned Corey Nadeau, 1:28148-Torian Whetstone, Taegu, by walkover158-Carlos Albaladejo, Osan, pinned Clinton Kim, 2:10168-Tommy Thompson, Taegu, pinned John Chavez, 1:21180-Daniel Burke, Osan, pinned Chris Sankey, :26215-Sam Davis, Taegu, by walkoverHeavyweight-Eric Griess, Osan, by walkover
Seoul American 38, Osan American 11
101 pounds-Not contested108-Andrew So, Seoul, superior decisioned Christine Marowsa, 2-0 (7-0, 6-0), 3:05115-Chewoo Shin, Seoul, by walkover122-James Nutter, Seoul, by walkover129-Edwin Rodriguez, Osan, decisioned Michael Beckwith, 2-1 (4-6, 5-4, 3-3 last point)135-Brian O'Connor, Seoul, pinned Tucker Rhodes, 1:09141-Demetrius Johnson, Seoul, pinned Corey Nadeau, 3:50148-Daniel O'Connor, Seoul, by walkover158-Carlos Albaladejo, Osan, decisioned Peter Madsen, 2-1 (6-0, 3-5, 5-3)168-Clark Campbell, Seoul, superior decisioned John Chavez, 2-0 (7-0, 6-0), 3:07180-Justin Stokes, Seoul, decisioned Daniel Burke, 2-0 (4-0, 3-0)215-Not contestedHeavyweight-Eric Griess, Osan, by walkover
Seoul American 39, Taegu American 7
101 pounds-Not contested108-Andrew So, Seoul, by walkover115-Chewoo Shin, Seoul, pinned Niko Kim, 1:03122-James Nutter, Seoul, pinned Josh Mendez, 3:57129-Michael Beckwith, Seoul, decisioned Andrew Davenport, 2-0 (3-3 last point, 8-4)135-Greg Jones, Taegu, pinned Brian O'Connor, 1:46141-Demetrius Johnson, Seoul, decisioned Torian Whetstone, 2-1 (4-1, 0-4, 4-1)148-Daniel O'Connor, Seoul, decisioned Clinton Kim, 2-0 (6-0, 3-0)158-Peter Madsen, Seoul, pinned Tommy Thompson, 2:50168-Clark Campbell, Seoul, pinned Sam Davis, 1:20180-Justin Stokes, Seoul, by walkover215-Not contestedHeavyweight-Not contested