Pacific H.S. football: Albaladejo leads way as Osan topples Seoul American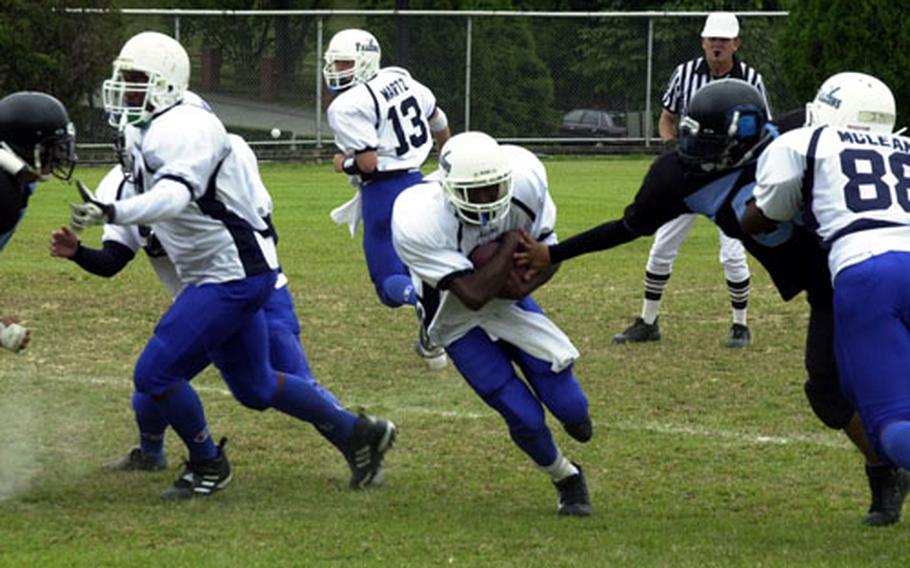 YONGSAN GARRISON, South Korea — Before the season began, coach Tony Alvarado's stated goal was for Osan American to not just be the best Class A high school football team, but the best in the DODDS-Korea league. His Cougars took a major step toward that goal on Saturday.
Carlos Albaladejo ran for two touchdowns, made 14 tackles and intercepted a pass and and Will Rapoza, Will May and Jesse Crockett each added touchdown runs as the Cougars opened their season with a historic 35-23 victory over Seoul American at Falcons Field.
It was the first victory in seven tries for the Cougars over the Falcons in the DODDS-Korea league's four-year history, and the first by an Osan team against a Yongsan-based squad since the Cougars beat a Yongsan Raiders split squad 14-8 on Sept. 14, 1996, in the days of the old Korea Youth Activities League-Senior Division.
"It's definitely a landmark victory," Alvarado said. "It doesn't matter who we play anymore. It's no longer Class A vs. Class AA. It's 11 on 11. We've set the bar to be not just the best Class A team but the best in Korea. This is huge for the school. It hasn't sunk in yet."
The defending Far East Class A champion Cougars rode to the upset on the shoulders of a running game that produced 414 yards and a defense that racked up two interceptions.
Albaladejo rushed eight times for 186 yards, with touchdown runs of 33 and 60 yards. Rapoza added 174 yards on nine carries, including a 25-yard scoring run. Crockett scored on a 5-yard run and finished with 51 yards on six attempts and May ran four times for 22 yards, including a 15-yard touchdown run.
Rapoza had Osan's other interception plus five tackles. Tucker Rhodes had 12 tackles and Donnie Castro eight.
All that came after the Falcons (1-1) roared ahead on David Smalls' 79-yard touchdown run in the first quarter.
"I just told the guys, 'Let it go,'" Alvarado said. "We dug deep, we pounded the ball, we went to the outside, the guys did great."
The Falcons, missing nine starters due to injury, saw a 25-game regular-season winning streak end despite 253 yards on 24 carries by Smalls.
Daniel Kim also ran 4 yards for a TD and Quintez Johnson 17 for a score. Tim Martz started at quarterback for injured Daniel Burns and went 4-for-8 for 71 yards. Kim, David Feliciano, Chris Churchwell and Luke Dorrough each recovered fumbles for Seoul American.
"You have to hand it to Osan. They did a good job and took advantage of our mistakes," Falcons coach Julian Harden said. "We had our opportunities, but made too many mental errors. We did a good job on them in the first half, but in the second half, we struggled."
Robert D. Edgren 25, American School in Japan 0
Zach Latimore returned the opening kickoff 90 yards for a touchdown, then helped set up Robert D. Edgren's last TD with a 35-yard reception and squelched American School In Japan's last possession with an interception as the Eagles blanked the Mustangs 25-0 at Misawa Air Base.
"He's a phenomenal athlete," coach Chris Waite said of Latimore, who finished with 125 all-purpose yards and two interceptions. He has three kick- or punt-return touchdowns in the Eagles' past two games. "He has tremendous desire. All the time, he's trying to do what he can to help the team win. He has a lot of good qualities."
David Leh rushed for two touchdowns, a 6-yarder in the third quarter and a 3-yard run in the fourth, sandwiching Vaughn Gunchaya's 40-yard third-quarter breakaway TD run.
The Eagles got their first victory after opening the season with two losses. ASIJ fell to 0-2, with both losses by shutout.
George Washington 60, Guam High 6
A week after pulling the biggest upset in Guam High's nine-season history, the Panthers crashed back to Earth, losing 60-6 to three-time defending Interscholastic Football League champion George Washington at Andersen Air Force Base.
Brandon Chandler rushed for five touchdowns, giving him nine this season, and gained 134 yards on 13 carries to lead the Geckos' assault, and also intercepted two passes. Quarterback Jude Shimizu was 9-for-16 for 192 yards and two touchdowns and Mychal Borja capped GW's scoring with a 77-yard kick-return TD on the game's last play.
The loss came seven days after Guam High beat perennial island power Father Duenas Memorial 14-7 for the first time in 11 tries. Coach Yvonne Tyrrell blamed the loss on the Panthers playing as individuals, "cocky, pompous and arrogant" in the wake of the FD victory.
"I didn't recognize them as the same team in practice, let alone the team that played (Father Duenas) last week," Tyrrell said.
Though "they knew what they were facing" in GW, halfway through the first quarter, "they decided to play their own game, they ignored the coaches and played undisciplined ball. They recognized it, knew it and took responsibility for it after the game. The question is, what are they going to do about it," Tyrrell said.
Guam's bright spot came just before Borja's game-ending return, when Panthers quarterback Cameron Yecki connected with Raymond Berria on an 85-yard scoring pass to break the Geckos' shutout bid.
Pacific prep football scoreboard
DODDS-Japan Football League
W L Pct. PF PA
Yokota 1 0 1.000 21 12
Nile C. Kinnick 2 1 .667 70 48
Zama American 1 1 .500 15 22
Robert D. Edgren 0 2 .000 25 49
Kanto Plain Association of Secondary Schools
W L Pct. PF PA
Yokota 2 0 1.000 65 12
Nile C. Kinnick 1 1 .500 28 29
Zama American 0 1 .000 8 16
American School In Japan 0 1 .000 0 44
Friday's game
Kinnick 16, Zama 8
Saturday's game
Edgren 25, ASIJ 0
Saturday, Sept. 23
Edgren at Yokota, 1 p.m.
Kinnick at ASIJ, 1 p.m.
South Korea
W L Pct. PF PA
Osan American 1 0 .000 35 23
Seoul American 1 1 .500 44 41
Taegu American 0 1 .000 6 21
Saturday's game
Osan American 35, Seoul American 23
Friday, Sept. 22
Osan vs. Taegu at Kelly Field, Camp Walker, 7 p.m.
Guam
W L Pct. PF PA
George Washington 2 0 1.000 114 6
Father Duenas Memorial 1 1 .500 47 28
John F. Kennedy 1 1 .500 29 28
Simon Sanchez 1 1 .500 28 40
Guam High 1 1 .500 20 67
Southern 0 2 .000 14 83
Friday's game
John F. Kennedy 29, Southern 14
Saturday's games
Father Duenas 40, Simon Sanchez 14
George Washington 60, Guam High 6
Friday, Sept. 22
Geo. Washington at John F. Kennedy, 7 p.m.
Saturday, Sept. 23
Father Duenas at Southern, 10 a.m.
Simon Sanchez vs. Guam High at Ramsey Field, John F. Kennedy High School, Upper Tumon, 7 p.m.