Pacific H.S. basketball: Jackson paces Kadena with 43 points, 19 rebounds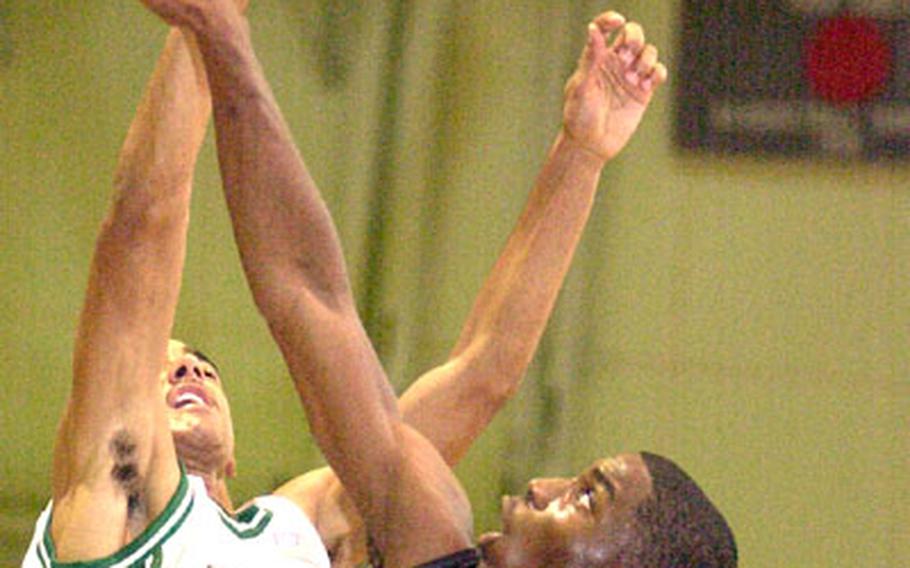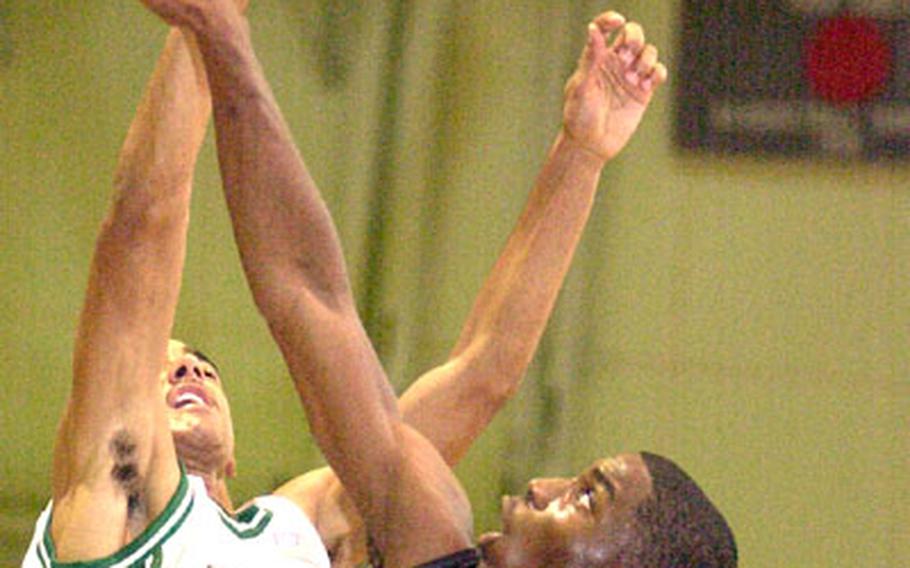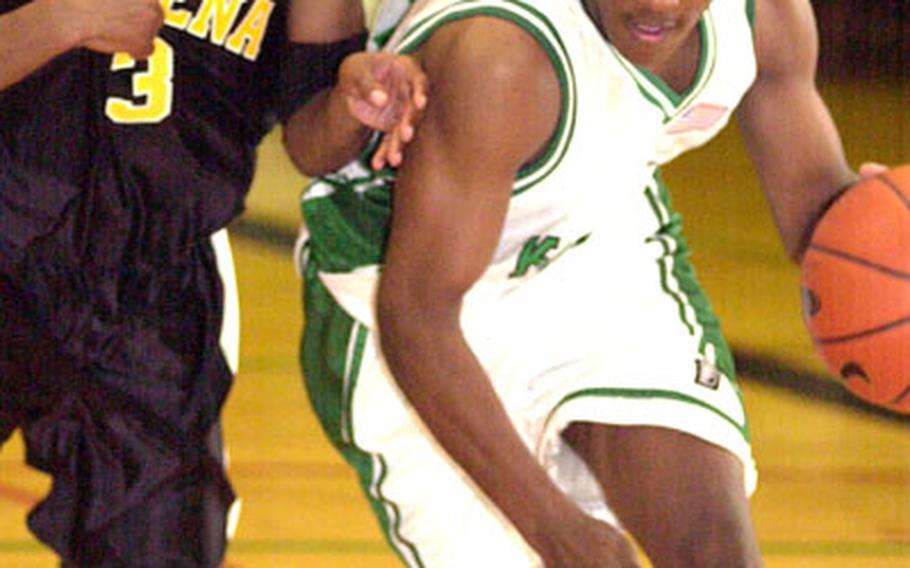 CAMP FOSTER, Okinawa — Z'aire Jackson's statistics in his past two games seem other-worldly.
The Kadena Panthers junior forward continued his one-man display of hoop pyrotechnics Friday night, scoring 43 points, grabbing 19 rebounds and blocking five shots in a 103-93 Okinawa Activities Council triumph on the Kubasaki Dragons' home court.
Jackson has 87 points, 31 rebounds and 11 blocks in his past two games, including Kadena's 95-79 victory last Saturday over Maehara, a Japanese team.
"He's [Jackson] been a man on a mission," Kadena coach Robert Bliss said. "I'm impressed. He's so aggressive going to the basket, he can read where the ball's coming off [the backboards], he moves so well and so quickly. He can make the big plays."
Jackson's deeds overcame a huge performance by Kubasaki senior guard Marcus Carson, who had 32 points, eight rebounds, six assists and five steals before fouling out in the fourth quarter. Junior Stephen Thompson added 23 points and 11 rebounds and Steve Ellis added 23 points.
Carson "played an unbelievable game," Bliss said. "He did so many things well. And Thompson played beautifully, too."
Panthers senior guard Tyler Schmidt keyed a 15-4 run with a driving layup late in the first quarter, and the Panthers led by as many as 11 before Thompson's inside bucket cut it to 46-44 just before halftime.
Carson scored 14 third-quarter points, two on a driving layup just as the shot clock expired, sparking the Dragons to an 11-point lead. But Kadena rallied, with Schmidt's jumper from the right side slicing it to 70-69 as the third quarter ended.
Kadena's Terence Reid, who scored 18 points, sank his fifth three-pointer just as the fourth quarter opened, giving Kadena the lead for keeps.
The victory avenged Kubasaki's 76-72 victory over Kadena two weeks ago during the 35th Hong Kong International School Holiday Tournament.
In that game, senior Ronnie Stephens led the way with 22 points, but he sprained an ankle during the tournament and hasn't played since.
Dragons coach Chris Sullivan said not having Stephens was a factor, as were fouls — Kubasaki lost starting guard Vincent Hobbs and forward Reggie Pearson to foulouts, in addition to Carson.
But the big factor, Sullivan said, was "too much 33," referring to Jackson's jersey number.
"He has such a strong move to the basket. He slices well and he gets up so high. He has a terrific first step to the basket," Sullivan said.
Kadena 61, Kubasaki 41
Unlike the boys' shootout, the Panthers-Dragons girls game began and ended as a one-sided affair, as Kadena junior Liz Cotto and senior Sherlissa Dukes scored 16 points each in a 61-41 romp over Kubasaki in a battle of the past two Far East Class AA Tournament champions.
Korea
Seoul American 76, Osan 31
At Osan Air Base, South Korea, junior point guard Jay Higgings scored 19 points and grabbed 15 rebounds as the Falcons improved to 2-0 in the Korean-American Interscholastic Activities Conference with a rout of Osan American on Friday.
The 6-foot-5 Higgins played in the shadows of back-to-back Far East Class AA Tournament MVPs Nino Etienne and Jake Abramowitz, but showed that he's ready for a starring role.
"Higgins was just unbelievable," Falcons coach Steve Boyd said. "This was his coming out. He just took the game over. The past couple of years, he was the supporting cast, but I said before this season, this was his and (backup Jamaal) Mohn's team to run. Tonight, he was the difference-maker."
Boyd's other advantage was putting Phillippe Anglade, a quick defender, on Cougars scorer Chris Durham in a "box-and-one" defense. Durham, who had nine first-quarter points, was held to four the rest of the way.
Seoul American 60, Osan 29
Likewise, the Falcons girls, 60-29 winners over the Cougars, gave Osan American's 6-foot-4 junior center Margaret Nurse fits inside, holding her to 13 points. Seoul American's girls joined the boys at 2-0 in KAIAC play.
"Our defense was tough," coach Charlotte Hicks said. "I was surprised at how the game went. The girls played tough defense and worked on being more patient on offense. Awesome game for us tonight."
---
---
---
---