Softball Player of Year
Osterbrink pushed Red Devils over the top
by
Dave Ornauer
June 3, 2013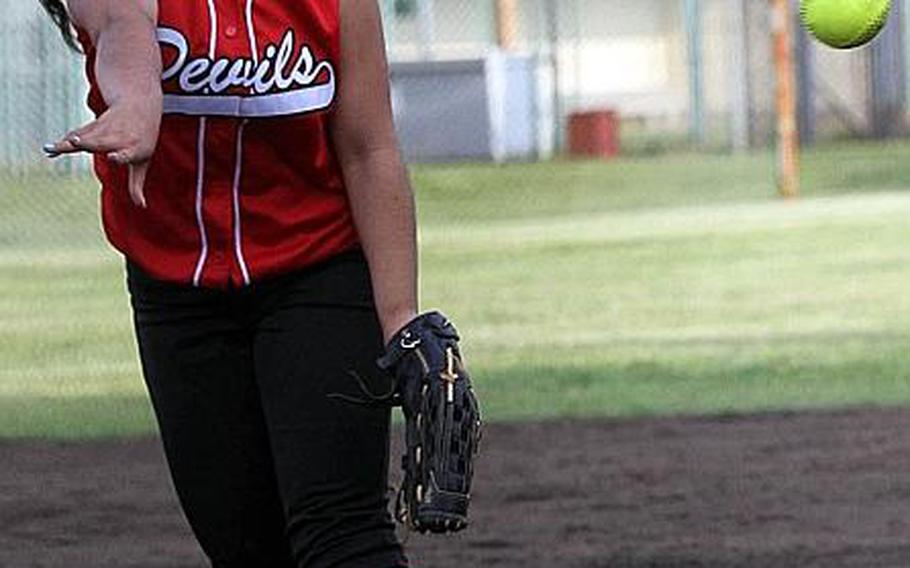 Katrina Kemper had always been happy with the performance of her No. 1 starting pitcher, junior Grace Huezo. She also had a solid cast of performers back for her third season, including All-Far East senior infielders Beverly Smithers and Elizabeth Farrelly.
What the Kinnick coach did not like was no matter how well the team played and that they'd won the DODDS Japan tournament title a year ago, they always came up short come at Far East, third in 2011 and fourth last year.
Enter Kelly Osterbrink, a junior right-hander, via the transfer rounds from American Samoa, where she had pitched as a youth and a high school freshman and sophomore, including three no-hit games.
Osterbrink's addition led to a Red Devil of a result.
Kinnick played 27 games and won them all, with Huezo and Osterbrink winning 14 and 13 of them respectively, and the Red Devils won their second consecutive DODDS Japan tournament in March and finally broke through with their first Far East Division I championship last week.
For her performance, including a complete-game 2-1 victory in the Far East D-I final against defending champion Kadena, Osterbrink has been named Stars and Stripes' Pacific high school softball Player of the Year.
"She's a very special athlete. She's a pretty spectacular pitcher and she's a fantastic hitter," said Kemper of Osterbrink, who'd also helped lead Kinnick to its second straight Far East volleyball runner-up finish.
What sets her apart from most pitchers, Kemper said, is not just her speed, but her ability to locate pitches.
Osterbrink would give up hits, and her ERA was a tad north of 3, but rarely did she throw "mistake pitches," nor would she hurt herself with bases on balls, Kemper said.
Case in point was the Far East championship game, in which Osterbrink allowed four hits, but walked nobody and struck out six.
"She puts her pitches where she wants," Kemper said.
Only once did Osterbrink leave a ball up in the strike zone, which resulted in a Kadena hit and the Panthers' lone run in the third inning.
Kinnick answered with two runs with none out in the bottom of the seventh, including Tenley Getscheman's walk-off RBI single.
Another thing that Kemper values about Osterbrink, who'll be back for her senior season, is her ability to motivate.
"It makes the team better," Kemper said. "She gets the kids motivated to work harder. I'm absolutely happy to have her."
---
---
---
---