Wrestling AOY
Osan's VanHoose worked hard to spend little time in matches
by
Dave Ornauer
March 3, 2019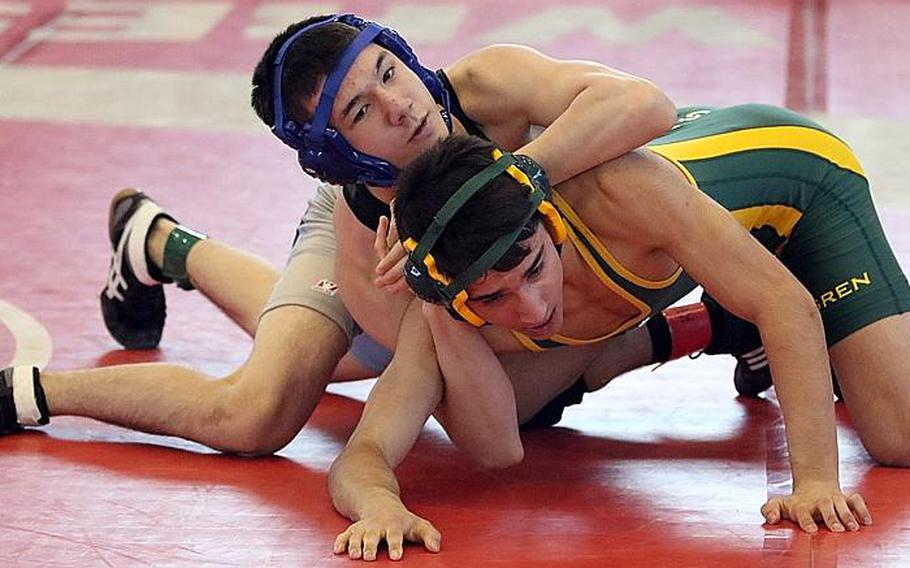 When it comes to taking care of business on the wrestling mat, Kojiro VanHoose says he doesn't like to waste time.
His record this season, indeed in all three of his seasons in an Osan uniform, offer plenty of proof.
The senior 129-pounder went 21-0 during the regular season – all but two by first-period pin – then won four more matches in last month's Far East individual freestyle tournament.
And he concluded the season the way he had the previous two – winning his Far East weight class, becoming the only wrestler from Korea to become a three-time Far East champion.
"It's very special to me," VanHoose said, adding that he was "actually shocked" to hear he was the first. "I'd heard there were other good wrestlers in Korea before me, but I didn't realize I was the first to get to three."
For his achievements, VanHoose has been named Stars and Stripes' Pacific wrestling Athlete of the Year.
He beat out a solid group of challengers, including Kubasaki junior 215-pounder Haydn Peterson, who helped lead the Dragons to their first Far East Division I team title since 2013, and American School In Japan senior Rin Zoot, voted the Far East Tournament Outstanding Wrestler.
All told, he went 75-0 in his three seasons at Osan. The only time he didn't win by pin this season was when he wrestled up at 135 pounds against Will Allen of Humphreys, whom he beat by decision and by technical fall.
"He's the only person I can't pin here," VanHoose said.
Both VanHoose and his coach Andrew Grant say that though VanHoose boasts a perfect ledger in three seasons in Korea, one wouldn't know it from his demeanor on and off the mat.
When he got back to quarters after winning his third Far East title, "I kind of did a little dance by myself," VanHoose said.
"I try to stay humble and not brag about that sort of thing in front of others. I have experienced losses before. I know what others are like when they're super cocky about a win. I don't like to be the guy who trashes an opponent after they lose."
"Kindhearted and respectful," Grant said of VanHoose, adding that when Grant went to the States on emergency leave, VanHoose ran practices. "Anything he was ever asked to do, he went a step above and beyond. He's a great ambassador of the sport."
VanHoose has a folkstyle background from his freshman year of wrestling in Idaho and used some of what he learned there to succeed on the mats in Korea. He also practices mixed martial arts during his off time from wrestling.
"His level of endurance and commitment is exponential compared to others. It's difficult to wear him out," Grant said.
VanHoose's light shined especially brightly since Korea's Division II schools had trouble filling their lineups. Grant said even if teams only have one or two wrestlers, having athletes like VanHoose make it "worth the time."
"We won't be bringing home a banner that says we're (Osan) No. 1 at Far East, but he'll (VanHoose) have individual honors because of the opportunity Osan provided him," Grant said. "It gives him the opportunity to get a scholarship, an opportunity for the future."
As for the future, VanHoose says he's applied to three universities but is also focusing on MMA to see if he can get some professional opportunities in Korea or the States. "If that works out, I'll go more toward MMA than college," VanHoose said.