Osan girls reclaim Far East basketball crown
---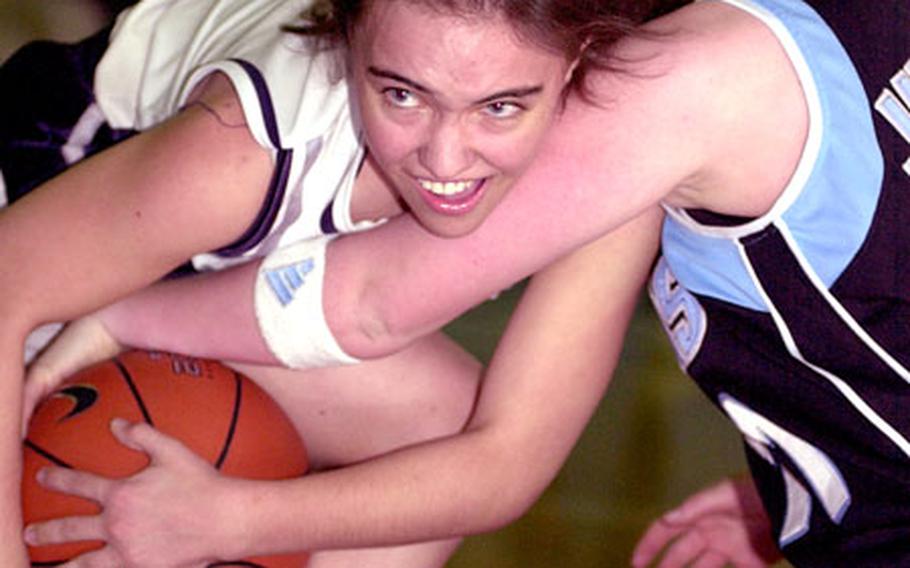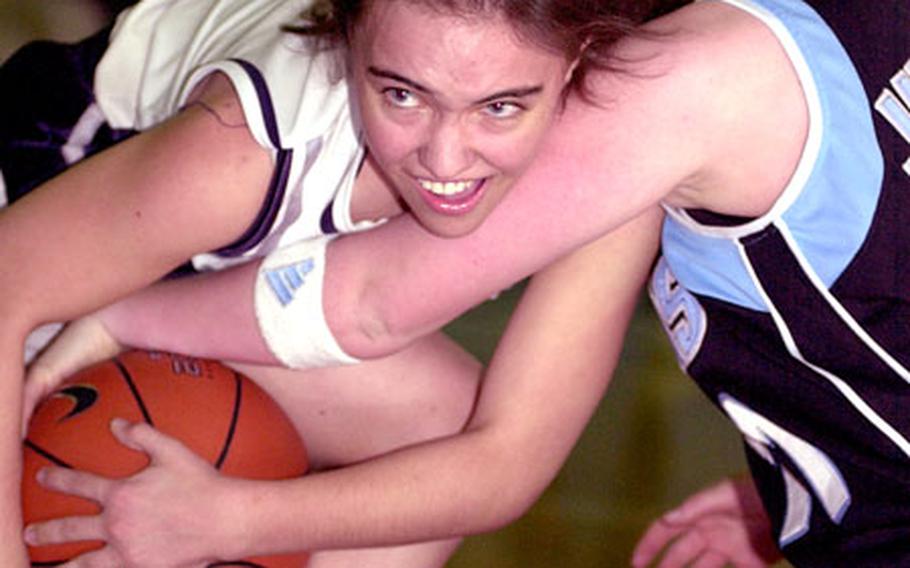 (Click here for tournament standings and summaries)
This time, the Cougars would not be denied.
After two straight heartbreaking losses in the Far East High School Girls Class A Basketball Tournament final, Osan American defeated Faith Academy of the Philippines 49-41 for its third small-schools championship in the past five years.
"Awesome," said senior forward Mina Davis, a part of Osan's teams that lost the 2003 final, also to Faith, and last year's championship to International School of the Sacred Heart.
"This was a very important win for Osan," coach Bruce Barker said.
But unlike the Cougars' runaway title victories in 2001 and 2002, Friday's game was far from easy, featuring eight lead changes and three ties.
Osan finally took the lead for good with 5:05 left when senior Sharon Kroening hit from the left side, making it 38-37 and sparking an 11-1 run from which the Vanguards did not recover.
It was a marked turnaround from the past two finals, in which the Cougars' foes rallied to victory.
"We didn't want that to happen again," Davis said.
"I think they saw that deja vu coming back," Barker said. "But the girls finally believed in themselves in the end."
A triangle-and-two defense — designed to neutralize Faith's perimeter game — and the inside play of 6-foot-4 junior center Margaret Nurse (17 points, 20 rebounds) and Davis (12, 10) were keys to Osan's victory.
"Our defense improved" in the closing minutes, Kroening said, "but it was our offense and the boards. Margaret just took over."
Elizabeth Juergens scored 14 points, including key baskets in the final quarter, as the Cougars overcame 23 turnovers and dominated the boards, outrebounding Faith 40-21.
It was Faith's first loss in seven trips to Center Court.
Coach Dan Beaver credited Barker and the Cougars for the defensive play of Juergens, Suzi Devin and Destiny Harris that held three-point specialists Sarah Adams and Ye Min Jang to no baskets beyond the arc. Crystal Ballentyne led the Vanguards with 19 points, including two threes.
"He [Barker] had a good strategy to take our guards out of the game," Beaver said, calling Juergens the game's "X-factor."
"I congratulate the Cougars and Bruce. He owns this tournament."
Kadena, Yokota boys, Seoul American, Kinnick girls reach Class AA finals
On the Class AA circuit, it was an all-DODDS-Pacific parade, as the Kadena and Yokota boys and Seoul American and Nile C. Kinnick girls earned berths in Saturday's finals.
Kadena became the third straight host team to reach Center Court, downing Kubasaki 85-83 in an epic semifinal Friday. Gary Wright's putback with 1.6 seconds left provided the winning margin.
The all-Panthers boys final also features Yokota, reaching its first final since 1993. The Panthers pulled away in the final period for a 55-46 triumph over Taiwan's Morrison Christian Academy.
"We're just happy to be here," coach Paul Ettl said. "We worked hard and we wanted to finish strong."
Home cooking has also been good to Girls Class AA teams — Seoul American became the eighth straight host team to reach Center Court, defeating Yokota 67-43. The Falcons faced Kinnick, which defeated Kadena 53-48.
It's Seoul American's first trip to the championship game since winning its only Class AA crown in 1984, and Charlotte Hicks' first title game in her 19 years as the Falcons' coach. Kinnick is back in the final for the first time since winning the title in 2001.
"The kids have worked their way into every game and they've been doing their job, taking care of business," Hicks said. "I feel sort of numb right now."
Since 1982, 17 boys host teams have made it to the finals, with 10 winning. For the girls, 14 host squads have reached the final since 1986, with eight winning.
Ya gotta have Faith: Vanguards win second Class A boys championship
Faith didn't go home empty-handed from Far East, as the Vanguards boys team captured its second Class A crown at Japan's Marine Corps Air Station Iwakuni, thanks to a 51-46 comeback win in overtime over Guam's St. Paul Christian Warriors, the defending champions.
The Vanguards, who have won eight Class AA, Class A or other Pacific invitational tournament titles, rallied from a 14-point third-quarter deficit to dethrone St. Paul.
---
---
---
---