Osan American took its lumps, but sees benefits from tourney participation
---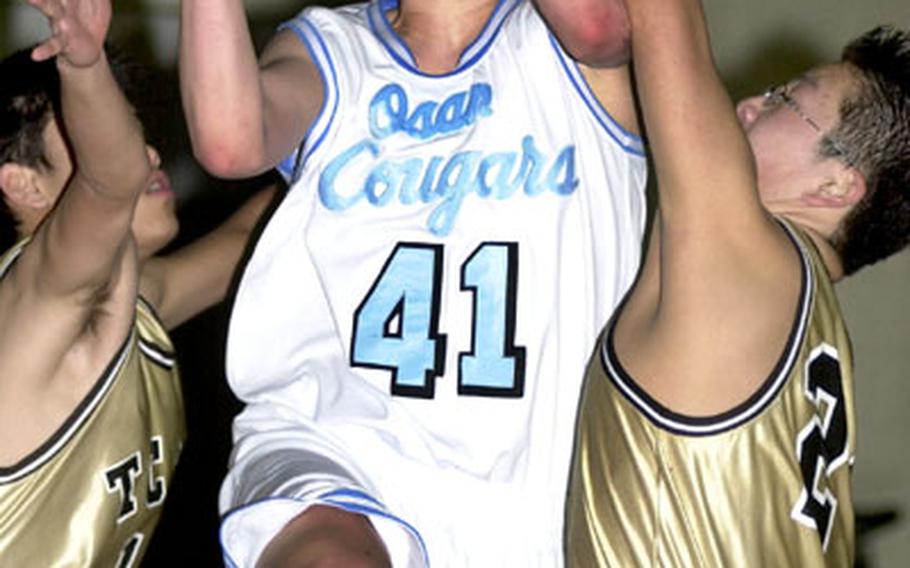 OSAN AIR BASE, South Korea — If it were a college course, you could call it Basketball Hard Knocks 101.
The Osan American Cougars took their lumps during the opening three days of the Osan Pacificwide Invitational Basketball Tournament, the first time in the event's 16-year history that it's welcomed high school teams.
The Cougars lost their first four round-robin games by an average of 37 points and had to forfeit the fifth on Wednesday morning as most of the players couldn't be released from school commitments.
Those games still were beneficial, A.J. Scott said after Osan American ripped Taejon Christian International 67-31 in its first high school contest since entering the tournament.
"It's paid off a lot," Scott said.
After playing in the base's spacious new sports and fitness center most of the week, Osan was happy to be back home and in a familiar environment, the team's tiny Cougar Palace. The Dragons were smaller, less physical and a step slower than their military counterparts.
"You get hit out here, and it doesn't feel like we're getting hit," said Scott. "We're back here, we're playing eight-minute quarters, the gym's a lot smaller and we have a lot more stamina."
Ten days ago, TCIS hung tough in a 50-30 loss to Osan. But the Cougars raced to a 21-6 lead on Wednesday and never looked back as Scott scored 16 points.
The invitational's hard knocks will also pay off, Scott said, in future battles against larger schools such as Seoul American, which has beaten Osan American four times, and Seoul Foreign, which edged the Cougars 63-60 a week ago on a last-second shot.
"This will, of course, improve our chances against larger schools," Scott said. "Playing post teams like this is like playing against big schools in the States. We'll only get better."
---
---
---
---