One of a kind
by
Rusty Bryan
October 1, 2009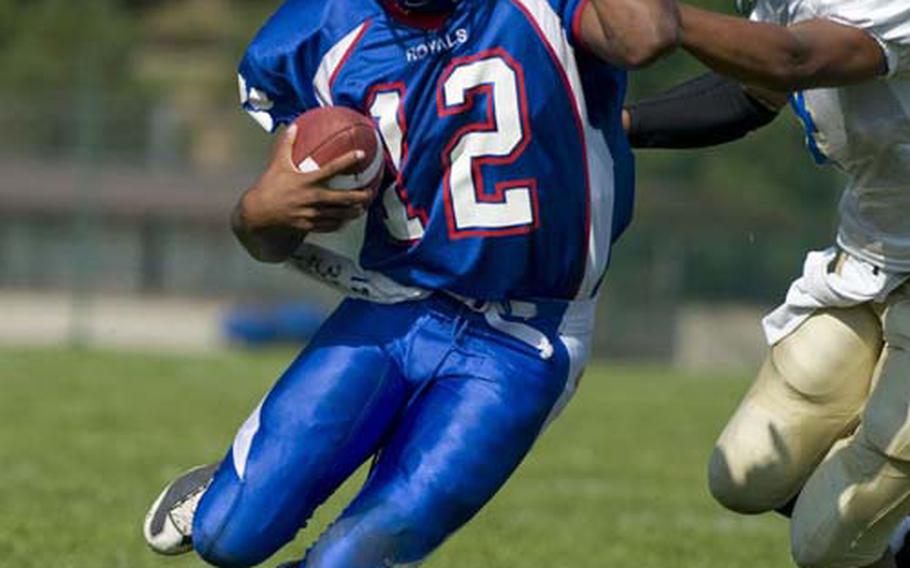 If versatility is a criterion for being regarded as Europe's best athlete, put Ramstein senior quarterback Michael Wallace at the top of the list.
On Saturday, he ran for 174 yards and three touchdowns and completed 10 of 14 passes for 117 yards and three TDs against Division I foe Wiesbaden while executing the Royals' spread formation to perfection. He then upped his scoring output to seven TDs by hauling in a 12-yard pass from backup QB Shane Foley, despite his coach's misgivings.
"He was not the one I was hoping would get the ball," Ramstein head coach Carlos Amponin said Monday as his Royals practiced behind him. "I wanted it to go to someone else, but Shane went through his progressions just as he was supposed to and threw to Michael."
Who naturally hauled it in.
"Superb skill-type players like Wallace don't usually make it (to Europe)," Ansbach coach Marcus George said Monday about Wallace. "They stay in the States. He could start for 99 percent of the high schools in the States."
Instead, Wallace, point guard for the Royals' 2009 European champion basketball team, is playing for Ramstein for the fourth straight year, and spreading the joy of his team's new wide-open attack.
"The formation suits all our players," Amponin smiled, "but we wanted to get Michael out into space, where he can create and make things happen. Truthfully, we wouldn't be running the spread if we didn't have someone like Michael to run it."
For Wallace, it's not about formations or styles of play.
"Any way our team gets points on the scoreboard is good with me," Wallace said. "If I run the ball in or hand it off for someone else to run in, I'm happy. We're like a family. We all help each other."
Like most seniors, Wallace admits to some nostalgia about his last go-round.
"Every game is like a last game," he said. "Each game has a little more emotion."
And like many seniors in the European school system, Wallace is playing this season without having his father in the stands. Michael Wallace Sr. is currently deployed, so all the grounding, support and counsel he has always provided his son now has to come through a telephone line.
"It's tough not having him here," the younger Wallace admitted, "but he calls every day. I have him in my mind every game."
Wallace has dominated his first two games this season — his 30-yard run to the Heidelberg 3 in the season opener set up the only touchdown in the Royals' 7-2 victory over the defending D-I champion Lions — and not just on offense. The 6-2, 200-pound senior who attracted the attention of college coaches at the 2008 Kaiserslautern football camp as a defensive back, still lines up at free safety.
"I always have someone ready to go in for him for a play or two when we go on defense," Amponin said, "so that we can talk about what just happened and I can find out if he's reading what I'm reading. Otherwise, he's out there."
Which suits the versatile Wallace just fine.
"I like to play offense," he said, "but I like defense, too. I really like to hit."
Count Wallace as one of Ramstein's all-time greatest hits.
"I've never really had a player like him," Amponin said. "We've had players like Aaron Jones (2006 All-Europe receiver), but Michael has better size and strength. We've had players like Scott Sublousky (2007 All-Europe receiver) whose hands were as good as Michael's, but he didn't have Michael's speed."