On court, on mat, teams from Germany and Italy evenly matched
---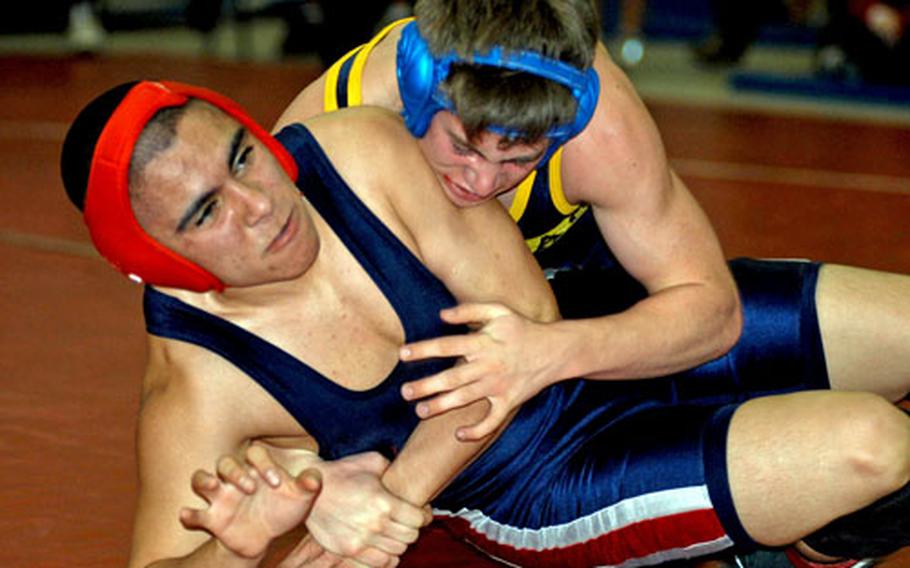 AVIANO AIR BASE, Italy — The rare weekend matchup between DODDS schools from Italy and Germany south of the Alps ended up pretty even.
On Saturday, Ansbach and Würzburg combined to send 12 wrestlers to the European championships, with five of them winning championships in the Section I Tournament.
Anthony Davis (103 pounds), Jonathan Painter (130), Jesse Painter (135) and Mike Burris (275) won their weight classes for Würzburg. Ansbach's Mike Ewing (215) won his division.
Naples had six champions — Ben Stevenson (125), Michael Monaco (140), Michael Aque (152), Guadulupe Flores (160), Matt Briegel (171) and Todd Thom (189) — and is sending at least 10 wrestlers to the finals in Germany.
Aviano's Jo-Z Schwartz (112) and Gary Vogt (119) will lead three Saints to the finals. Vicenza's Gary King (145) pinned his way to the title and will have two teammates with him in Germany.
The top two wrestlers from the tournament qualified for the finals, but it's possible that more may make it if they're selected as wild-card entrants.
Girls basketball
Each of the four girls teams ended with a win and a loss. Naples and Aviano won Friday, but Vilseck and Patch came back with victories on Saturday.
LaPorchea Sanders had 16 points and eight rebounds to help Vilseck hand Naples its first loss of the season Saturday, 47-34. Vilseck (10-2), led 17-8 after the first quarter. Mikael Willmer led Naples (9-1) with 11 points.
Patch had as easy a time with Aviano, winning 40-27 behind 15 points and 19 rebounds from Nicole Anderson.
Aviano had defeated Vilseck on Friday, 35-24 behind 15 points from Kassie Mangosing.
Behind 16 points from Willmer and 11 each from Renna Damon and Michelle Aguila, Naples defeated Patch 41-37 on Friday night. The Wildcats led 24-12 at the half before Patch, led by Anderson's 16 points, mounted a comeback.
Boys basketball
In four games that were fairly similar, Aviano and Naples pulled away late to sweep the weekend series.
Tony Williams, hindered by foul trouble Friday night, scored 27 points to lead unbeaten Aviano to a 90-71 victory over Patch in the final game Saturday. Dustin Miller had 26 points, with Jacques Watson adding 16 and Carl Cephas 15. Neal Griffin had 23 points for Patch.
On Friday, Miller had 21 points to lead Aviano to a 73-66 victory over Vilseck. The Saints got off to a slow start before sophomore Spencer Templeton provided a spark off the bench and finished with a career-high 20 points.
Rodney Morgan scored 20 to lead Vilseck.
Naples' center Mark Pearyer capped a good weekend Saturday with 16 points to lead the Wildcats past Vilseck 51-43. Noah Stevenson added 15. Dre Barnes led Vilseck (7-5) with 16.
---
---
---
---