Girls tennis AOY
Omachi was the best even when not at her best
by
Dave Ornauer
November 26, 2019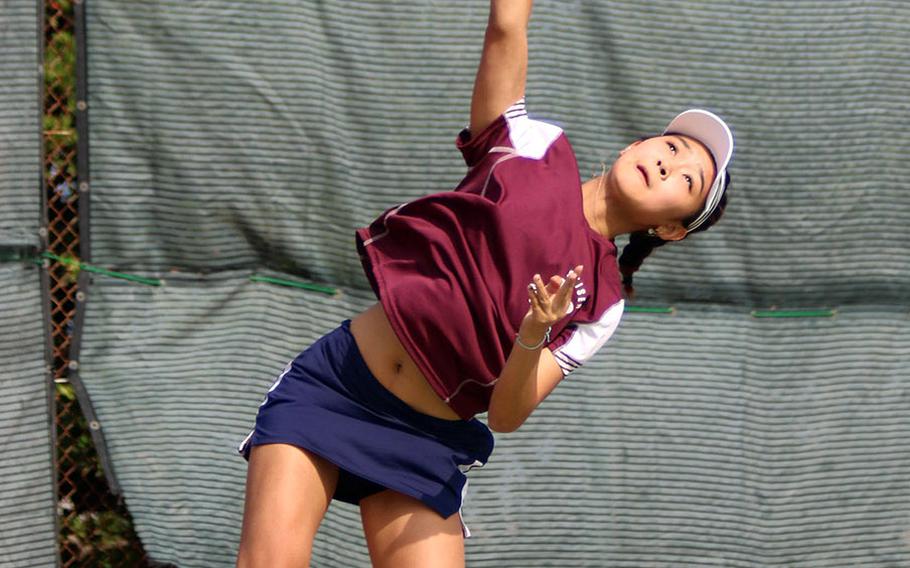 TOKYO – Nothing feels quite like the pressure of being the top seed in a tennis tournament … and you're not having your best day on the court.
That summed up the first day of the Far East tournament earlier this month, Seisen's Sarah Omachi said.
Neither she nor the boys top singles seed, St. Mary's Yuki Toyokawa, were playing particularly well; in fact, Toyokawa fell to Robert D. Edgren's Ryken Calleros in the third round in what many observers called one of the biggest upsets in Far East history.
"It was really bad," said Omachi, a senior who went on to win her second straight Far East singles and doubles titles, but not without struggles. "I wasn't playing my best tennis as well. Worse, everyone's watching you. Pressure. You have to play well."
To quell the panic during an 8-2 second-round win over Yokota's Danica Setka, Omachi said she told herself to just keep the ball in play, in whatever manner.
"In the end, if you win, you win," she said. "It doesn't matter if not all is going well. Just worry about the point you're playing. You have to calm down. Not worry if you're not playing well. Just keep it in."
The overwhelming favorite, Omachi went on to sweep her singles and doubles matches. She was unbeaten in her final three seasons – in fact, she never lost again in high school competition after falling in the 2016 Far East singles final.
For her feats, Omachi has been named Stars and Stripes Pacific girls tennis Athlete of the Year for the second straight year.
Though Omachi went through the just-completed season without dropping a set, it wasn't always easy and nerves would remain an issue, she said.
"I would feel that if I didn't play well, I'd be disappointed and whoever the opponent was, I would be nervous," Omachi said. But once each match started, "it (nerves) naturally goes away and you're just playing."
It was that last defeat in the 2016 final, against Seisen teammate Matilde Piras, that Omachi said helped build the foundation for the rest of her high school career.
Until then, Omachi had been a strictly power player, overpowering opponents with big serves and heavy forehands. In that 2016 final, Piras countered with strong baseline play, good serve returns and groundstrokes to win the last two sets.
After that, "I wanted to win every match, but rather than (remain a power player), I wanted to be a more mature player, calm and clever on the court," Omachi said. "No matter who I play, I could adapt, be smart when playing tennis."
Ironically, Omachi said she found herself in Piras' role when in the Kanto Plain tournament on Nov. 1, Omachi played teammate Isha Kumar in the girls singles final,
It was Omachi's turn to counterpunch against Kumar, a freshman with power similar to Omachi's three years ago. Omachi beat Kumar in straight sets, then Kumar asked Omachi afterward if she thought she had played well.
"She is kind of similar to me, skilled, but she can get frustrated, mistakes would build," Omachi said of Kumar, adding that she told Kumar to keep her cool, keep the ball in play and look as though she was playing confidently even if she wasn't.
"I think that advice would have helped me when I was a freshman. So, I'm passing that on to her," Omachi said.
Ornauer.dave@stripes.com Twitter: @daveornauer