Old rivals to meet in European girls Division I finals
---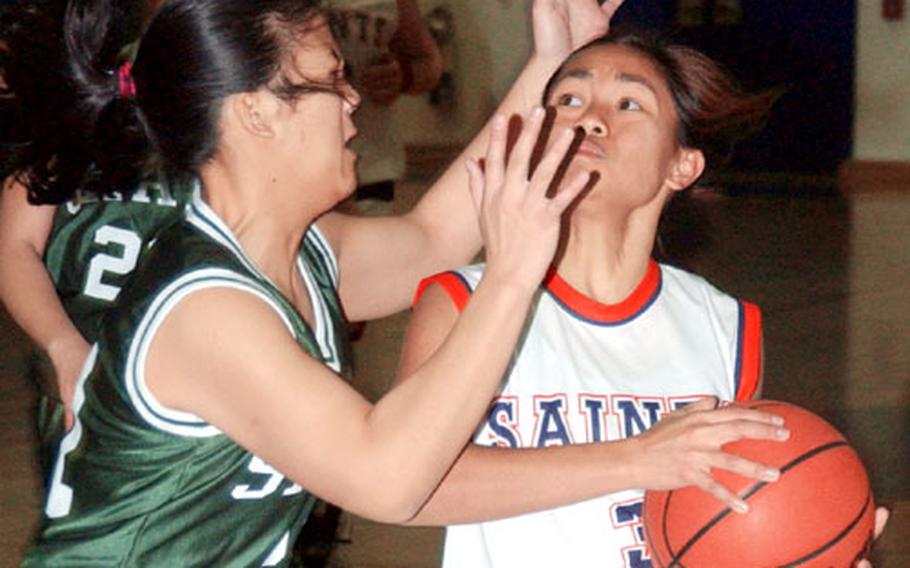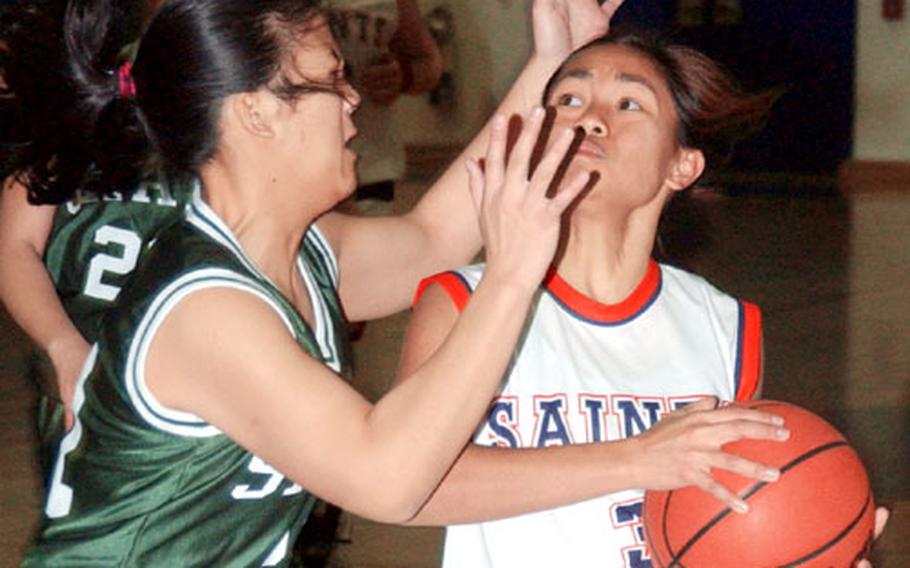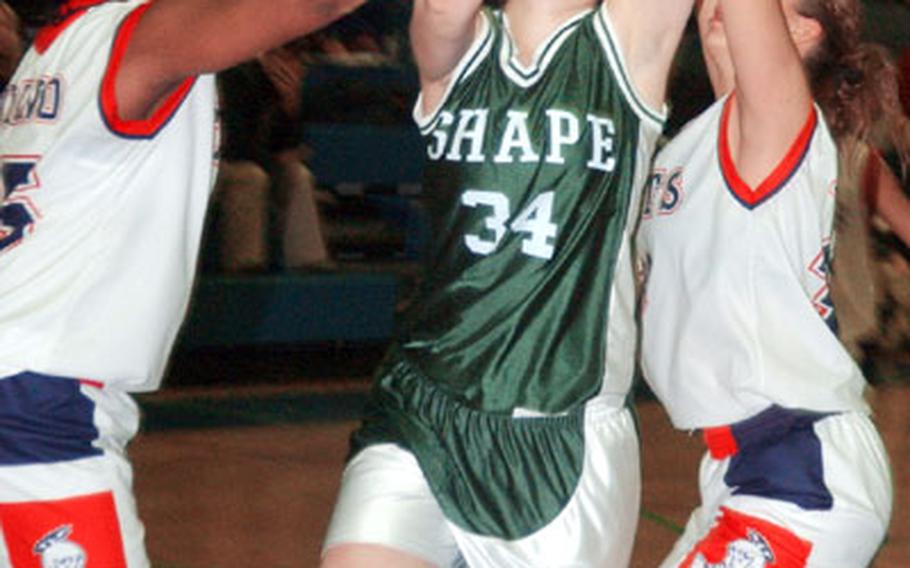 (List of scores at bottom of story)
MANNHEIM, Germany — Neighboring rivals Ramstein and Kaiserslautern, who between them have won seven of the last eight girls' European Division I basketball crowns, will make it eight of nine Friday when they square off in the final.
Their semifinals Thursday couldn't have been more different. Ramstein rolled past defending champion Lakenheath 55-22, while top-seeded Kaiserslautern had to go to the line to defeat third-seeded Heidelberg 41-36.
Ramstein used a relentess defense to beat Lakenheath. "We said right before the game that defense would win the game for us," Ramstein's Krissy Grosselin said. "We played how we knew we could."
Grosselin had 28 points despite sitting out the fourth quarter. She scored eight points and made four assists off steals produced by double-teaming every Lakenheath player who made the mistake of picking up her dribble. The tactic produced 9-0 and 8-0 second-quarter runs for Ramstein, and a 32-14 halftime lead.
Lakenheath, which defeated Ramstein 59-57 in last year's title game, also was hampered by the absence of all-conference guard Meme Smith, declared ineligible for the tournament for undisclosed reasons. Megan Carradine led the Lancers with 13 points.
The game was a continuation of the defensive dominance Ramstein demonstrated in Wednesday's 37-33 pool-play victory over Kaiserslautern. Ramstein outscored K-town, which defeated the Lady Royals twice in January, 15-1 over the opening seven minutes and never looked back.
In its semifinal, Kaiserslautern made 27 of 36 free throws.
Bianca Gerena-Perez, a 60 percent free-throw shooter during the regular season, led the way, hitting nine of nine after missing her first try Thursday. She hit four straight in the first 2:46 of the fourth period after Heidelberg cut the deficit to 23-22.
Dupe Babatude led Kaiserslautern with 10 points, eight of them in the final period and six of those on nine free-throw attempts.
Patch stuns Naples: In a Division II pool-play game Wednesday night, Nicole Anderson sank the winning free throw with less than 10 seconds to play as fifth-seeded Patch pinned the first defeat of the season on Naples 38-37.
No. 8 Milan dumps Iceland: Lauren Leismer made an 8-foot put-back basket with seven seconds to play Thursday, giving the eighth-seeded Panthers a 37-35 victory over fourth-seeded Iceland in the Division IV tourney.
The win, which came after Iceland's Candise Apling hit a three from the left wing with 35 seconds left to tie the game at 35, left Milan with a 2-1 pool-play record. Iceland fell to 1-2.
Rota, Hohenfels cruise: In the Division III tournament that began Thursday, third-seeded Rota crushed Bamberg 52-33, and No. 4 Hohenfels stopped the American Overseas School of Rome 42-27. Top-seeded Ansbach, the defending Division III champion, and second-seeded Sigonella were idle Thursday, and will join the top six from Thursday's play in an eight-team, single-elimination bracket Friday.
Championships for Divisions I and IV are scheduled for Friday. Divisions II and III will play their finals on Saturday at Mannheim.
Tourney scores
Division I
Pool play
Lakenheath 25, Wiesbaden 23
Semifinals
Ramstein 55, Lakenheath 22
Kaiserslautern 41, Heidelberg 36
Division II
Hanau 38, Bitburg 22
Mannheim 39, Patch 38 (OT)
Aviano 36, SHAPE 29
Naples 50, AFNORTH 20
Vilseck 42, Hanau 38
Patch 28 Black Forest Academy 8
AFNORTH vs. BFA, late
Mannheim vs. Naples, late
Vilseck vs. Aviano, late
Division III
Hohenfels 42, American Overseas School of Rome 27
Rota 52, Bamberg 33
Baumholder 37, London Central 27
Giessen 53, AOSR 11
Bamberg 51, Marymount 14
Baumholder 55, Vicenza 17
Hohenfels vs. Giessen, late
Rota vs. Marymount, late
London Central vs. Vicenza, late
Division IV
Pool play
Alconbury 51, Incirlik 10
Brussels 24, Ankara 13
Menwith Hill 28, Lajes 19
Milan 37, Iceland 35
Semifinals
Alconbury 49, Menwith Hill 26
Brussels vs. Milan, late
Wednesday's late results
Division I
Heidelberg 38, Wiesbaden 27
Ramstein 37, Kaiserslautern 33
Division II
Vilseck 43, Bitburg 27
Patch 38, Naples 37
Hanau 53, Aviano 38
Mannheim 40, AFNORTH 28
Division IV
Milan 45, Incirlik 30
Brussels 30, Menwith Hill 13
Lajes 30, Ankara 26
---
---
---
---