Okinawa Marine adds to his collection of wrestling medals
---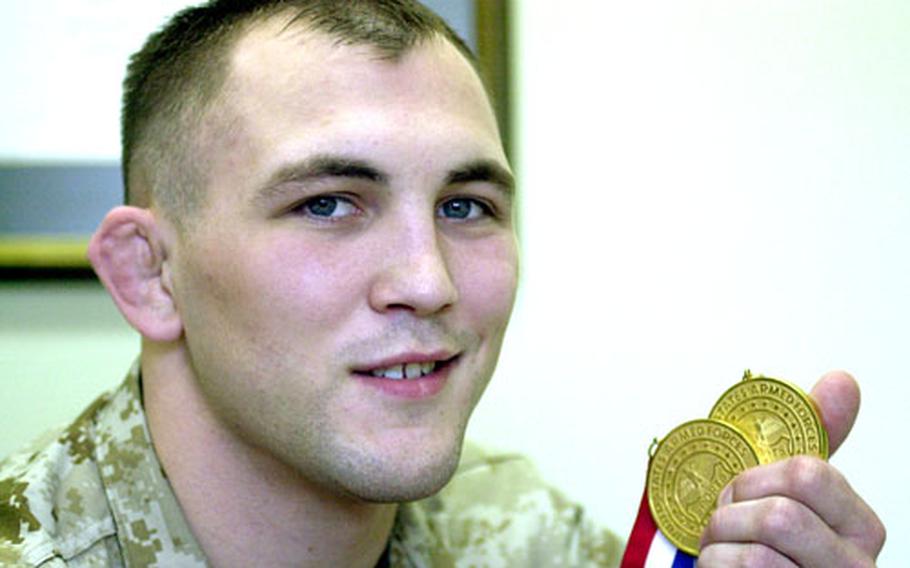 CAMP FOSTER, Okinawa — Last week's All-Armed Forces meet in Colorado Springs was a successful one for Marine wrestler Cpl. Jacob Clark. The 25-year-old from St. Paul, Minn., added the 2005 freestyle and Greco-Roman titles to his seven total individual gold medals.
Making Clark's accomplishment more notable is that he's stationed overseas. Army wrestlers — who train full-time — dominated the tournament, taking their fourth straight team title.
"It's a big thing" to beat soldiers, Clark said, "They win every year."
En route to his clutch of gold medals in the 185-pound class, Clark defeated Army's Keith Sieracki, a two-time Olympian. Clark was an alternate for the 2004 U.S. Olympic team.
"Just to win an individual gold is a major feat," Clark said. "And to beat Sieracki, he's been so good for so long. He's one of my idols."
Clark joined the Marines after wrestling one season at the University of Minnesota. His older brother, Joseph, was a two-time All-Armed Forces champion.
Given today's armed forces operations tempo, that Clark has been able to wrestle seven years for the Marines "might have been luck," he said. Although the Marines have been "very supportive" of his wrestling.
Capt. Carl Bailey, who oversees Clark's duty section, recalls the Marine Corps wrestling coach phoning to ask if Clark could wrestle for him at Colorado Springs.
"That's a no-brainer," said Bailey. "Why would we not? He's very humble, he doesn't brag about himself. He's outstanding. If they need him at a moment's notice, the command is behind him."
Clark, a transportation management specialist, also makes recruiting visits to high schools, a duty he enjoys.
Clark especially likes talking with high school grapplers. "Wrestlers and Marines are very much alike," Clark said. "Discipline is a common bond.
"A lot of high school-aged kids don't know there are sports programs in the military," he said. "That would draw a lot more people."
He now turns his attention to the All-Armed Forces' team's August trip to the International Military Sports Council championships in Lithuania — one of dozens such trips Clark has made to compete. His passport has stamps from Russia, Finland, Sweden, Estonia, Hungary, Italy, Poland, Czech Republic, Germany, Cuba, France and Kazakhstan; he even speaks a bit of Russian.
"A lot of times, I'm asked why I wrestle and why I'm a Marine," Clark said. "You'll never make a million [dollars] in wrestling, but I've been to so many places and done so many things that a lot of people will never do. That's priceless. All that makes me a millionaire."
---
---
---
---