Okinawa H.S. football: Kadena Dragons roll past Schwab
by
Dave Ornauer
October 18, 2004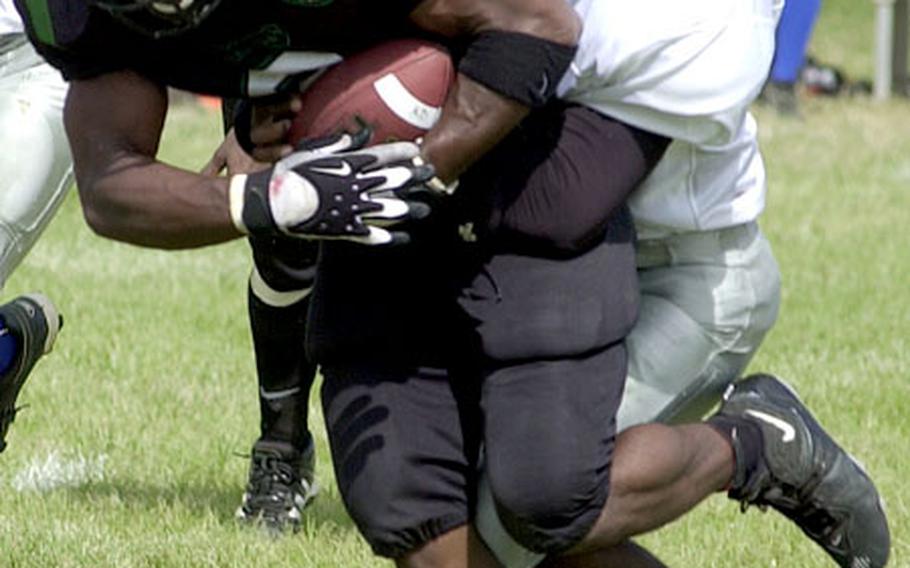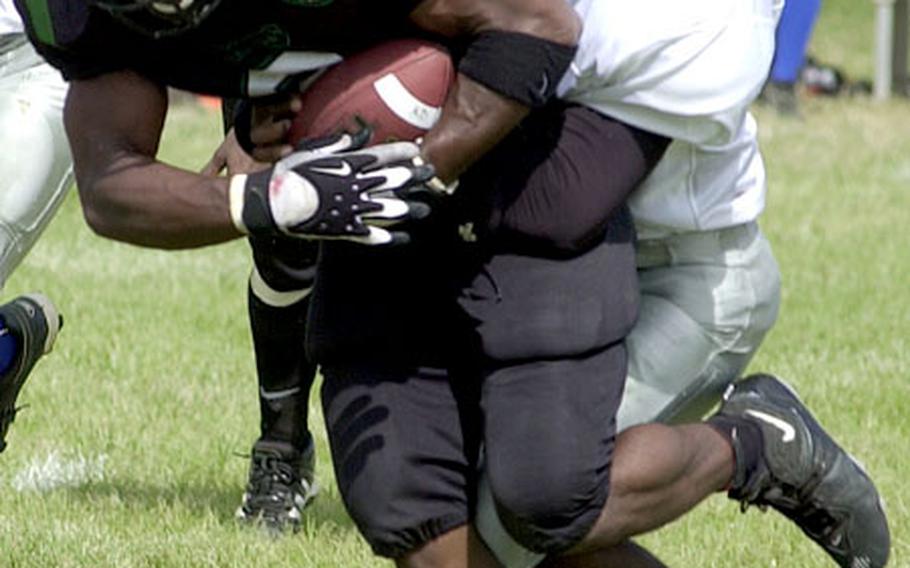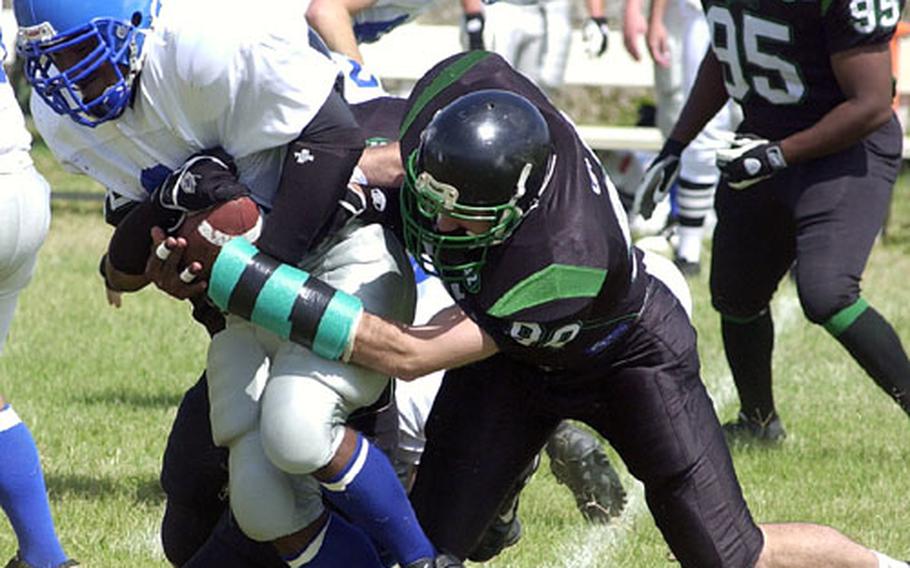 CAMP COURTNEY, Okinawa — Coach Will Cupp insists his Kadena Falcons are no one-trick pony. All-purpose back Trent Beavers might be his poster child.
Beavers racked up 232 all-purpose yards, rushing for four touchdowns, returning two kickoffs for big yardage, even blocking a punt, powering the Kadena Dragons to a 50-7 rout of the Schwab Panthers on Saturday as the Okinawa Football League resumed after a one-week hiatus due to bad weather and its effects.
Saturday was a day of blowout victories, as Foster-Futenma matched Kadena's first-place pace with a 40-0 romp over Courtney-Hansen.
It was the first OFL action since Oct. 3. All three scheduled Columbus Day weekend games were scratched because rain associated with Typhoon Ma-on rendered Courtney Bowl unplayable. All told, five of the league's first scheduled 12 games have been postponed due to weather.
Kadena 50, Schwab 7
Beavers had lots of help: Quarterback P.J. Robinson rang up 192 offensive yards, ran for a TD and passed for another; and linebacker Sam Wicks had three takeaways, including a 68-yard interception-return touchdown.
"We're not a one-dimensional team," Cupp said. "If you stop the run, we'll beat you with the pass. If you stop the pass, we'll beat you with the run. Teams will have to play us honest or not play us at all."
Centerpiecing Kadena's attack, though, was Beavers, the featured back on a play the Dragons call 44 Lead. Running off right tackle out of a wishbone set, Beavers scored four times on that play, on runs of 31, 1, 61 and 37 yards — and Schwab defenders didn't lay a hand on him each time.
"The offensive line, all of them stepped up," Beavers said of the folks who plowed the road for him. "We came out hard at practice this week, worked really hard and it paid off."
In scouting Schwab, Cupp said he'd noticed its defense had trouble with outside containment and would be susceptible to plays such as 44 Lead.
"We exploited that," Cupp said. "That's a tribute to our good blocking, our line, even our wide receivers laying some good hits on people."
Beavers ran 13 times for 156 yards, returned two kicks for 71 and caught a 5-yard pass from Robinson, who went 6-for-13 for 160 yards, hitting Christopher Clarke with a 75-yard first-quarter TD pass and later running 9 yards for another score. Robinson had 32 yards on 13 carries.
Wicks and James Francis, with a fumble recovery and a sack, paced a defense that forced five turnovers, recorded two sacks and blocked three punts. Kadena outgained Schwab 371-150.
"We were overmatched today," said coach Robert Bufkin, whose Panthers' lone score came on Juventino Camarillo's 32-yard pass to Jermaine Parlow late in the first half. "We still need to work on tackling. Kadena played well. Our hats are off to them."
Camarillo went 11-for-28 for 114 yards. Jeremy Zenquis ran 14 times for 61 yards, Parlow caught three passes for 55 yards and the Panthers forced four turnovers and recorded two sacks. Yean Diaz had two fumble recoveries and a sack.
Foster-Futenma 40, Courtney-Hansen 0
A balanced Bulldogs running attack punished the Titans for 277 yards on 55 carries and four touchdowns. Foster-Futenma forced six turnovers and recorded five sacks in holding Courtney-Hansen to 43 yards, while the offense ground out 355 yards.
But the score could have been more lopsided, coach Lee Mew said, were it not for 175 yards on 15 penalties, nine of them personal fouls.
"Penalties killed us," Mew said. "We'll take the win, but we have to get rid of the penalties. The score should have been 60-something. But we'll get better."
Warner Murphy ran 21 times for 96 yards and a touchdown. Jimmel Hardgrove added 41 yards and a TD on seven attempts. A.J. Hickman scored twice on quarterback sneaks and went 4-for-7 for 77 yards, including a 28-yard scoring strike to Donald Palmer, who caught four passes for 65 yards.
Defensively, Adrian Virges had two fumble recoveries and two sacks, and Clifford Sales had a sack and returned an interception 46 yards for a TD.
Thomas Aragon went 5-for-15 for 65 yards and Willie Simmons recovered a pair of Foster-Futenma fumbles before being ejected late for unsportsmanlike conduct.