Occomy enjoys red-letter day as Firecracker champion player, coach
by
Dave Ornauer
July 4, 2015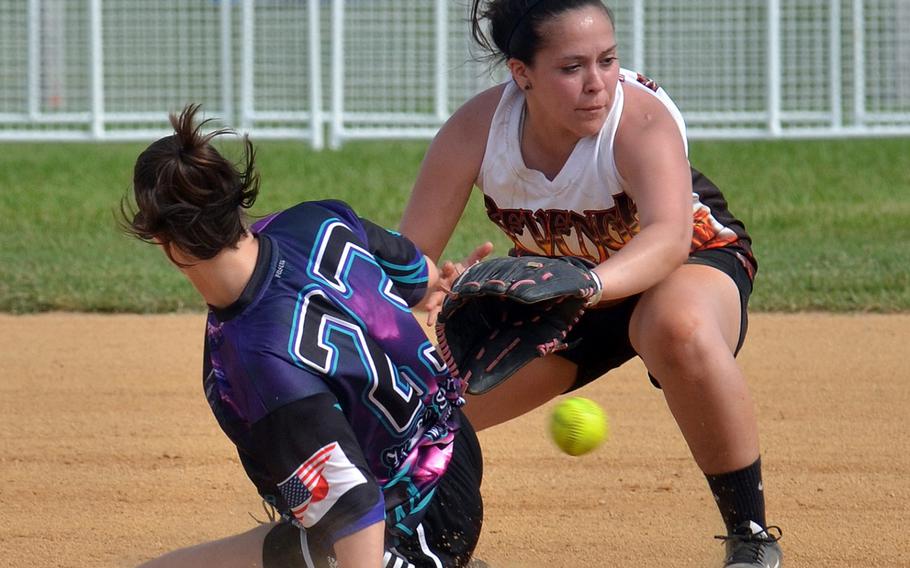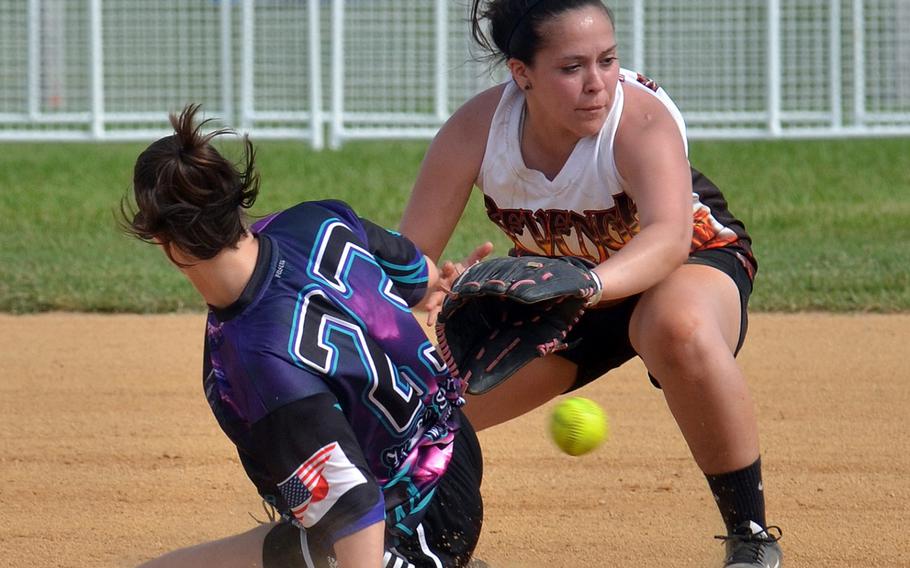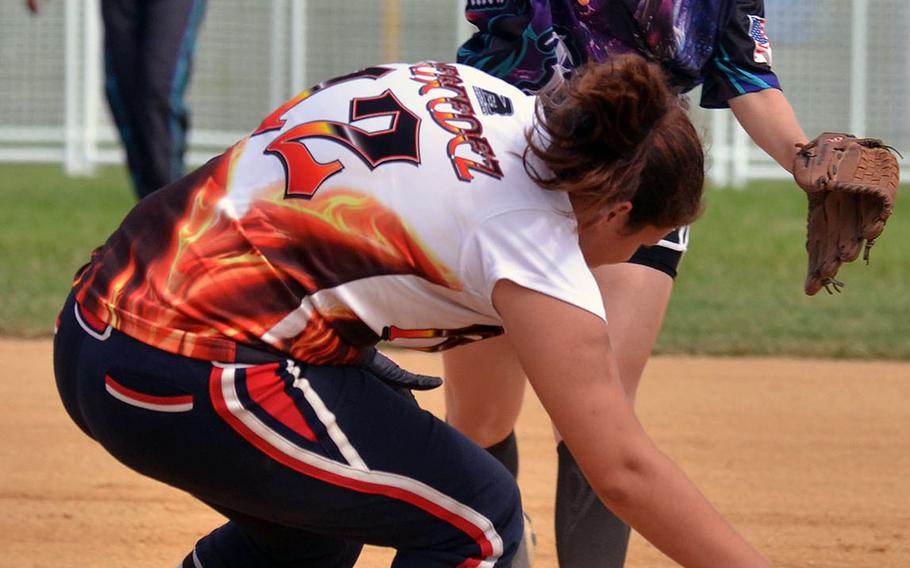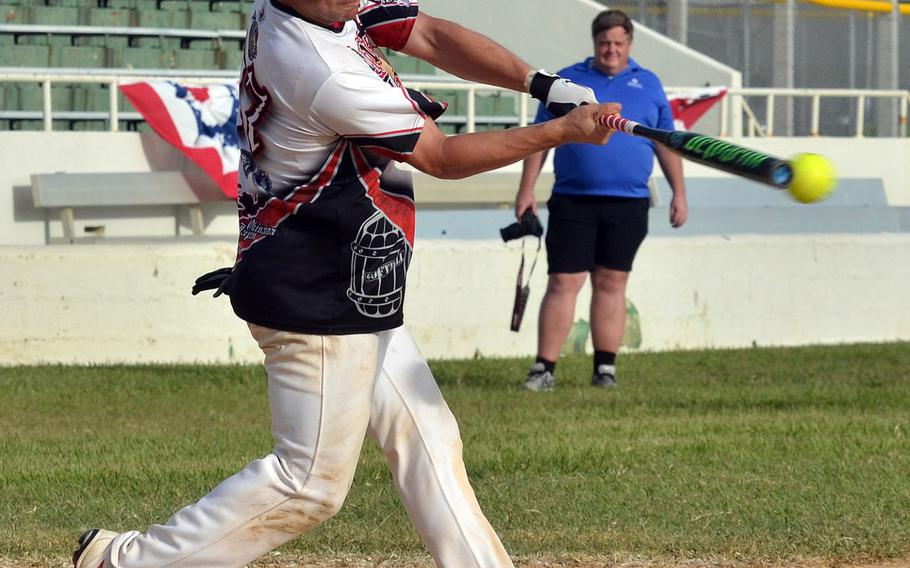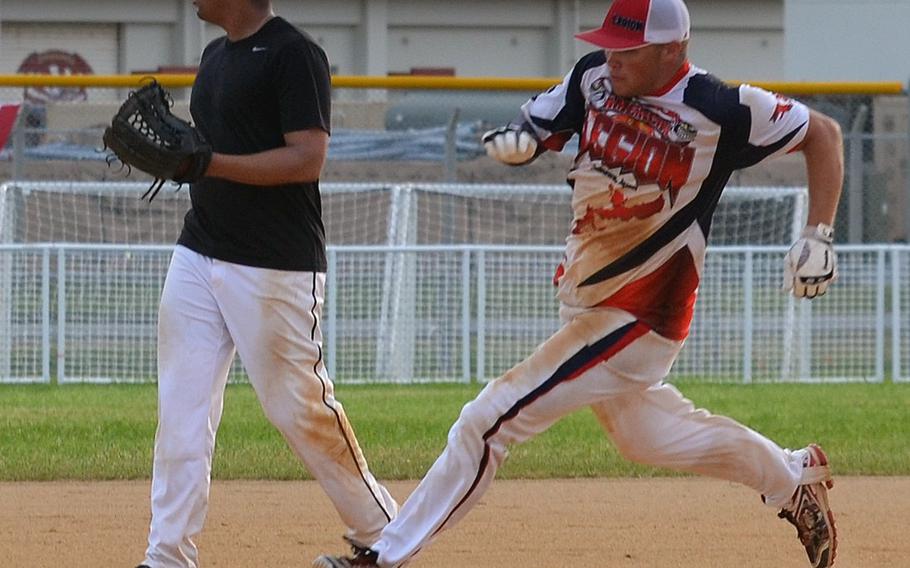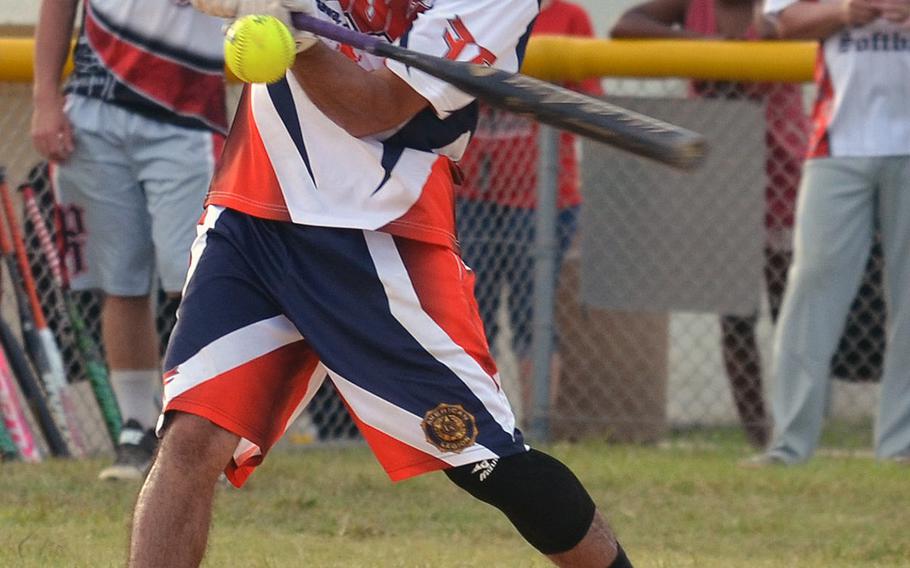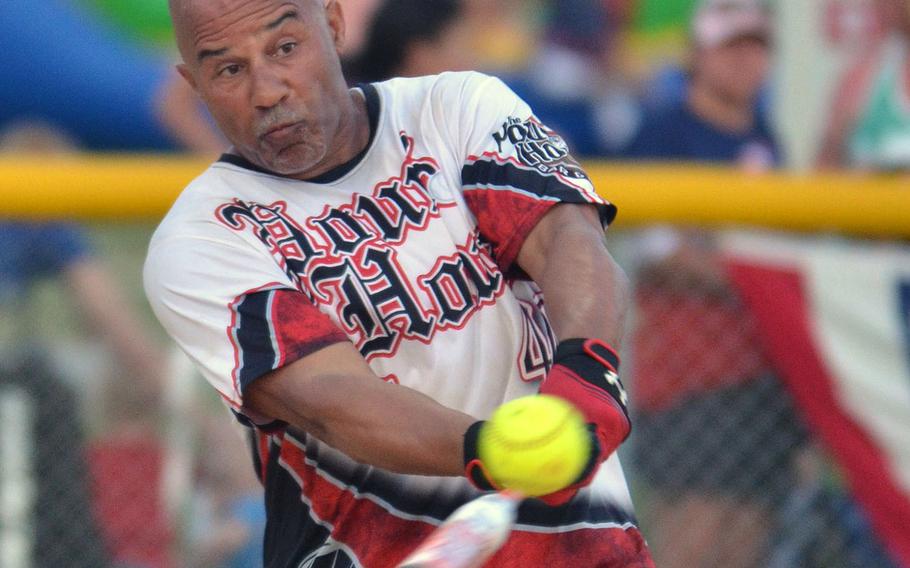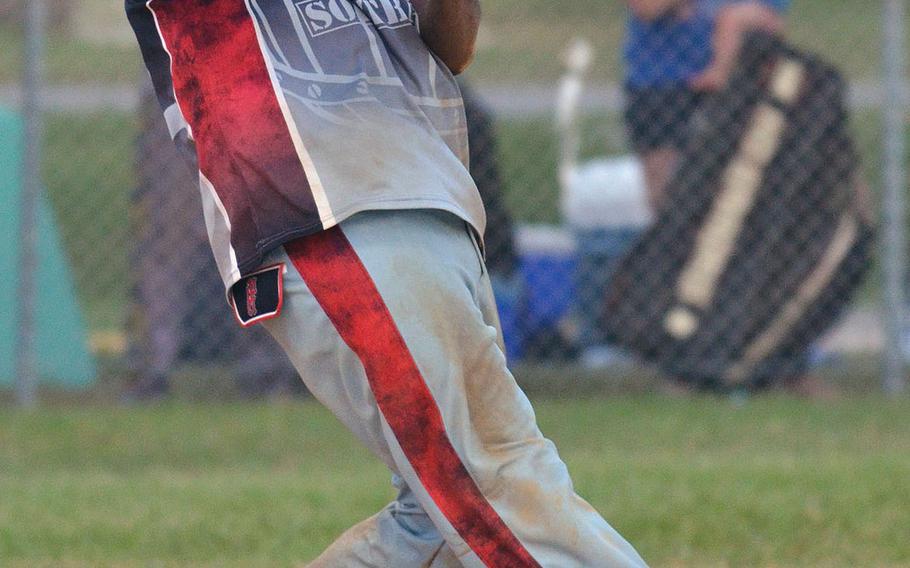 CAMP FOSTER, Okinawa — For Lawrence Occomy, Saturday's finals of the Firecracker Shootout Softball Tournament were doubly special as he took home titles as both a player and a coach:
Claudia Robles scored on a sixth-inning throwing error following her stolen base, and Occomy's Okinawa Dragons turned three double plays and rallied to beat Revenge for the second straight year, 4-3 in the women's final. The men's title came the hard way as Pour House needed two games to down American Legion for the title in the double-elimination tournament. Legion forced the second "if necessary" game by rallying for a 9-4 victory, but with Occomy on the mound, Pour House prevailed in the second game 13-12."Feels great, as a player and a coach. Can't beat it," said Occomy, who was also named the men's tournament Most Valuable Player.
It was the third straight year the Dragons won the women's title, but it came much tougher than last July's 15-2 five-inning victory, which also featured three Dragons double plays.
On the men's side, Pour House won its second Firecracker title in three years, the first coming in 2012 when it played as Club Red and beat the same American Legion team, scoring 17 unanswered runs in a 17-8 victory. Pour House/Club Red has played together for 12 years.
Saturday's women's final appeared as if it might need a second game to decide the title when Sonja Doss scored from third on a double play with the bases loaded and none out in the top of the sixth.
But with one out in the bottom of the frame, Robles reached on an error, then made what Occomy termed the play of the game when she stole second. Sarah Cook then hit into a fielder's choice and Robles dashed to third, where the ball got away from Rachel Cortezano. Robles raced home with what proved to be the winning run.
"I was a little nervous," Robles said. "I hadn't stolen a base in awhile, I haven't played in a couple of months, but we needed to steal the base and we needed to get the (run). We had to score and when I got that call to steal, I gave it my all."
Last year's Firecracker MVP Megan Eliz paced the Dragons by batting 2-for-3 in a game that featured nine errors and just 11 hits. Eliz scored on Schameka White's RBI single in the third inning; all the other Dragons runs were unearned. Alexis Sparrow, a Kadena High School outfielder, went 2-for-3 to pace Revenge.
Pour House entered the men's final unbeaten and it seemed as if the first game might have needed extra innings after Anthony Hawkins' two-run home run tied it 4-4. But Dom Dominguez tripled in two runs, Tony Presson doubled in two more and scored on Bryan Hicks' single to force the deciding game.
Robert Gullett was 3-for-3 and Jarred Brown and Hicks each had two hits for Legion. Frank Poo was 2-for-3 with an RBI for Pour House.
The second game was a back-and-forth affair which was finally settled in the top of the sixth, when Hawkins – playing in his final Firecracker before he leaves island – hit a two-out, two-run single to put the game out of reach 13-10. Legion scored twice in the bottom of the seventh, but with runners on first and third, Brown flied to left for the final out.
"Feels good to win the Firecracker for my last one," Hawkins said. "Feels good. Second one since I've been here. Feels real good."
Hawkins batted a combined 5-for-8 in the two games, while Johnny Schoberl, playing in his first Firecracker, paced Pour House's offense by going 3-for-4 with a double and five RBIs. Anthony Velarde batted 3-for-3.
"It was a pretty special day," Schoberl said. "We all had a great time. It's all about the team and the team really picked it up when we needed to. Coming out and playing the way we did, it's a pretty humbling experience."
Legion just missed out on its second Pacificwide tournament title of the year and its 19th overall. Coach John O'Brien's son, Joseph, went 4-for-4 with a double, a home run and four RBIs, Dominguez batted 3-for-3 and Gullett and Matt Norris each drove in two runs for Legion.
ornauer.dave@stripes.com Twitter @Ornauer_Stripes