Nyeshia Green, Mannheim girls have come a long way in two years
---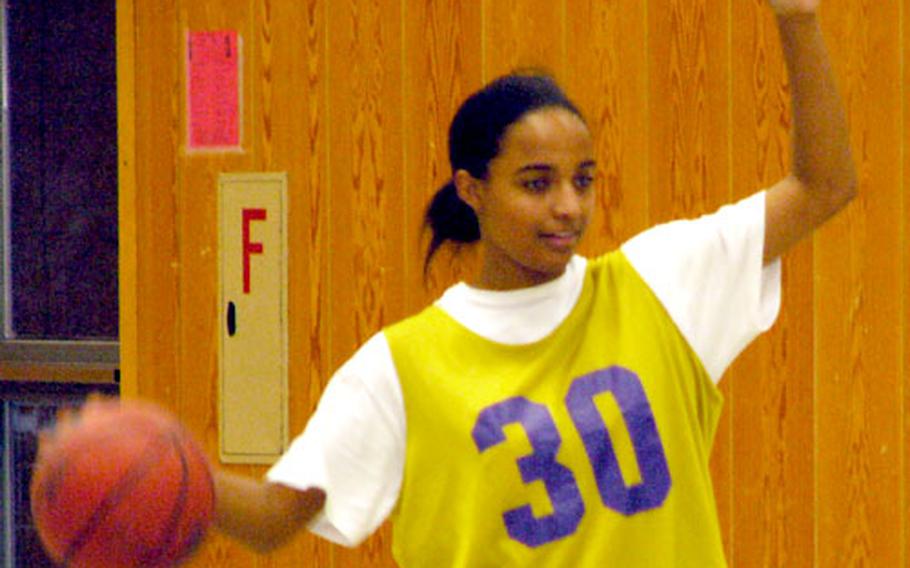 MANNHEIM, Germany — Two years ago, Nyeshia Green was a Mannheim middle schooler who couldn't wait to play for the Lady Bison varsity, a team that went into that season's Division II tournament with a 2-10 record.
Green and the Lady Bison both have come a long way.
This season, Mannheim is 7-2 overall and 3-0 in league play. Green, a 15-year-old sophomore, is averaging 15.9 points, four rebounds, four steals and two assists per game.
But she couldn't tell you that.
"I don't keep up with statistics," said Green, who has scored 21 points in two of her last three outings and canned a season-high 28 against Patch in December. "All that matters is the 'W.'"
Those wins are due partly to players such as Green and teammates Amanda Knox and Kelsey Chavarria, who have breathed life into head coach Adrian Crawford's system.
"We have a long way to go," Crawford said Monday, "but the system is in place."
Like all of the Lady Bison, Green has bought wholeheartedly into Crawford's system.
"We go out there and play good team basketball," Green said prior to a lively Monday practice session which saw the Lady Bison honing their zone defense and transition game. "When we do that, everything else takes care of itself."
Taking care of everything else is the essence of the system, according to Crawford.
"We work really hard," he said. "We teach fundamentals and pay attention to details."
As an example, one of those details has Green — who has found the three-point shot just out of her range — elevating her already potent scoring.
"She's taking advantage of her mid-range jumper," said Mannheim assistant David Brown. "Coach Crawford took her aside and pointed out that she was shooting over 50 percent inside the arc. He told her to step inside before she shot."
The detail paid off in Mannheim's 43-21 victory on Friday against Black Forest Academy.
"She was 10-of-14 from the floor against BFA," Brown said, "and scored 21 points — even with no threes."
Crawford pointed out that Knox, a senior leader who endured that 2-10 season with him, has also helped Green's scoring average.
"She takes the point guard," Crawford said.
"That lets Nyeshia score."
It also emphasizes the team concept the Lady Bison swear by.
"We have girls who have bonded together," said Chavarria, Mannheim's inside presence. "We all support each other. We don't have just one star."
Crawford said Green's scoring is also helped by her defensive prowess, particularly her skill at stealing the ball.
"The steals help get her into her rhythm," Crawford said. "She's not really that fast, but she has fantastic anticipation for knowing where the ball's going to go. It comes from playing center field in softball, getting a jump on the ball."
Crawford's system takes into account another detail that's not always associated with building a winner — seeing that his players have fun — even when they were 2-10.
"When I was in eighth grade, [Crawford's first Lady Bison squad] invited me to practice a couple of times," recalled Green. "Even though they weren't winning, they still had fun. That's why I wanted to play so badly — because they were having so much fun."
Crawford intends to see the team keep having fun, all the way through the European tournaments, which will be held at Mannheim from Feb. 22-26.
"We have a great group," he said. "They have fun, and that makes it easier on us."
Easy enough to go from near-worst to first in just three seasons?
"We take it one practice at a time," Green said when asked about Mannheim's chances in the European tournament three weeks from now, "one game at a time."
---
---
---
---