Novice bouts or not, boxers at Baumholder pack a punch
---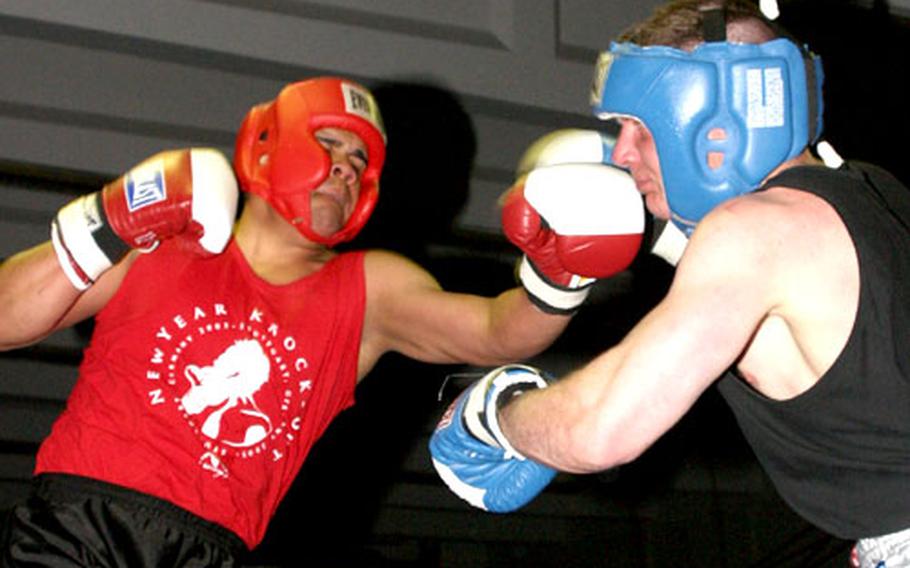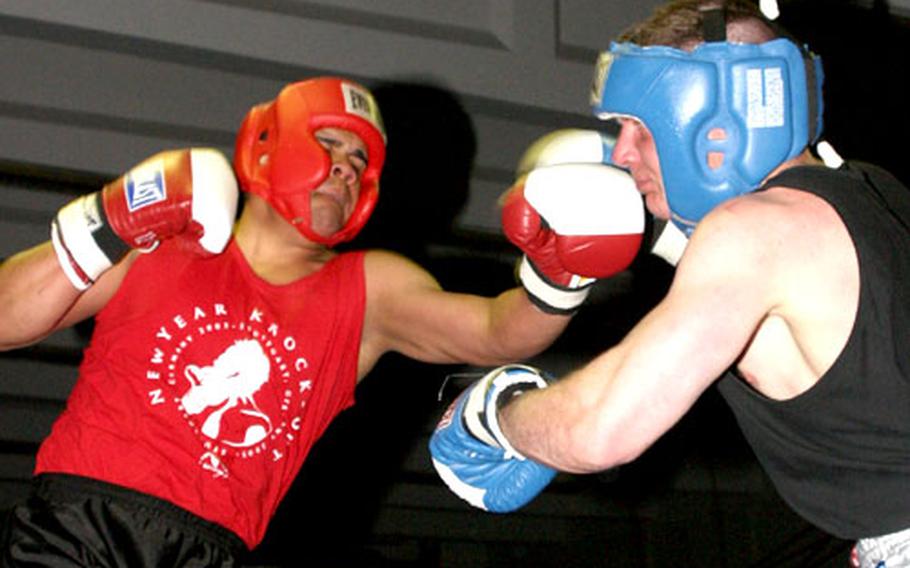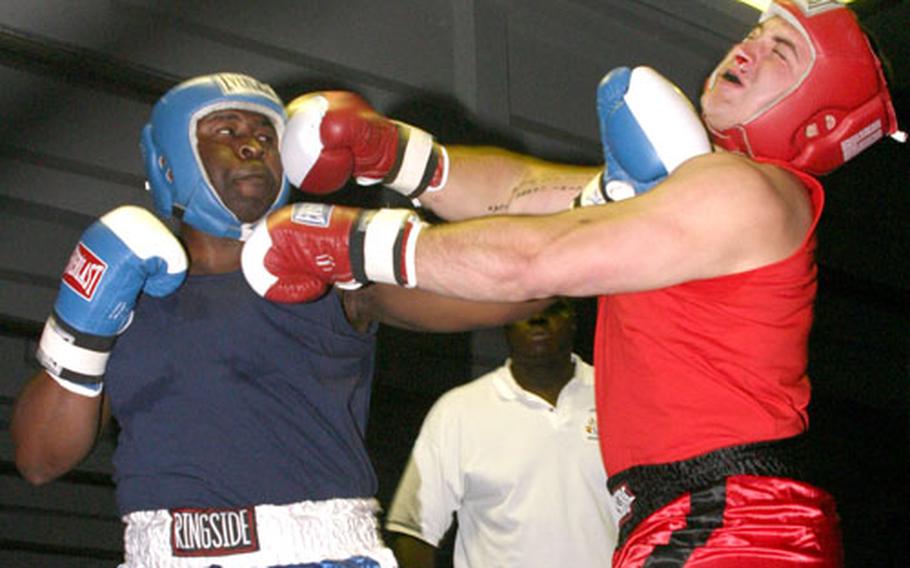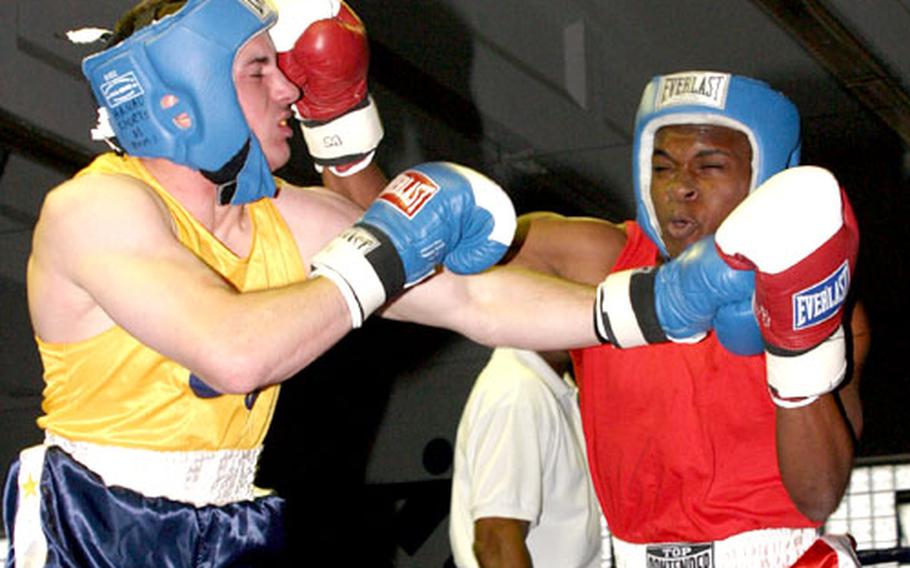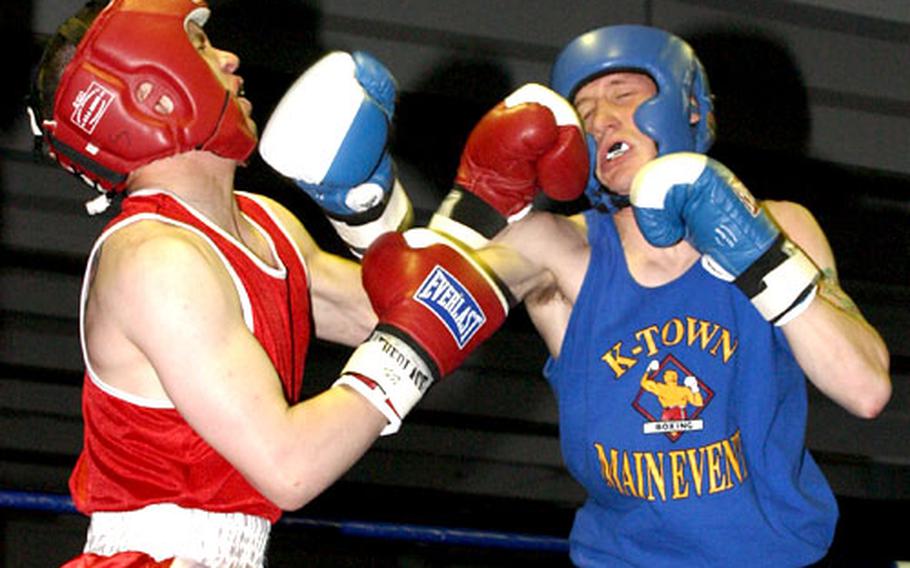 BAUMHOLDER, Germany — Just because all nine bouts on Saturday night's Baumholder Days card paired novice boxers, don't get the idea the event was insignificant.
"This was a most important bout for me," Baumholder light middleweight David Smith said after he claimed a 2-1 victory over Heidelberg's A.C. Bryant III. "I go open next time. I completed my novice career undefeated. I'm 10-0."
Smith picked up No. 10 by decking his opponent in the opening seconds of their three-minute bout and coming back himself from a stumble as he was backpedaling and leaning back from a blow in the third round. He took a standing eight-count after the fall was ruled a knockdown.
Smith's transition to an open boxer was punctuated by the maturity he showed after landing a right hand that put Bryant down while the opening bell was still echoing through the Hall of Champions gym here.
"You want to go after him," Smith said about the temptation to rush after a knockdown victim, "but you can't do that. You have to maintain control."
That would have been good advice for Bryant, who forgot most of his coaching after hitting the canvas and spent the rest of the bout launching wild, roundhouse rights at Smith. Smith spent the rest of the bout counter-punching effectively.
"He had a very unorthodox style," Smith said of Bryant's barroom-brawl punch selection. "I can't get into that with him."
As usual in novice bouts, energy and enthusiasm far outweighed technique in Saturday's bouts, which were aptly named "Baumholder Days." It was clearly Baumholder's night, at any rate, as hometown boxers won no fewer than seven of the nine bouts en route to a 56-14 team victory over runner-up Heidelberg.
Five of the nine bouts pitted Baumholder boxers against one another, but that was all right with super heavyweight Rayshawn Penn, who claimed a dominating 3-0 decision over fellow Baumholder Bear Nick Moradi.
"I don't have any problem with it," Penn, a medic with the 2nd Battalion, 6th Infantry Regiment, said about fighting a man who could be his teammate under other circumstances. "He's outside my unit, so it's OK."
Friedberg's Carlos Wright claimed a 2-1 light middleweight victory over Heidelberg's Nicholas Tucker in the evening's most energetic bout. Encouraged by the three one-minute round format used for all bouts Saturday, both boxers exchanged punches unceasingly throughout.
Troy Schmidt of Baumholder posted the KO of the night, when he flattened Thomas Elizando of Baumholder with a right to the earhole of Elizando's headgear. Elizando ended up reclined against a ring post and remained unconscious there for several seconds until revived by the ring medics.
Europe's next boxing tournament is scheduled July 9 at Grafenwoehr.
Baumholder Days boxing results
BAUMHOLDER, Germany-Results from Saturday's bouts on the Baumholder Days boxing card. All bouts were novice category, three one-minute rounds (RSC-referee stopped contest):
Team scoring: Baumholder 56, Heidelberg 14, Friedberg 5, Illesheim 3.
Light welterweight-Adam Klakowicz (Heid) def. Michael Lewis (Baum) 3-0; Paul Taimoor (Baum) def. William Allen (Baum) by RSC, :40, 1st round; Derrick Daniels (Baum) def. Michael Halman (Baum) by injury retirement, end of 1st round.
Light middleweight-Carlos Wright (Fdbg) def. Nicholas Tucker (Heid) 2-1; Troy Schmidt (Baum) def. Thomas Elizando by RSC, :40, 1st round; David Smith (Baum) def. A.C. Bryant III (Heid) 2-1.
Light heavyweight-Dylan Maycrink (Baum) def. Alein Lopez (Illes) 2-1.
Super heavyweight-Rayshawn Penn (Baum) def. Nick Moradi (Baum) 3-0; Steven Price (Baum) def. Alonzo Epps (Baum) by medical retirement, :55, 1st round.
---
---
---
---