Home Team
New rules require teams to spread around pitching duties
by
Gregory Broome
May 4, 2017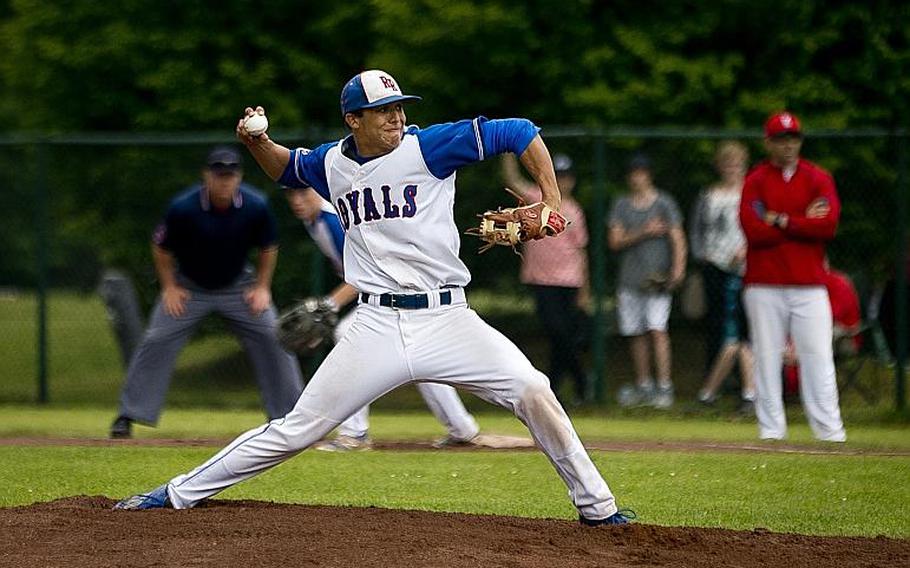 DODEA-Europe has introduced new rules for this season, based on guidelines issued by the National Federation of State High School Associations, governing the amount of pitches a baseball player can throw over a certain amount of time.
The new DODEA rules go into considerable detail, exploring a number of caveats and potential game situations. But there is one line item that stands out - every pitcher will be limited to 125 pitches at the upcoming DODEA-Europe tournament.
DODEA-Europe coaches overwhelmingly agree with the rules' emphasis on player safety.
"I think it is a positive step toward reducing the amount of arm problems high school players are experiencing," Ramstein coach Tom Yost said.
But while the spirit and intent of the rules are uncontroversial, the implementation isn't entirely seamless.
Bitburg coach Wayne Phillips would like to see the rules relaxed due to DODEA-Europe's unique circumstances. Many overseas student-athletes play different sports in fall, winter and spring, and each sport's schedule is generally much shorter and features fewer games than that same sport's stateside equivalents.
With that in mind, concerns about overuse might be overblown.
"The vast majority of the kids over here will put their gloves on a shelf after this year's tourney and pull them out again next March when we crank up baseball for 2018," Phillips said. "So yes, I think our numbers are too restrictive."
Overly cautious or not, coaches are now confronting the new reality, and have spent the spring making the necessary adjustments.
Primarily, the new limits on each pitcher's activity emphasize the need to develop a staff of serviceable pitchers rather than relying on one or two standouts. But that process is difficult to see through in a DODEA-Europe season that only extends from the start of practice in March to the European tournament in late May.
"Teams are going to have to have five-six reliable pitchers developed and get them game experience, so that when the tournament comes around you can count on them to go out and throw strikes," Yost said. "It is a challenge, but we are all in the same position."
Vilseck coach David Nelson agreed, calling it "a tough balancing act" to find enough live innings for both proven pitchers and novices, all while trying to win games and improve tournament seeding along the way.
"We have always tried to develop as many pitchers as possible for the tournament, but when you have a short schedule with few games it is really hard to get all the kids enough work to develop as a pitcher," Nelson said. "The trick is to give your top kids enough work to stay sharp but to also get those developing kids enough work to gain some game experience."
Some coaches pointed out the unique intricacies of pitching that increase the degree of difficulty even further.
"Coaching them how to throw strikes is just a little part of it. The player has to understand rules around the rubber, throwing from the windup versus the stretch, pickoff plays, pitch location, backup coverage, and so on," Kaiserslautern coach Chris Grogan said. "So having a position player throw to a target is just a small part of what they have to learn and perform to be a viable option in the pitching rotation."
There is also a psychological element to pitching, and merely identifying a player potentially capable of handling it is an inexact science.
"Every kid is different and so it depends on the individual's overall experience level, confidence level, size and strength and knowledge of the game," Phillips said. "Pitching is by far the hardest, most pressured position on the field and poise cannot be overemphasized."
The postseason format creates yet another concern for coaches.
The European tournament, scheduled for May 25-27 in the Kaiserslautern Military Community, is set to include nine teams in its Division I pool. That would place five teams in one pool and four in the other. Teams in the larger pool would play an extra preliminary game, presumably requiring more usage of their pitchers. A similar situation might play out in Division II/III; the smaller schools' final bracket structure has not yet been formally announced.
"The difference could come down to how many pitchers you have and if you were randomly pushed into the five-team pool versus the four-team pool," Wiesbaden coach Steve Jewell said. "Fewer pool play games means you can save more pitchers, which could affect the outcome."
With an unprecedented number of teams entering the Division I tournament with realistic title hopes, every small advantage - perhaps even every pitch - matters.
"It will definitely be on coaches' minds," Yost said. "I think it will change how teams approach the tournament."
DODEA-Europe monitored pitcher usage by innings rather than pitches in last year's tournament, mandating at least a 24-hour rest period if a pitcher appeared in five or more innings in one day.
The organization has no comparable rule governing pitch counts in softball, in which pitchers use a less physically taxing underhanded throwing motion.
Twitter: @broomestripes