New-look 'Beast' will be Far East preview
by
Dave Ornauer
January 19, 2017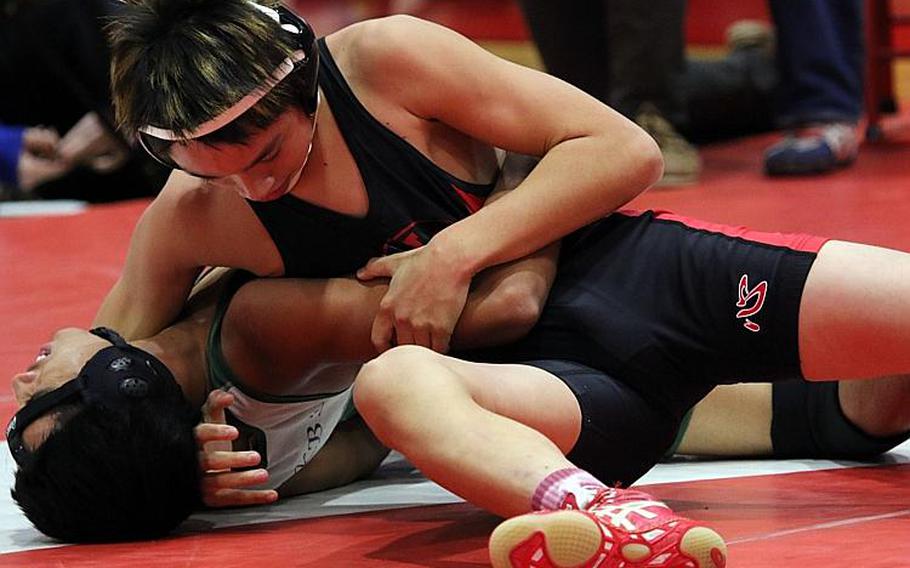 For the first time in the tournament's 23-year history, the "Beast of the East" wrestling invitational has found a new home and a new weekend.
It will be the last wrestling tournament to be held at Yokota High School's Capps Gym on Saturday; the gym is slated to be demolished after the school year when the new Yokota campus opens next summer. Prior to Saturday, Nile C. Kinnick High School hosted "Beast" since its inception.
And "Beast" is also being held two weeks later than its customary first Saturday in January slot. That permits non-DODEA entities such as defending champion St. Mary's, Christian Academy Japan and American School In Japan to field full lineups. They'd otherwise still be on Christmas holiday the first Saturday in January.
That, plus the two-pound allowance made for all wrestlers at mid-season, "will make it a lot more indicative of how the Far East might play out," Kinnick coach Gary Wilson said.
"Teams won't be nearly as different with only 3½ weeks to go" before Far East, Feb. 16-18 at Osan.
Winning the tournament title isn't as important, Titans coach Shu Yabui said, as helping "gauge approximately where we stand in the Far East, which allows me to figure out what to do for practices the rest of the season."
That said, because the Titans won it last year, "our boys are pumped to win this title," Yabui said.
Former Yokota wrestling coach Brian Kitts will run the event along with another ex-Panther mat coach, Charlie Capps, for whom the host gym is named. It was decided to hold the tournament there as a sendoff to a facility that's 43 years old.
In attendance will be all the DODEA-Japan schools along with CAJ, St. Mary's and ASIJ, plus Seoul American.
Plenty of star power will be in attendance, including returning Far East champions Demetrio De La Rosa of Kadena, Kinnick's Lucas Wirth and Dwayne Lyon, St. Mary's Rio Lemkuil, Chang Young Lee and Ryo Osawa and Seoul American's Brandon Rothe.
And Daegu of Korea will be represented for the first time, by 158-pounder Jake Dexter and 148-pounder Hunter Lane, who was Far East runner-up a year ago.
"We can wrestle a variety of people and not just the same two people over and over again," Dexter said. "It will give me the exact competition I need to prepare for" at Far East.
The tournament is not DODEA-funded, so teams have to make their way to Yokota by air and on the ground and find their own places to stay. Kadena plans to rough it and sleep on the mats the night before and after the tournament, according to Panthers coach Steve Schrock.
He says that would remind him of his days coaching at Naples, where his Wildcats would sleep in classrooms, on gym floors or in cafeterias.
"My last ('Beast') will be like my first (tournament) in DODDS," said Schrock, whose Panthers won "Beast" in dual-meet format in 2008 and individual in 2010. "Lots of good memories. Props should be given to the Kinnick and Yokosuka (Naval Base) communities for keeping it going for so long."
Twitter: @ornauer_stripes