New kid in town: Gaddy having immediate impact at Hohenfels
---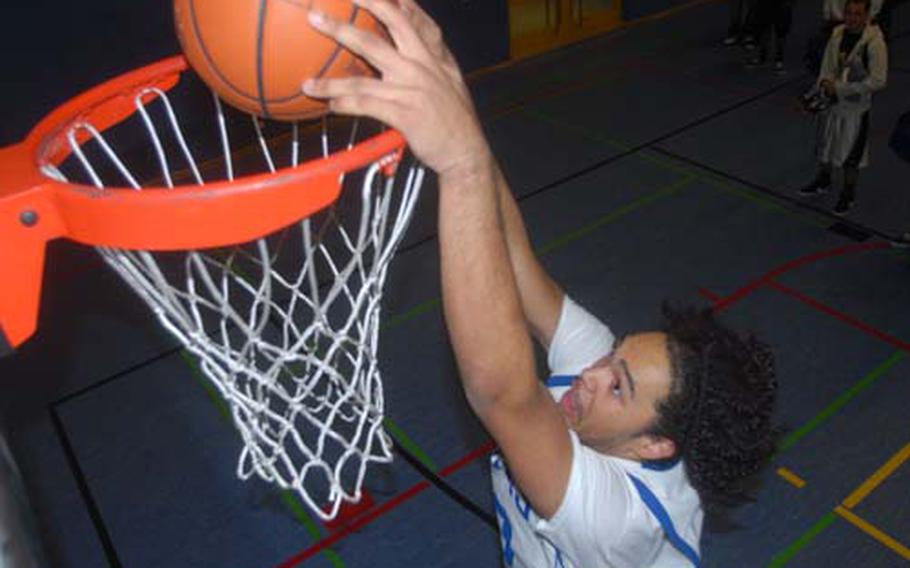 New arrivals are an everyday occurrence in military community schools, but just as he does among the Hohenfels High School student body, summer-of-2009 arrival Jordan Gaddy stands considerably taller than the rest.
Gaddy, a 6-foot-5, 16-year-old junior who played his freshman and sophomore years in Charlotte, N.C., made his DODDS-Europe debut a stellar one Friday. He scored 32 points and yanked down 21 rebounds as the Tigers romped 72-55 at Mannheim. Saturday, with the Bison opting not to get into a second scoring contest with Gaddy and Co., the newest Tiger registered 15 points and 11 rebounds and concluded his weekend a combined 18-for-20 at the foul line as Hohenfels improved to 2-0 with a 43-33 victory.
Mannheim coach David Brown summed up Gaddy's debut succinctly.
"Gaddy was way too much for us," Brown e-mailed after Saturday's game.
"He's about 6-foot-5, 230 pounds. Our biggest kid is barely 6 feet tall and has never played basketball before."
Brown was the second DODDS-Europe coach to be impressed by Gaddy, who transferred to Hohenfels after a summer of AAU ball. The first was his coach, Jimmy Calhoun.
"He's a very polished player," Calhoun said Monday.
Polished, but far from complete, Gaddy said by telephone Tuesday.
"Going inside," Gaddy answered when asked the strength of his game. "I haven't always had an outside jump shot, and it's still a work in progress."
Progress, however, is what Gaddy's all about.
"I'll jump at any opportunity to play basketball," he said when asked about the possibility of playing German club ball while he winds up his high school career in Hohenfels. "I don't mind playing with the different rules. I'll do anything to get better."
Gaddy also has a chance to improve by continuing his AAU experience, even over here. Local military community coach Bobby Seaberry of Ramstein took a Europe-based AAU team to the States last summer and plans to do so again in 2010.
If he does, expect Gaddy to be there. And expect him to know what he'll see.
"The competition level [at AAU summer tournaments] is very high," said Gaddy, who played in tournaments in Florida, Ohio and Washington, D.C., last summer. "You have to be at the top of your game."
To an outsider, reaching the top of one's game seems a more difficult task in Hohenfels, enrollment 186, than it would seem to be in the more competitive 4A high school he attended in North Carolina. Gaddy thought the same, at least at the beginning.
"At first, I didn't want to come," Gaddy said about the prospect of moving across the Atlantic. "But when I thought about it, coming here is the best thing I could have done."
Huh?
"I don't think it will hurt me at all," said Gaddy, who's been concentrating exclusively on basketball since he was 4 years old.
"It's definitely different, but Mannheim had a good team. The skill level's not lacking over here."
Moreover, Gaddy has one more summer before graduation to help him become even more attractive to U.S. colleges. "Hopefully, I'll go to a few camps this summer," he said, "and get some college exposure. My dad said I can play as much as I want as long as I keep my grades up."
---
---
---
---