New Class AA football format a hit
by
Dave Ornauer
September 17, 2009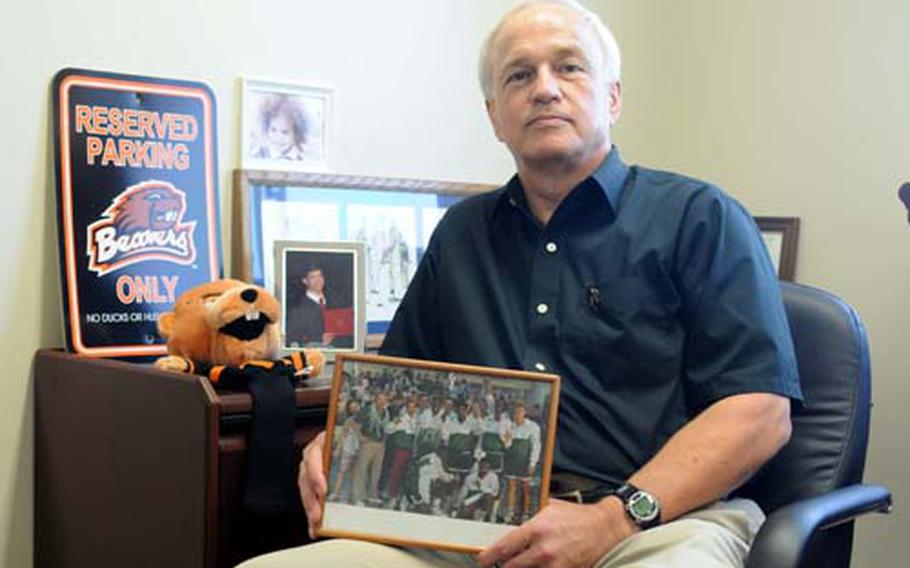 TORII STATION, Okinawa — Preparing for the Far East Class AA football playoffs in years past meant coaches had to morph into part game planner and part travel agent.
Sergio Mendoza remembers. In 2006, the Kadena coach had to double-book flight reservations and billeting for three different locations, then had to cancel tickets and orders when he found he'd be going to Seoul American for the title game — which the Panthers lost 12-6 in overtime.
Now, those days are over. Thanks to a change in plans by DODDS-Pacific's Far East Activities Council, starting in November, all four Class AA semifinalists will head to Okinawa for an all-in-one-location playoff capped by a third-place game and a championship game on Nov. 9.
"I like the new format," Mendoza said. "It will be good for everybody."
The format change marks the first major task taken up by Don Hobbs as he accepts his new role as DODDS-Pacific's athletics coordinator.
Hobbs says the reaction to the format change has been "all positive, without exception. They like the fact that they don't have their mind bogged down with [paperwork]."
Having to travel two successive weekends was "a little drastic" for players and coaches at any level, Hobbs said. Now, teams will play two games in six days, practice in the interim and even take in a cultural site, such as the Ocean Expo Park aquarium.
"That's something I think we've been missing," Mendoza said.
It's the first major change to the football playoffs established in 2005 by FEAC. Issues such as whether and when the playoffs will rotate among the host schools are "to be determined," Hobbs said. "We'll have time … to determine if another host site has sufficient billeting and adequate playing fields."
Since September 2003, Hobbs had overseen football and all 19 activities on the FEAC calendar; now, those chores will be divided, between Hobbs and a new activities czar to be named.
Naming an athletics coordinator brings DODDS-Pacific into alignment with DODDS-Europe, where Karen Seadore coordinates athletics.
"One person can focus on one aspect of co-curricular activities," Hobbs said. "I'm not spread thin. That's the main reason.
"It's all stuff I'm interested in and makes my job more enjoyable," he said.
Hobbs is working under new DODDS-Pacific director Diana Ohman, who switched spots with new Europe director Nancy Bresell.
"I like a phrase she [Ohman] wrote on a board at an all-hands meeting a few weeks ago: 'Get 'er done.' There are things I have to discuss with her, but I find her very, very supportive. I know she knows the role that athletics play in the life of a high school student," Hobbs said.
Hobbs discussed football, his new position and other topics in a wide-ranging interview last week at DODDS-Pacific's regional headquarters at Torii Station. Other issues he addressed:
---
---
---
---