Softball AOY
New approach led to even better results for Vicenza's Gragg
---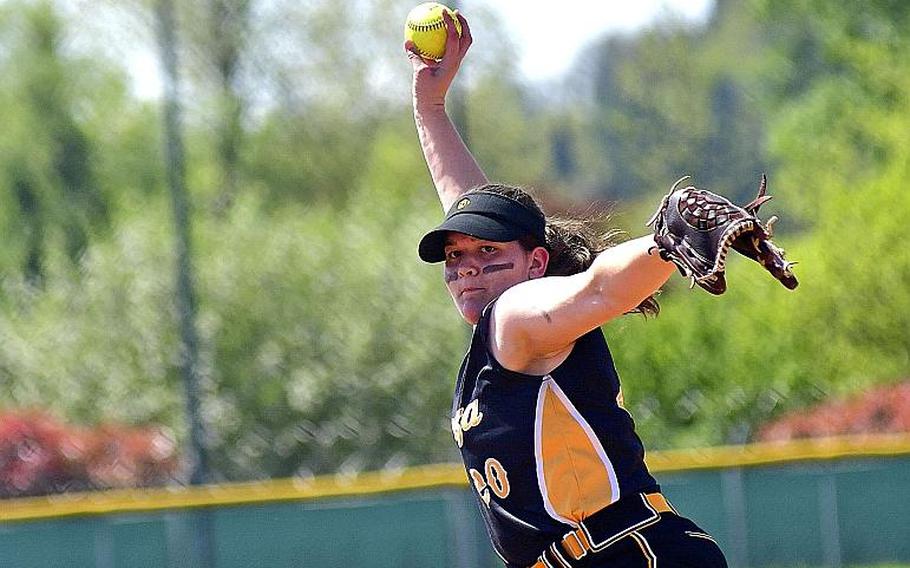 Vicenza junior Chenoa Gragg entered this season established as one of the most dominant pitchers and best all-around players in DODEA-Europe softball.
The leaps she made this spring have made her the 2019 Stars and Stripes softball Athlete of the Year.
"I felt a lot more confident," Gragg said of her outstanding spring season. "It was a lot more fun."
Gragg's remarkable improvements came in nearly every facet of the game and were borne out by impressive statistics.
As a pitcher, Gragg struck out 119 batters in 61 innings, allowing a batting average of .169 while producing a 2.40 earned run average. At the plate, Gragg notched 27 hits in 65 at-bats for a .415 batting average along with 22 RBI and 16 runs scored.
Gragg's leap to another level of DODEA-Europe stardom started with her psychological approach to the game. Once profoundly affected by mistakes on the mound, she learned this spring to better "control" her response to such adversity.
""The biggest thing was the mental part," Gragg said. "I lacked confidence when I came up to the pitching mound, it kind of dragged down my self-esteem."
While honing her mental approach to the game, Gragg also improved her mechanics. Prompted in part by a late-season arm injury that hampered her throwing strength, Gragg learned to incorporate more lower-body strength to "drive the ball" past hitters more effectively than ever and avoid undue stress on her arm.
"That's something I definitely had to work on. I would get very tired in past seasons with my arm because I wasn't using as much lower body," Gragg said. "That's the biggest thing I improved on this year."
All of those upgrades transformed Gragg from one of DODEA-Europe's finest pitchers into something even more imposing.
"Chenoa was, in my opinion, the single most dominant pitcher in the league this year," Vicenza coach Timothy Streeter said.
broome.gregory@stripes.com Twitter: @broomestripes
---
---
---
---