Girls basketball AOY
Naples was unbeatable with Sasse in the lineup
---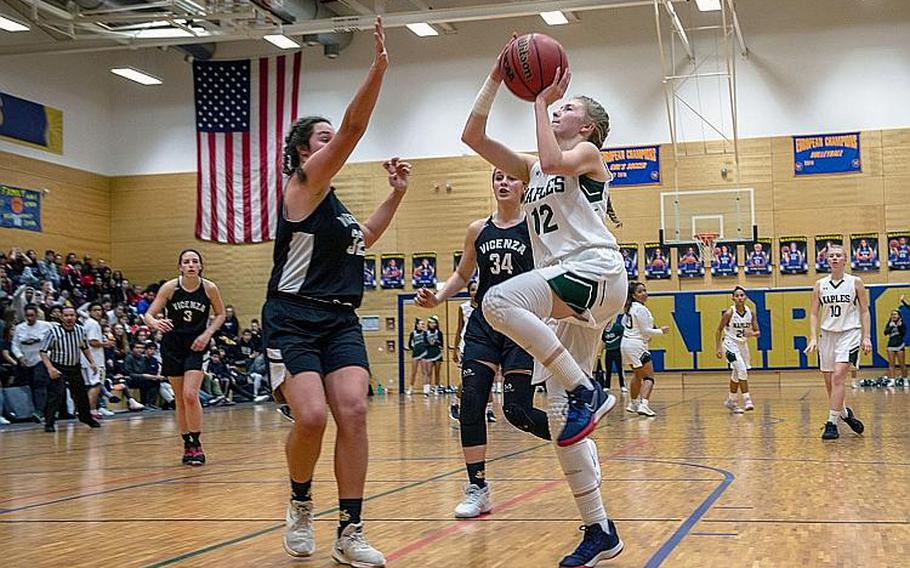 Naples junior Roxanne Sasse does so much on a basketball court that it can be difficult to summarize her impact on a game. Sasse herself does the best job of articulating it.
"Making plays work out," she said.
That's as good a synopsis as possible for a player whose presence is felt on every possession. Things just work out better when Sasse, the 2019-20 Stars and Stripes girls basketball Athlete of the Year, is on the court.
That was proven again in the most important game of the Wildcats' season, the Division II European championship game Feb. 22 against rival Vicenza. Sasse led her squad on a 22-4 third-quarter run to erase a narrow halftime deficit and deliver the title for Naples.
"We really came out and did our stuff," Sasse said after that championship-winning rally.
For Sasse, that stuff includes a little bit of everything. She averaged 15 points, three assists, four rebounds and six steals a game this winter while spearheading the Wildcats' efforts on both sides of the ball. Sasse was just as likely to force a momentum-changing turnover or dive for a loose ball as she was to knock down a timely bucket.
"(She) can completely turn the game around," said Naples coach Tim Smith, whose team didn't lose this season with Sasse in the lineup.
Sasse immediately ranked among DODEA-Europe's best as a freshman, but she's consistently added new facets to her game to get even better. This season, Sasse said she stepped up her ability to drive to the hoop and draw fouls to complement her outside shot and, having grown a bit since her high school debut, is now "more aggressive under the hoop" in pursuit of rebounds and defensive stops.
Sasse's development into a full-fledged star also required a more complicated adjustment. After a couple of years of deferring to older and more experienced teammates, Sasse seized a more vocal leadership role this winter.
Once largely quiet on the court, Sasse this season became comfortable "controlling the court and helping everyone get all set up on defense."
The point guard took ownership on both sides of the ball, calling for defensive shifts and targeted pressure on opposing ballhandlers as readily as she ran the Wildcat offense.
"I had to grow into it," Sasse said of her new leadership role.
"This year, I picked it up a little bit."
broome.gregory@stripes.com Twitter: @broomestripes
---
---
---
---