Naples runner now owns European titles, looks ahead to traithlon, marathon
by
Rusty Bryan
October 30, 2003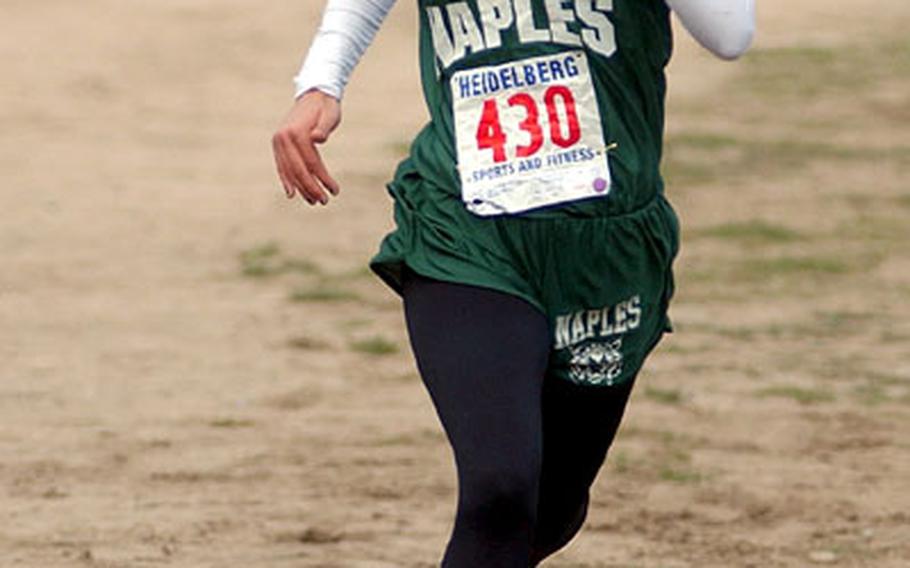 SCHWETZINGEN, Germany — Naples sophomore Charity Williams arrived at her first European cross-country championships last Saturday worried about the course, the competition and the weather.
She left with a personal-best, gold-medal time, an impressed field of competitors and a lot of plans for the future.
"I was worried that it would be cold," Williams said after she had subdued a hilly, chilly 5,000-meter course in 19 minutes, 38 seconds. Her closest pursuer was 40 seconds behind.
"It was beautiful," Williams said of the course. "It reminded me of home [Washington state]. It's cold just like here.
"It was so different from Naples," Williams went on. "In Naples, they burn plastic all the time, and the air is hard to breathe. Here, it's so clean."
Her victory was just as clear. Those left in her dust were grateful to have run with her.
"It was fun having some one to compete against," said runner-up Beth Nielsen of Ramstein, the Division I champion. "She pushed me to a personal-best [20:18]."
Saturday wasn't the first time Williams has run successfully in Germany. Last May in Wiesbaden, she won the European 1,500-meter championship in her first effort there. She plans to repeat the feat this May, with luck.
"Hopefully," she said. "You never know who the new girl is."
Last year, Williams was the "new girl," bursting on to the scene with a decisive victory in the 1,500. She ran 4:53.49 and wants more this time.
"I'm hoping to break the record [4:36]," she said.
But breaking European track records aren't her only goals. She has more grueling events in mind.
"I want to compete in the triathlon," said Williams, who began running seriously as a sixth-grader.
Naples cross-country coach Dale Hamby, for one, thinks Williams has the stuff to be an effective triathlete.
"We've talked about triathlon," Hamby said. "She's a tremendous athlete, a very strong runner. She has a lot better endurance than most high school runners and is very disciplined."
Hamby indicated that the intensive training involved for Williams' goals will be a labor of love.
"She likes to run," he said. "You'd be surprised how many high school runners don't like to run. They like to participate in the sport, but they don't run on their own. Charity does a lot of year-round running."
It also helps that her mother is a physician's assistant.
"She helps with Charity's diet and training," Hamby said.
In addition to the triathlon, Williams, who said she's planning to graduate a year early, has her eyes, logically, on the marathon.
"When I'm 18, I want to try a marathon," she said. "Most coaches agree you shouldn't run a marathon until you've finished growing because of the stresses it places on the body."
In the meantime, however, there's high school, to which she brings the discipline she applies to running, according to Hamby.
"She's a fine young lady," Hamby said. "I had one of her teachers ... tell me that in spite of the 18-hour bus ride back from Germany, Charity was completely prepared for class [Monday] morning."
Hamby plans to enjoy his association with Williams for as long as he can.
"Amy Fatora, our other coach, and I run with her," Hamby said. "It's fun to work out with her. We're really glad we're going to have her for another year."
If only to see what the future holds.
"She's only going to get faster," he said.