Naples hurdler Tenorio is dogged in pursuit of sub-15 seconds in 110s
by
Jason Chudy
May 13, 2004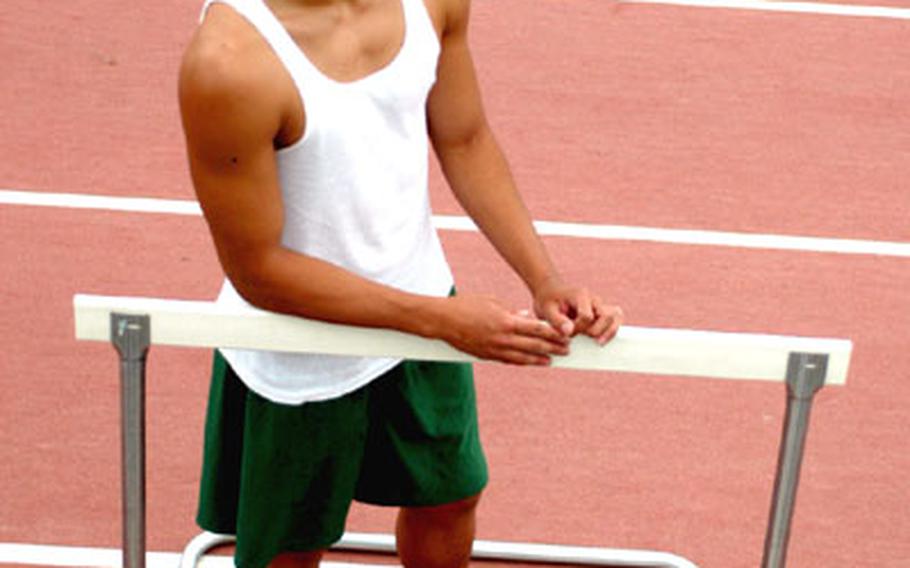 NAPLES, Italy — Forget 15 minutes of fame. Nate Tenorio just wants 15 seconds.
The Naples High School senior is hoping to break the 15-second mark in the 110-meter high hurdles and win the event in the European track and field championships later this month.
Tenorio — who qualified in the 110-meter high hurdles and 300-meter intermediate hurdles — is putting three years of work into knocking off more than a second from his qualifying time of 16.20 set April 17 in Vicenza.
That 110-meter qualifying time is the best in Europe this season. The closest qualifier, Daniel Henry of Würzburg, ran 16.42 on April 24 on his home track.
Tenorio's qualifying time in the 300 meters (43.36) is third in DODDS, behind Greg Thompson of Kaiserslautern, who ran 41.30 on May 1, and Adam Golden of Ansbach, who ran 43.16 April 24 at Würzburg.
"He's [Tenorio] had three years to refine his technique, and he's gotten better and better," Naples track coach Richard Elliott said. "He's really serious about it."
"Last year, he knocked on the door, and this year he's going to kick it in," added Jim Hall, who coached Tenorio in football and wrestling.
Tenorio's on-track performance seems to contradict his soft-spoken personality.
"He's a good-natured kid," Elliott said. "He's pretty even-keeled, and not much seems to upset him."
But put him on a football field, wrestling mat or in front of a row of hurdles, and there's a different kid.
"He really attacks the hurdles," Elliott said. "Hurdling is the perfect event for his aggressive nature. He's a tough kid, and it fits him well."
Tenorio is making the most of Naples' daily two-hour practices in preparation for the championships.
"I've been pushing myself in practice, especially this week," he said Monday evening from his Gaeta home, about 60 miles north of Naples.
When you factor in schoolwork and an hour-plus bus commute each way every day, time is precious.
"The fact that we live in Gaeta means I can't practice as much as I want to," Tenorio said. "I'm the first to be picked up and the last to be dropped off [by the bus]. I just use my practice time wisely."
Tenorio runs the 110-meter hurdles four or five times each practice, then runs sets of four hurdles at full speed. As captain of the track and field team for the past two seasons, he has had to balance his workouts with the demands of teammates.
"He's just a great leader," said sophomore Charity Williams, who runs the 1,500- and 3,000-meter events. "The team sticks together, and sticks around him."
"Here at Naples we try to instill the idea that the individual is no bigger than the team," Hall said.
Neither the coaches, nor Williams, deny Tenorio's capable of breaking the 15-second mark. Perhaps he could even shoot for the DODDS 110-meter record of 14.4 seconds, which was set in 1972 and matched in 1982. Last year, Ramstein High School's Jacob Palmer ran it in 15.03 seconds.
"I'd say he has natural talent, but that only goes about 50 percent," Williams said. "But he's pushed himself to get to where he's gotten. He can do anything he sets his mind to."