Naples edges Aviano to win boys volleyball crown
by
Sandra Jontz
November 6, 2005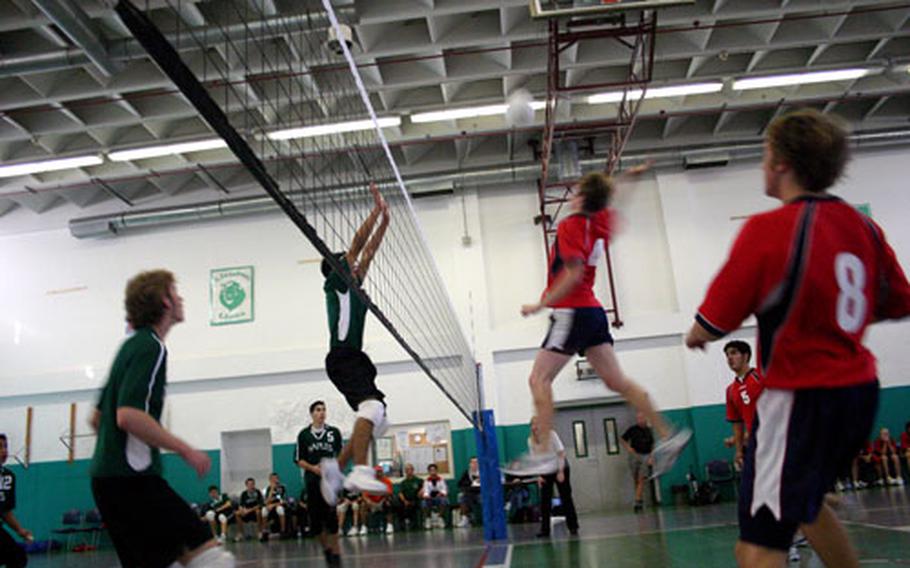 NAPLES, Italy — With one swoosh of his strong arm, Ivan Nguyen wrapped up the Mediterranean Boys Volleyball Tournament for the Naples Wildcats.
"It was perfect set to my hand, and I knew it was my turn to hit, so I pounded it down," the 16-year-old said Saturday after his team defeated Aviano 25-23, 25-23, 25-19.
Coaches were quick to compliment their opponents after three tight games in the title match at Naples High School.
The first thing Aviano coach Steve Stanley said was, "It was a great game. Naples played excellent."
The Saints' first loss of the season brought several of the players to tears as they lingered on the sideline after the match.
But Aviano could consider itself fortunate to reach the finals after barely defeating Black Forest Academy in the semifinals Friday night.
Aviano's victory, 17-25, 25-14, 25-27, 25-18, 15-13, might have drained the Saints, said tournament director Jim Hall.
"[The fifth game] was the best match of the entire tournament," Hall said. "Both teams played really well and were just giants clubbing each other.
"I think Aviano got a lot of energy taken out of them last night, and it was hard for them come back."
Regardless, the Saints gave the Wildcats a good run.
"It wasn't easy. Aviano put up a good fight," Naples captain Brian Vann said.
Vann added that playing at home was an advantage, as was two weeks of preparation.
"We worked these last two weeks on mental strength," Naples coach Peter Nagafuchi said. "Today, we brought the strength."
Also on Saturday, BFA captured third place by defeating the American Overseas School of Rome 25-19, 17-25, 21-25, 25-13, 16-14.
Mediterranean boys volleyball championship
NAPLES, Italy — Results of the Mediterranean Region boys high school volleyball championship:
Saturday
Championship
Naples def. Aviano, 25-23, 25-23, 25-19
Third place
Black Forest Academy def. American Overseas School of Rome, 25-19, 17-25, 21-25, 25-13, 16-14
Friday
Semifinals
Naples def. AOSR, 25-18, 20-25, 25-11. 25-20
Aviano def. BFA, 17-25, 25-14, 25-27, 25-18, 15-13
Friday
Round robin
Ankara def. Sigonella 25-18, 25-23
AOSR def. Livorno 25-22, 22-25, 25-14
Aviano def. Ankara 25-13, 25-18
Sigonella def. Livorno 27-25, 25-20
Aviano def. AOSR 25-23, 25-22
Naples def. Incirlik 25-19, 25-21
Milan def. Vicenza 23-25, 25-25-19, 25-23
BFA def. Marymount 25-18, 25-14
Naples def. Milan 25-23, 25-13
BFA def. Incirlik 25-14, 25-19
Marymount def. Vicenza 25-8, 25-22
BFA def. Milan 25-7, 25-15
Thursday
AOSR def. Sigonella 25-15, 25-27, 25-15
Ankara def. Livorno 25-14, 25-18
Aviano def. Sigonella 25-17, 25-15
Aviano def. Livorno 25-11, 25-10
Naples def. BFA 25-22, 22-25, 25-23
Milan def. Marymount 25-23, 27-25
Incirlik def. Vicenza 22-25, 25-20, 25-20
Milan def. Incirlik 25-20, 22-25, 25-13
BFA def. Vicenza 25-10, 25-13
Incirlik def. Marymount 19-25, 25-18, 25-11
Naples def. Vicenza 25-14, 19-25, 25-15
AOSR def. Ankara 25-13, 26-24
Naples def. Marymount 25-14, 25-17