Far East preview
MVPs past and future on hand for girls tourneys
by
Dave Ornauer
January 25, 2018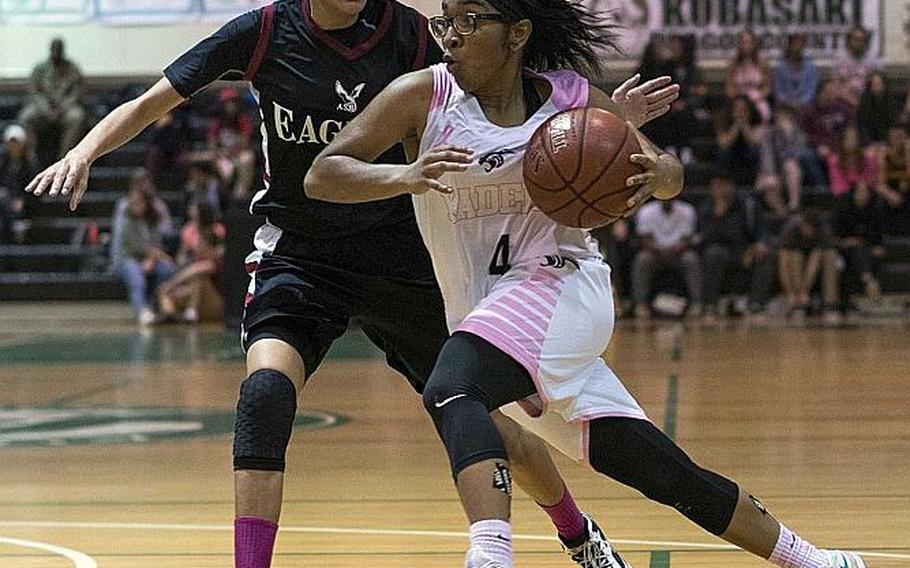 CAMP FOSTER, Okinawa – One thing the combined Far East high school girls basketball tournament field isn't lacking is star power.
Not one, not two, but three past Most Valuable Players headline the field in the first combined Far East girls tournament since 1989.
This time, starting Monday, Kadena's Rhamsey Wyche, American School of Bangkok's Shanique Lucas and Yokota's Britney Bailey bring their MVP cachet to Marine Corps Air Station Iwakuni for four days of hoops.
Lucas and Bailey won MVP honors for their Far East title teams of a year ago; Wyche was named MVP for Kadena's 2016 D-I championship team.
Six Division I and 11 Division II teams compete in separate large- and small-schools tournaments on Monday and Tuesday. Once done, the teams will be placed into the combined tournament - which runs Wednesday-Thursday.
Over the years, teams, coaches and players have debated at times which teams are the true Pacific standouts, DODEA-Pacific athletics coordinator Tom McKinney said.
Athletics director Tim Pujol of Yokota two years ago brought up the idea of experimenting with a combined tournament for boys. Once discussed, the idea was extended to both boys and girls to see how it would work, McKinney said.
"We got the funding for it, and now, we'll see what happens," he said.
Many eyes will be on Yokota, which has won three straight Far East D-II titles. But while Bailey has averaged a double-double this season, Yokota does face a major challenge.
Senior guard Jamia Bailey underwent surgery to remove a blood clot in her left pelvic region in December, then aggravated the hip in a fall during last weekend's American School In Japan Kanto Classic.
"She's going to be ready to play," first-year Yokota coach Byron Wrenn said. "There's still some touch-and-go with the amount of minutes that she's able to log."
That, on top of the seven games Yokota played in the Kanto Classic, the two more the Panthers played this week plus Far East next week, combine for a lot of time on the court.
"It's all about how quickly you can recover," Wrenn said. "It's easier said than done."
Britney Bailey should bring her top game, along with a pair of athletes whom Wrenn called "sleepers" – forward Jordyn Logue and guard Emily Taynton, the latter of whom logged significant minutes with Jamia Bailey sidelined.
Still, Wrenn expects Yokota to have its hands full, especially with Robert D. Edgren and Christian Academy Japan, two of the three teams to beat the Panthers this season.
"They never quit," Wrenn said of the Knights. "And I can clearly say that Edgren is definitely a force in the division this year that I've seen. No one should take anyone for granted in this tournament."
The Eagles are trying to finally put coach Sarah Richardson, who's coached at Edgren since 1990, over the top. Richardson-coached Edgren teams have reached six Far East finals, winning none. And this is a senior-laden Eagles team.
"This is their last opportunity to play high school ball," Richardson said. "They need to play with everything they have and create some great memories."
Richardson said her Eagles benefitted from playing seven games in the Kanto Classic. So, too, did Kadena. The Panthers, trying for their second Far East D-I title in three years, won the tourney 45-35 Saturday over Academy of Our Lady of Guam.
Kadena senior Isabel Tayag said it will take a strong measure of defense to shut down Lucas and her sister, Keisharna, who were instrumental in ASB's 52-31 defeat of Kadena in last February's Far East final.
"The same strong defense we showed at ASIJ," Tayag said. "Offensively, we have to match their (ASB's) output. If we can get some stops, get more opportunities to score, we should do OK. Defense is going to be key."
Twitter: @ornauer_stripes