Mud's the word in Day 2 of Marine Forces soccer tournament
by
Dave Ornauer
September 30, 2004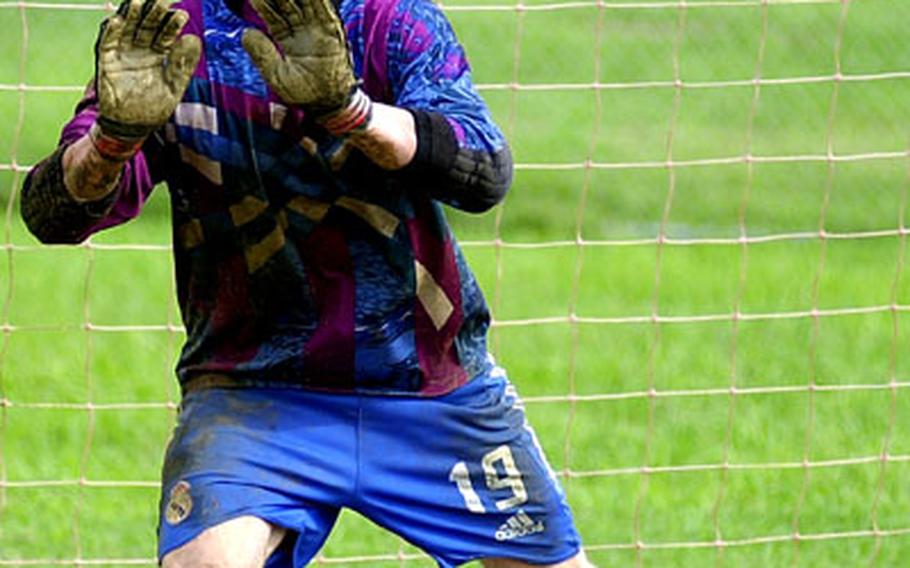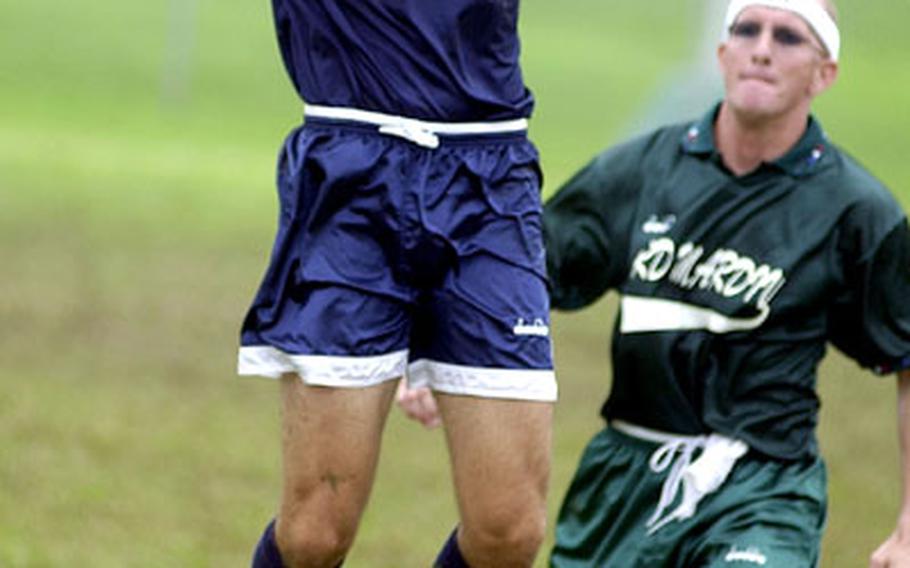 CAMP FOSTER, Okinawa — Parents spend much of a child's life preaching about the virtues of not playing in mud.
"Well, I guess we didn't listen, did we?" said mud-covered captain Duane Thompson of Okinawa's 3rd Force Service Support Group soccer team.
While the rain had finally moved on, its after-effects lingered quite visibly on Day 2 of the Marine Forces Pacific Regional Soccer Tournament.
Already battered by weekend-long rain associated with Typhoon Meari, Foster Field 1 got no help Tuesday from gusty southerly winds and occasional sunshine. As a result, the mud that stretched from end to end of the field worsened, if that was possible.
Despite slippery playing fields and churned turf, the teams managed to complete seven games Tuesday — but the conditions led at least one coach to suggest a change in venue, even temporarily, to give Field 1 a chance to recover.
"The field needs one or two days so they can do some maintenance on it," said Peter Burcheson of Okinawa's 1st Marine Aircraft Wing.
He suggested moving the tournament to one of Camp Foster's other fields, or perhaps to Futenma Air Station where fields "aren't as saturated."
However, according to Marine Corps Community Services Semper Fit Athletics officials, no other fields were available — and even had one been, quickly moving from one field to another would take time and interrupt play.
"This is the best field we have," said Semper Fit's Mike Walker, one of the tournament's organizers. "Despite the weather, we shall overcome. The teams seem to be happy. Everybody's got a nice equilibrium and balance. Everybody's here to play."
Burcheson's concerns were two-fold:
The gooey field conditions would cause the "quality of play to go way down," he said, in a tournament that helps select players for the All-Marine tryout camp Oct. 11-Nov. 1 and for the All-Armed Forces Tournament Nov. 2 - 9 at San Diego.
"You might also start to see some injuries," he said. "A slippery field will cause that."
Only a few minor bumps and bruises, mainly caused by physical contact, occurred Tuesday. But keeping one's footing was a daunting challenge, especially for referees, who battled to stay upright while keeping players' tempers, already frayed by the conditions, in check.
"Now that the grass is dug up, you don't have anything to take hold," said David Abel of the Ryukyu International Soccer Association, which provides officials for the tournament.
The field conditions, he said, can cause players to "lose their temper and it takes them out of their game. You have to assure players that they're slipping more than being fouled, and to just keep playing."
The mud even affected play on the sidelines, where linesmen roam with their flags to make offside calls. Tuesday, their run of half the field each got so bad that they switched sides of the field. For the center referee, that meant looking to the left instead of the right to watch for flags.
"It makes a referee have to think more about positioning, besides the play," said Scott Samdahl of Yokota Air Base, the U.S. Soccer Federation's state referee for the Pacific region, who's at the tournament to assess RISA referees.
Tuesday's scores
Base 2, Hawaii 0
Hospital 2, Division 1
Wing 3, 3rd Force 2, SO (5-4)
Base 2, Iwakuni 1, SO (4-2)
Hawaii 2, Division 1, SO (4-3)
Wing 2, Hospital 1
3rd Force 2, Iwakuni 0