Move to Europe helped Bucs' Taylor rediscover football
by
Rusty Bryan
October 5, 2006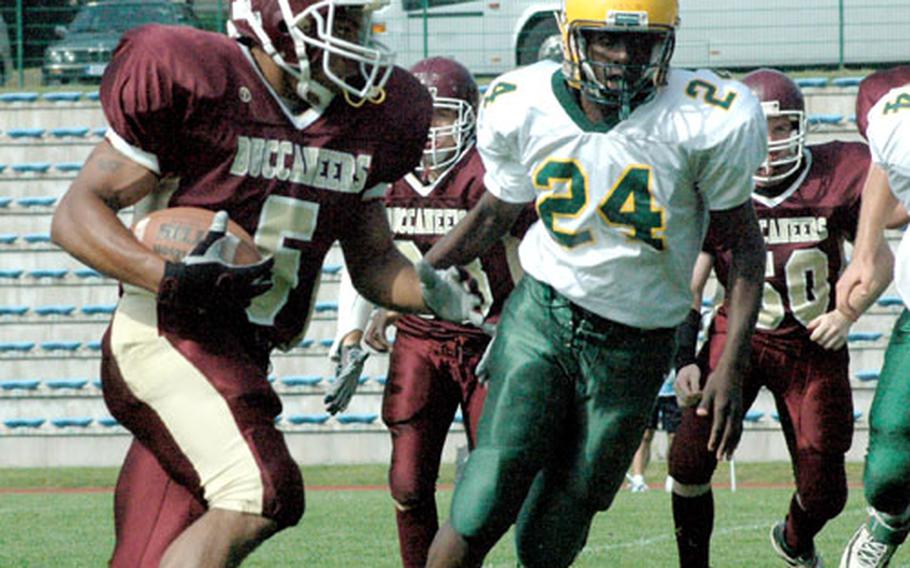 Before coming to Germany, Rashad Taylor didn't give much thought to playing football.
The 5-foot-10, 200-pound senior had taken up the game as a youngster in Pennsylvania, but quit playing when he got to middle school.
He didn't resume playing until two years ago when he arrived in Baumholder and came under the tutelage of Bucs' coach Carter Hollenbeck.
"Rashad's grades weren't the best when he was a freshman and sophomore," Hollenbeck said. "It was something he had to work on."
Taylor's academic work paid off.
He's now one of the premier players in Europe with 698 yards rushing and 12 touchdowns through three games and he's in position to academically and athletically circulate his highlight video among college coaches.
With his 16.6 yards-per-carry average, the 18-year-old Taylor may have the ability to play college ball somewhere. But unlike most Europe-based college prospects, Taylor thinks his chances to play on the next level were enhanced, not hindered, by his stay on this side of the Atlantic.
"If I had stayed in the States," Taylor said Monday as his teammates watched a video of their 41-14 conquest of Mannheim last Friday night, "I never would have played football again.
"I give most of the credit to my coach," Taylor said. "I'm trying to make my senior year the best one."
He's well on track.
Against Mannheim, he gained 303 yards on 18 carries, six of them for touchdowns. At middle linebacker, he stepped into a hole at his own 1-yard line on the last play of the first half and stood up Mannheim ballcarrier John Trosper — a 6-2, 190-pounder — short of the goal line to preserve a 34-7 halftime lead.
"When you see the hole open up, you move into it. The man was right there," Taylor said with a shrug.
Mannheim's defenders adopted the same tactic, albeit less successfully, against Taylor.
He powered through several of them on Friday, most notably on a 9-yard TD run in the second quarter that left two defenders' ears ringing.
"They tried to tackle him high," groused Mannheim soccer coach Martin Goering as the echoes from the collision died down. "You can't tackle him that way."
The hard-to-tackle Taylor said he prefers finesse to power.
"I try to avoid guys," said Taylor, who's a breakaway threat on every carry. "When I'm running, you'll see me looking around a lot. I'm looking for my teammates for some help. When I see one of our jerseys, I'll run toward it."
Given the size and experience of his offensive line, Taylor's directional sense is well-advised. The only new face on the line is 6-foot, 270-pound tackle Evan Stroup.
"He came in from starting in a 5-A program in North Carolina as a freshman," Hollenbeck said. "He benches 300 pounds."
Stroup's not the only Stateside influence on this year's Bucs. Hollenbeck has four volunteer coaches who played college ball, including two who started for Army.
Taylor said he benefits especially from the input of the Black Knights alums, former linebacker Jason Waters and former center Aaron Burger.
"They add something new every practice," Taylor said.
In the process, they're helping Taylor become even more dangerous.
"In 13 years of coaching," Hollenbeck said, "he's the best athlete I've ever had."