Far East track/roundup
More marks fall as Kinnick and potential new rival Humphreys triumph
by
Dave Ornauer
May 22, 2018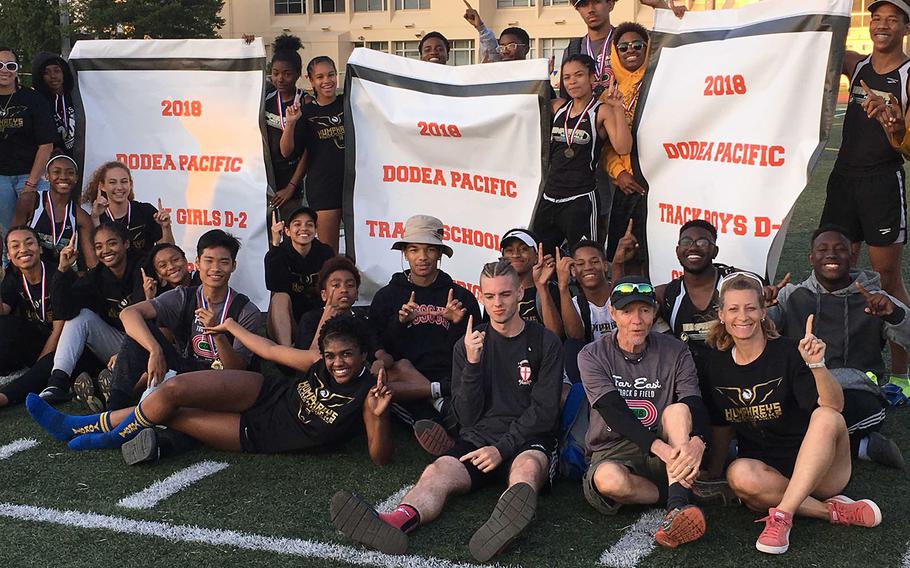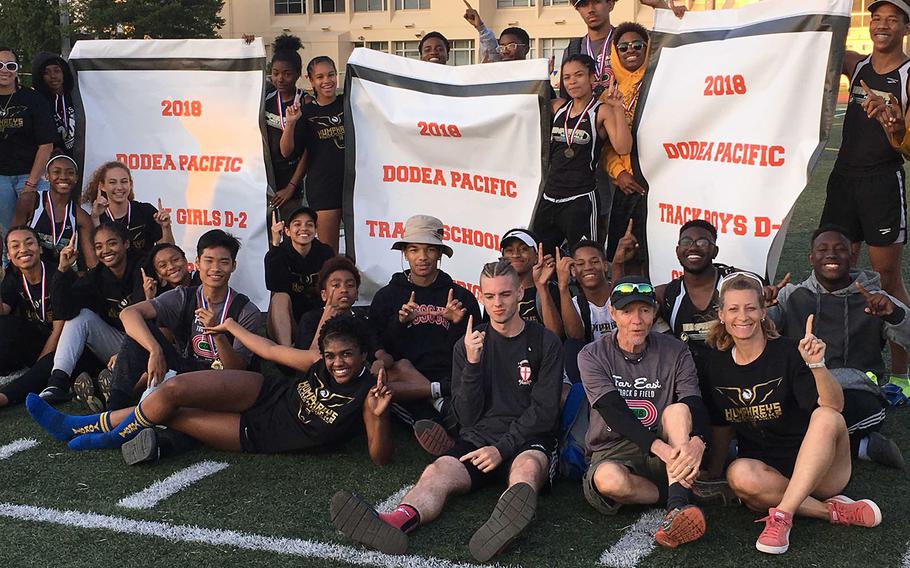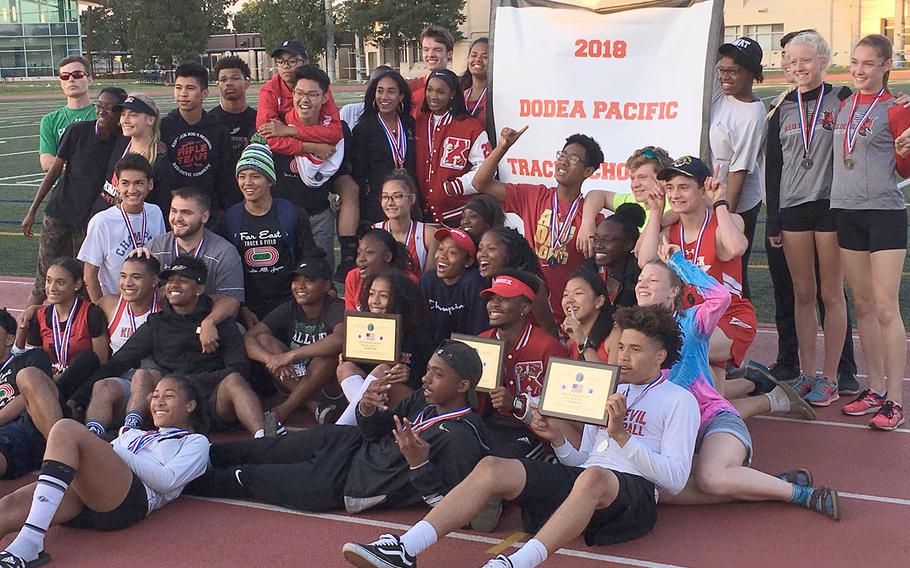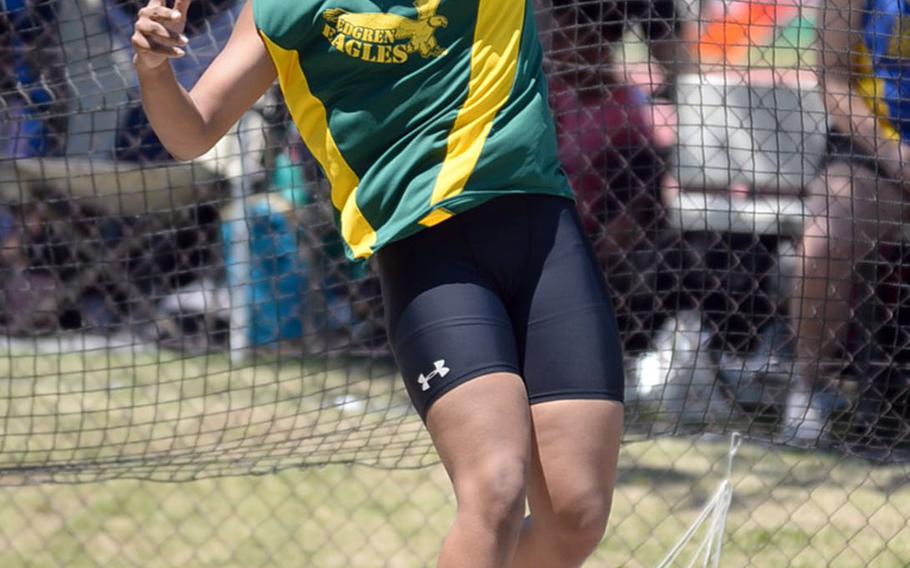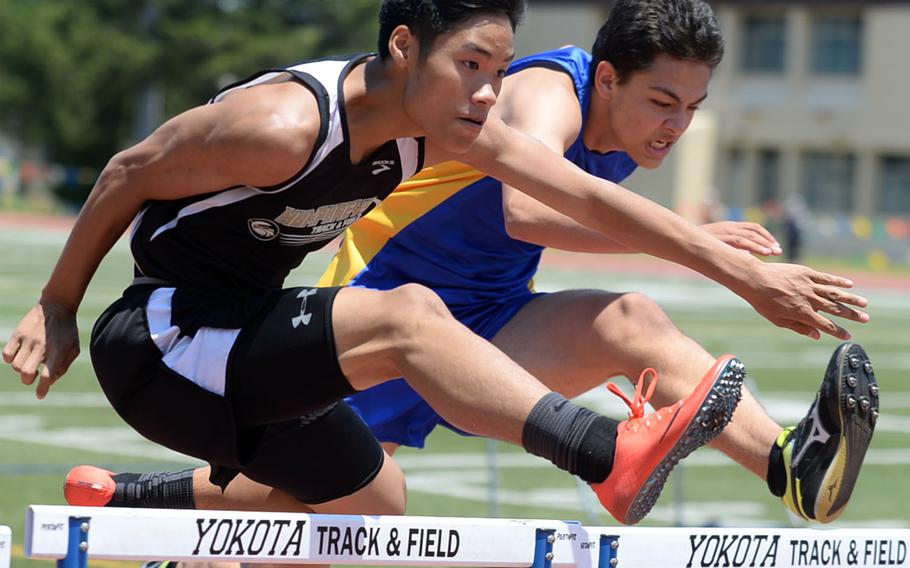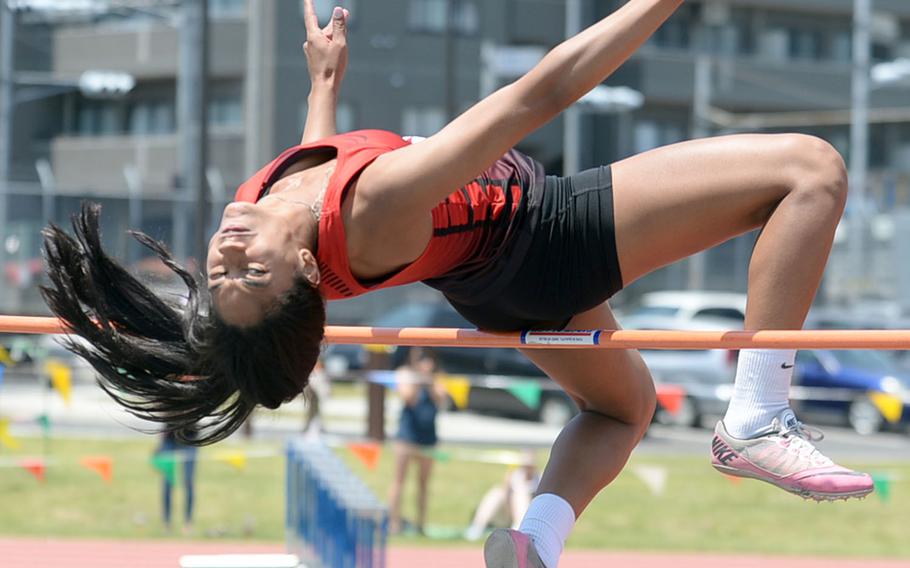 YOKOTA AIR BASE, Japan – She scratched on every attempt during last year's Far East.
Trinity Fiers vowed that she wouldn't make the same mistakes again this year – and set a new meet record in the discus throw along the way.
Already the northwest Pacific record-holder in the discus, the Robert D. Edgren senior added the Far East meet record to her resume, throwing it 35.18 meters. That demolished the record set last year by her ex-teammate Brianna Hunter (33.88).
"It feels great," said Fiers, adding that she didn't know she'd beaten the old mark. "Coach tells me not to worry about distance, but concentrate on technique. And it got me a Far East record. It's crazy how I scratched out last year. I tried to redeem myself this time."
Fiers led off another record-setting day that saw Kinnick crowned Division I champion for the fourth straight year, and the end of a Division II reign by Zama – Humphreys, soon to move up to Division I, captured both D-II team titles for the first time.
Fiers isn't the only one exiting the Pacific track stage as a record holder. Yokota senior Britney Bailey, beaten the day before in the 100 hurdles, set a new meet and northwest Pacific record in the 300 hurdles, clocking 46.38 seconds.
That broke the mark of 46.61 set in the 2015 Far East meet by American School In Japan's Jenna Doyno.
"I knew I had to focus on what I had to do," Bailey said. "I wanted the gold. She had beaten me in the 100 hurdles. I knew this was the last event I had a chance for gold, and I went and got it."
Another senior, Exotica Hall of Nile C. Kinnick, tried to beat her own Far East meet record in the long jump, 1.65 meters. She matched that effort, but came up short three times trying for 1.68.
"It's OK," Hall said. "I did what I could, to the best of my ability. I'm happy. It's a good way to end my career."
Her Red Devils certainly didn't go home empty-handed, carrying home the D-I banner yet again.
"This was one of best group of girls I've ever had," coach Luke Voth said.
While the boys didn't have a knock-'em-dead sprinter like they had two years ago in Jabari Johnson, "they were hard working and consistent, a group that came through at the end."
A year ago, Humphreys won the first Far East banner in school history, capturing the boys D-II track title with just nine athletes. This year, the Blackhawks brought almost four times that and took home the boys, girls and combined D-II banners.
"But we still have work to do," coach Ron Merriwether said of Humphreys' impending move to Division I next year. "We go to the next level. We know what kind of program Kinnick has."
Perry's Lange sets new soccer standard MISAWA AIR BASE, Japan – By scoring four goals in a 6-1 victory Tuesday over Osan, Kai Lange extended his own Pacific boys goal-scoring lead, with 84 goals, more than anyone, male or female, has ever scored in one season.
The Matthew C. Perry junior passed the Pacific all-gender record of 83 set in 2007 by Kadena's Jen Abel, now serving in the Marine Corps.
The goals came on a day when the Samurai lost 5-1 to defending champion Christian Academy Japan in the Far East D-2 boys soccer tournament. They'll have to win three times Wednesday for a title.
"He told me he only cared about winning as a team," said Lange's father and coach, Mark Lange.
"I think we're both happy to achieve the milestone, but we're glad to move on. Now, he wants to get to the final. We have our work cut out for us, but the ball is round and anything can happen."
ornauer.dave@stripes.com
Twitter @ornauer_stripes