Military community makes itself heard at Tokyo Dome
by
Vince Little
April 1, 2004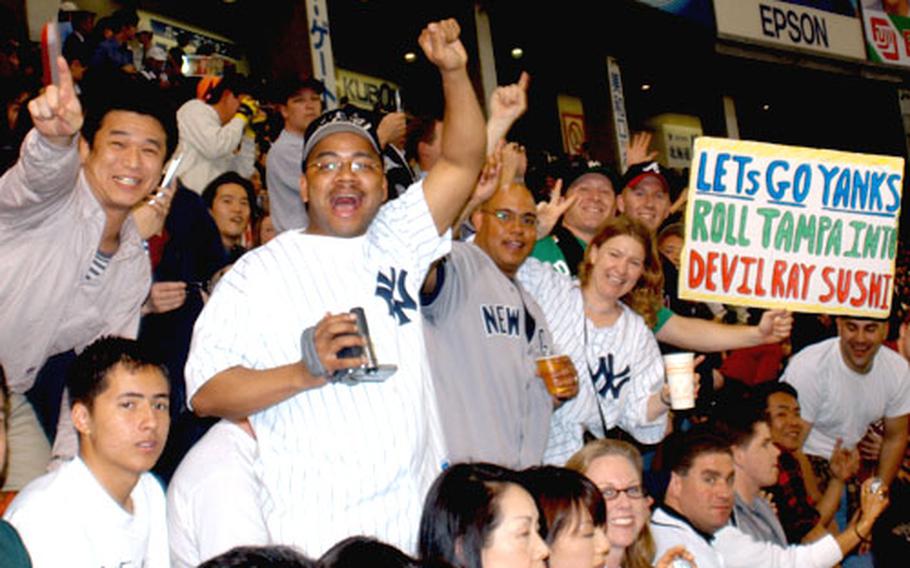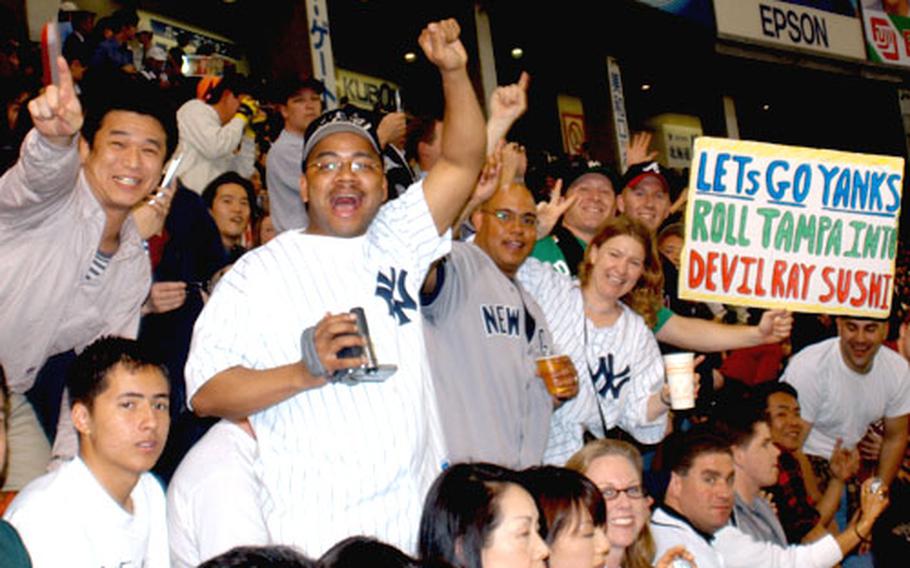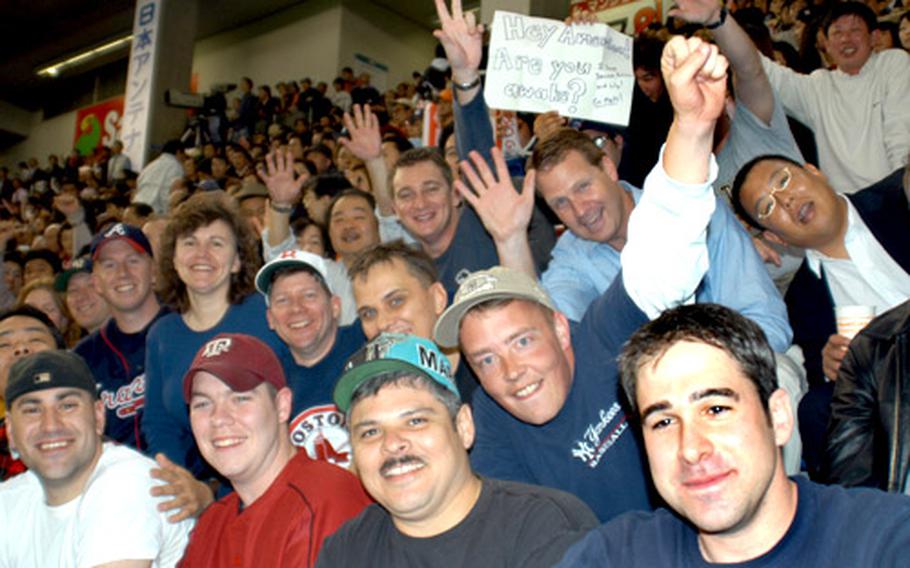 TOKYO — Spotting the Americans within a sea of Japanese fans who filled up the sold-out Tokyo Dome for Tuesday's Major League Baseball season opener between the New York Yankees and Tampa Bay Devil Rays was a tricky task. Hearing them was no problem at all.
Tucked away in the bleachers beyond the left and right-field walls, U.S. servicemembers and their families formed raucous cheering sections easily distinguishable beside the traditionally laid-back Japanese crowd.
"We're having a great time," said Tech Sgt. Steve Arbona of Yokota Air Base's 374th Security Forces Squadron. Arbona is a Brooklyn, N.Y., native and longtime Yankees fan who hadn't seen them play in person since September 1991, just before he departed for basic training. He was part of a large group from Yokota that took a bus tour to the game.
Jason Giambi's two-run homer in the first inning landed about 40 feet away.
"I was trying to get it, but I couldn't get over there in time," Arbona said.
"You can't ask for anything more here — great company, great drinks and great teams on the field. Go Yankees! And this year, we're not coming up short."
They did on Tuesday night, however, falling 8-3 after the lowly Devil Rays rallied against Yankees starter Mike Mussina.
That didn't seem to bother anyone too badly in the Yokota contingent — at least early on — as the servicemembers did their best impersonation of the Yankee Stadium 'bleacher creatures,' brandishing placards partial to the Bronx Bombers and serenading their favorite stars.
"This is cool," said Andrew Yates. "I'm a sports guy, so I'll get into anything."
When tickets went on sale at Yokosuka Naval Base, Senior Chief Petty Officer Tom Farrelly, an information technician for Submarine Group 7, and six of his friends camped out for six hours to secure their seats. From his spot in the right-field bleachers, he said it was time well spent.
"I'm a big New York Yankees fan," he added. "This brings a little bit of home over here. It's good camaraderie. To be able to go out and enjoy an American event in Japan with the guys from work is a lot of fun."
Lt. Col. John Latch, an optometrist at Camp Zama's medical clinic, came to Tuesday's game with his family on a trip sponsored by the post's youth center. His wife, Laura, another New Yorker, was more interested in the pregame festivities, when Rudy Giuliani, the city's former mayor, tossed out the ceremonial first pitch with Japanese Prime Minister Junichiro Koizumi.
"We got here just in time to see that," said Latch. "That made her day."
Jim Small, MLB's regional vice president and senior director of market development, said U.S. servicemembers are an important overseas demographic.
"What we've tried to do in an inadequate way is say 'thank you' to the men and women who sacrifice so much for us," he said. "They're fighting for our freedom and the things they do every day keep us safe.
"… Nothing we do could be adequate enough, but it's a small gesture on our part to show that we appreciate them."
---
---
---
---