Boys track AOY
Middlebrooks happiest on court, but shines on other surfaces
---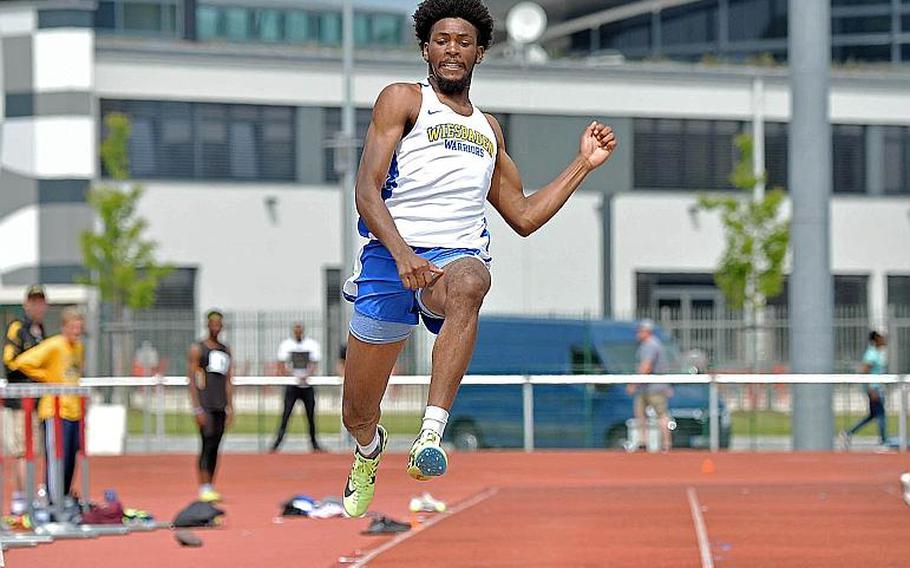 Markez Middlebrooks is at a basketball player at heart.
That's the sport the Wiesbaden senior loves more than anything.
But Middlebrooks may be remembered more at Wiesbaden for his athletic feats during the spring season.
Middlebrooks is the Stars and Stripes boys' Athlete of the Year in track and field.
No other male athlete put on as dominating and versatile performance as Middlebrooks did at the DODEA-Europe track and field championships last month at Kaiserslautern High School.
Middlebrooks won the 100- and 200-meter dashes. He also topped the field in the long jump, despite being only the sixth seed. Further, he barely missed a fourth gold medal in the high jump, settling for silver based on number of attempts.
Earlier in the season, Middlebrooks also set the Wiesbaden school record in the high jump with a mark of 6 feet, 4 inches.
Perhaps most remarkable, Middlebrooks is only a year removed from his rookie season in the sport, going out for track and field for the first time as a junior.
"He started last year," said Wiesbaden head track and field coach David Brown. "Kind of just because he was so disappointed in the basketball season. He thought, 'I guess, I'll try track.'"
Brown said he isn't surprised by Middlebrooks' relatively fast rise to the top in his chosen track and field events.
"He works hard and is extremely talented," Brown said.
"What makes him most gifted in my opinion is the fact that no matter how talented he is, he's equally humble," the coach added. "That makes it even more special when he triumphs."
Middlebrooks' heart is still in basketball but he's considering trying to compete in track and field at the collegiate level.
"I like basketball the most," he said, "but I'm just good at track, so I do it."
svan.jennifer@stripes.com Twitter: @stripesktown
---
---
---
---