Metzger, Air Force Marathon champ, sets sights on Marine Corps race
by
Rusty Bryan
October 27, 2004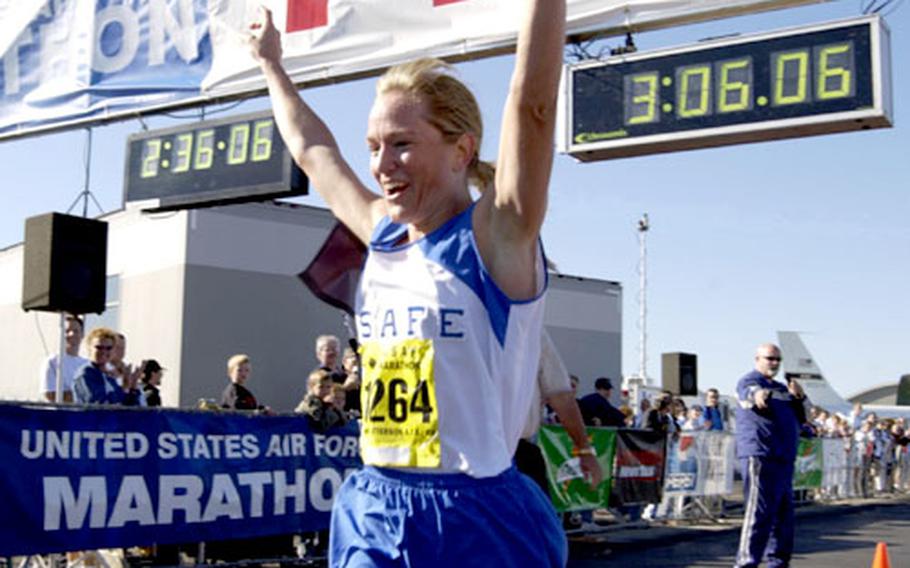 RAMSTEIN AIR BASE, Germany — Jill Metzger's clearly not one to rest on her laurels.
Just 38 days after winning a second straight Air Force Marathon last month in Dayton, Ohio, Metzger left Germany on Tuesday to run this Saturday's 29th annual U.S. Marine Corps Marathon in Arlington, Va.
Even by the up-tempo standards of today's military, the six-week break between the two races is the marathon equivalent of back-to-back missions.
"It wasn't planned that way in advance," Metzger, 31, said of her marathon-a-month schedule. "In August, a message came down from Air Force headquarters requesting people to represent the Air Force in the Marine Corps Marathon. Since I had won the Air Force Marathon the year before, I was kind of name-embedded in the request."
Metzger, who has run in 16 marathons, knew that running in both races would be tough. Her training has been limited by her 12-hour days as executive officer for the operations section of U.S. Air Forces in Europe war-fighting sub-component.
"I was torn at first," said Metzger, who added that she usually plans her training for an event a year in advance. "I knew I wasn't going to be as prepared as I should be."
In the end, however, her Air Force pride and her competitive juices tipped the balance.
"I'm going to do more than just run," she said. "I'm going to shoulder the responsibility of representing the Air Force and build relationships with runners from the other services."
And compete in a big-time event.
"The Air Force Marathon is fairly new," Metzger said of the event she's dominated the past two years. "The Marine Corps event is much larger. It's a seasoned, mature event attractive to professional runners."
Although Metzger, who said she's never had any formal marathon coaching, is quick to stress that she's an amateur and not a professional, she's hoping the strong field will help her reach a goal she's set for Saturday.
"I'd like to go under three hours," said Metzger, who won at Dayton in 3:06:06.
Can she better that time just six weeks later?
"That's a pretty quick turnaround," said Leigh Plowman of Garmisch, who placed 27th in his age category at last year's Ironman Triathlon in Hawaii. "But she won't have to worry about peaking at the right time. She'll have to depend on her high level of fitness."
Metzger is philosophical about the limited training regimen.
"If you're not ready a month before the race, you're not ready," she said. "I'm relying on my training over the past several months to see me through."
It's not as though she's never stacked races before.
"The shortest amount of time for me between marathons was one week," she said, recalling an astounding September in 2002.
In Sept. 2002, Metzger ran the Air Force Marathon, then turned around the following weekend to run the Berlin Marathon with her friend, Capt. Angela Johnson, she said.
"We ran the marathon in memory of her late husband, Capt. Luke Johnson, who had planned to run in Berlin but was killed in an F-16 crash at Spangdahlem in March 2002," Metzger said. "She trained and ran in his place."
Metzger, who will start Saturday's race with less emotional turmoil than in Berlin, said she hopes her Air Force victory will serve as a slingshot for Saturday.
"When you're preparing for a marathon, there's more involved than just training," she said. "You have to reach a competitive level, usually by scheduling a race sometime before the event. The Air Force Marathon will help me achieve my competitive edge."
To Metzger, a former college soccer player at East Carolina University who didn't begin running seriously until commissioned in the Air Force eight years ago, competition is the staff of life.
"Once you get a taste of victory," said Metzger, who has won four marathons in her career, "it's like blood to a vampire. It feels so good it's almost like a drug. Once you get it, you want it again."
Metzger downplayed her chances, however, of tasting victory for a fifth time in her career this Saturday.
"I'm not shooting for first place," she said. "I'll try to be as competitive as possible."