Menwith Hill's Mustangs in Division III playoff
by
Rusty Bryan
September 30, 2004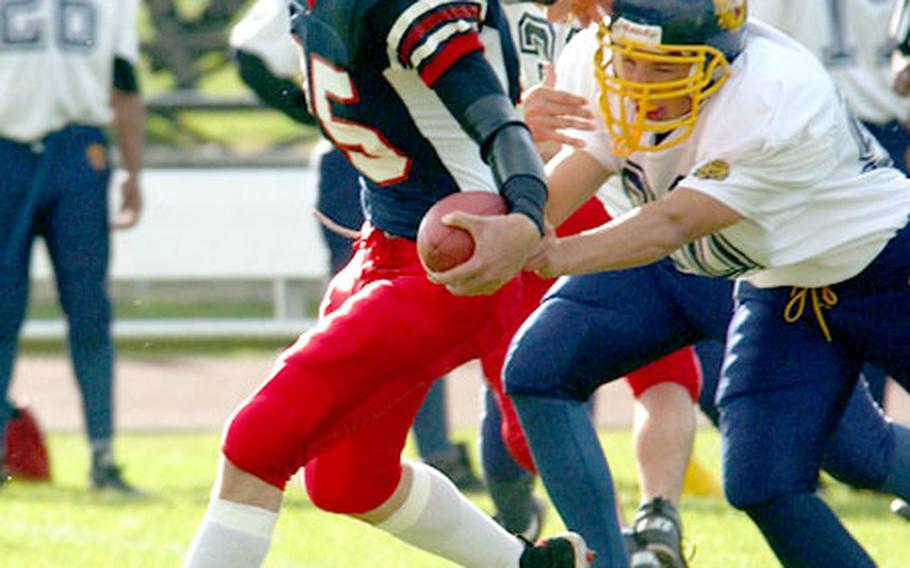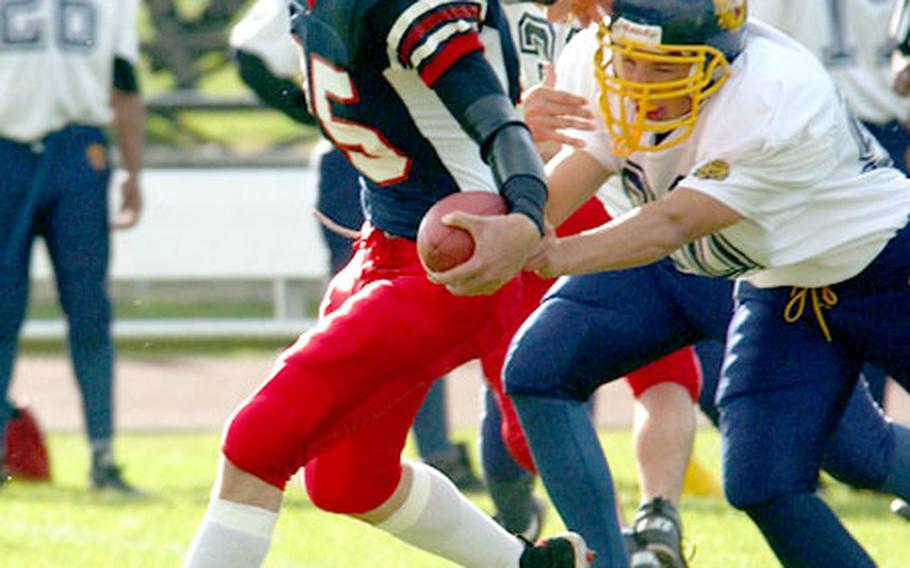 Menwith Hill's brother act, freshman quarterback Matt and junior running back Mike Bailey, have put the Mustangs squarely into the middle of the Division III playoff picture.
Matt, 14, made his varsity debut Sept. 18 by playing quarterback and wingback in a 38-14 victory over the Heidelberg junior varsity. All he did was rush three times for 106 yards and a touchdown and complete four of six passes, one for a touchdown.
Last Saturday, during a 50-8 victory at Alconbury, he was 5-for-7 with a touchdown pass (to brother Mike) and a rushing touchdown. He also intercepted two passes from his free safety position.
Mike, 17, carried the ball 11 times for 115 yards against the Heidelberg JV.
He followed that with 11 rushes for 160 yards against Alconbury. He also scored five touchdowns: two rushing, one receiving, one punt return and one interception return.
Just two games into the season, the team is on its way toward making the playoffs for the first time in school history.
From Mike's point of view, however, there's a downside to all this glory.
"Because he's the quarterback, I usually have to take orders from him," Mike said. "In the huddle, you can't argue with him."
Not that there's much reason to. Thanks to a sizable and experienced line, which averages 220 pounds, and another gifted freshman in the backfield, 200-pound Le'Shawn Adams, Menwith Hill has shown it is a team to reckoned with despite a high school enrollment of fewer than 100.
Menwith Hill coach Pete Resnick, who has battled slim numbers since he launched the school's first team in the mid-'90s, said he knew this year was going to be special.
"I had middle school PE last year, and I could see that Matt and Le'Shawn would be good athletes," said Resnick.
"This is the most talent we've ever had. Mike is a heck of an athlete, too. We just seem to have come together."
Mike Bailey agreed.
"We have a really good line," he said of a group led by senior center Pedro Rodriguez, senior guard Grant Conklin and senior tight end Kevin Hersey. "They make my job easy."
The early season success has the Baileys thinking of bigger and better things.
"We're going to go to the Division III championships," said Matt. "We have the skill to go there."
Mike has his sights set on a more immediate goal, a homecoming game against Rota on Oct. 9 on the Mustangs' home field.
A victory against the Admirals would send Menwith Hill into the playoffs as the III-A conference champions.
"We don't want to lose to Rota," said Mike, a team co-captain. "It's my job to keep the team focused. We've got to be intense."