Memory of late coach motivates Base in Marine Forces softball tournament
---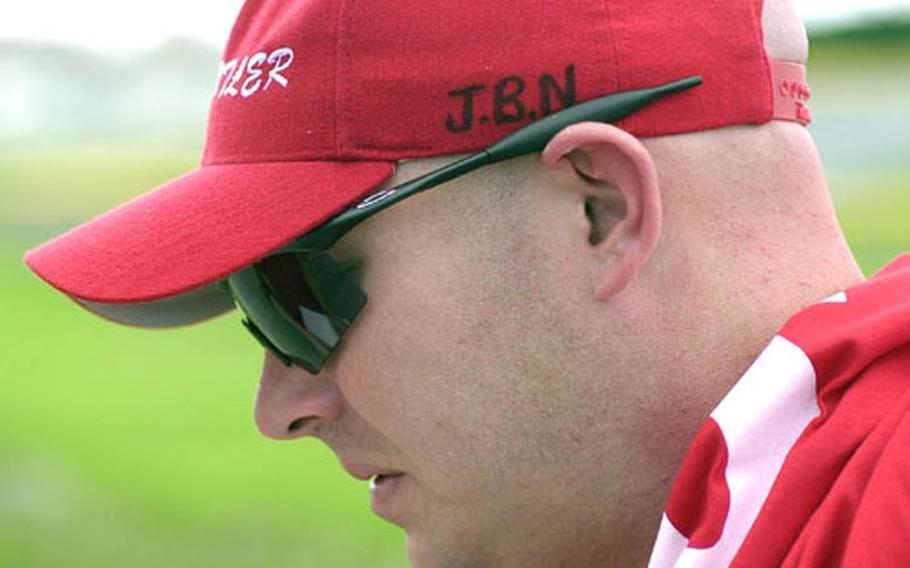 CAMP FOSTER, Okinawa — Marine Corps Base Camp Butler players are competing in this week's Marine Forces Pacific Regional Softball Tournament with heavy hearts.
Monday's 10-8 tournament-opening loss to Marine Corps Base Hawaii was their first game since head coach Jamie Newberry died on July 25.
"We've made a pact as a team to do this for him," said Kip Hogan, who took over head-coaching duties at his teammates' request. "I'm coaching the team, but you can't replace Jamie. Stepping into a pair of shoes like his, it's hard.
"He taught me to leave everything on the field. His fundamentals of coaching, how to split runners, hit behind the runners, know how to play your opponents, knowing the abilities of your players and pushing them to the limit," Hogan said.
Newberry, a retired Marine Corps master gunnery sergeant, coached Camp Butler's team for two years. He was 47. The cause of death is being investigated.
His death came as a shock to teammates, opponents and Marine Corps Community Services Semper Fit officials alike, they said.
"He was a nice, easy-going guy, cool, calm, collected," said Sonny Jones of MCCS Semper Fit Athletics, which oversees the Marine Forces Pacific sports program. "He wasn't 'out there,' like some coaches."
Newberry coached the team to the Marine Regional championship in 2002 and to third place last year. He also was an assistant on 1st Marine Aircraft Wing's title team in 1999.
Joe Sutter, a two-time All-Armed Forces outfielder, asked Newberry to coach the Base team in 2002 after coach Robert Harper had to go to the States on emergency leave.
"He was a good friend," Sutter said. "His leadership. Equality for everybody. He played no favorites. He did not play politics. His control of the team. Always positive."
"He wasn't just a coach," Hogan said. "He was a friend. You could go to him with any problem, for advice on how to handle anything.
"It's sad," Hogan said. "But we're going to try to win this for him."
---
---
---
---