Med boys soccer: Toombs' three goals lift Naples
by
Kent Harris
May 16, 2004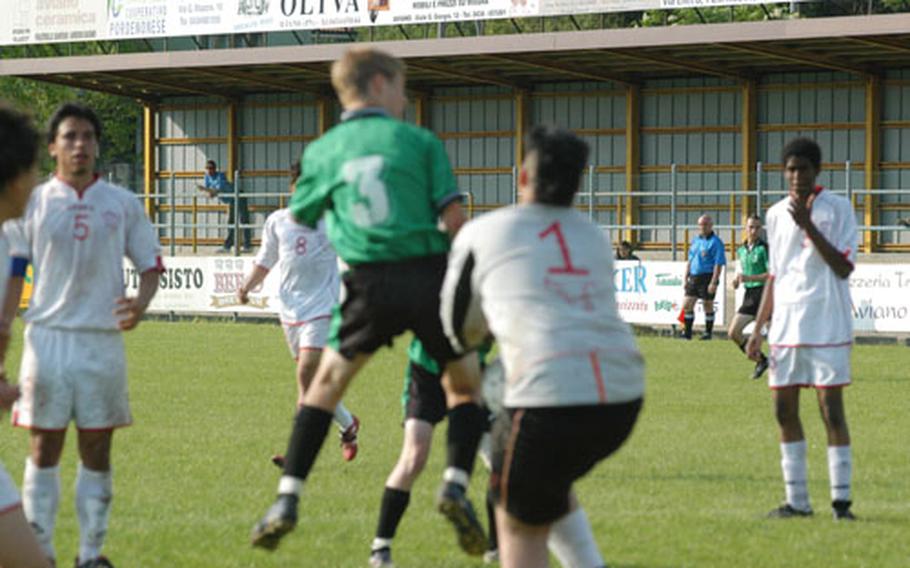 AVIANO, Italy – Naples High sophomore Taylor Toombs summed it up pretty well.
"I think what it came down to was who wanted it more," he said after scoring three goals Saturday in the finals of the DODDS-Europe Mediterranean soccer championships. "And we did."
Toombs' opportunistic goals and a stingy defense helped the Wildcats to a 3-0 victory over a previously unbeaten American Overseas School of Rome team that looked flat.
"They had more juice than us," AOSR coach Andrea Desideri said. "We had to play with three players injured today. We couldn't play properly."
Naples' defense had something to do with that as well. The Wildcats limited their opponents to two shots on goal in the first half and seven overall.
Naples dominated from the outset, but Rome's best scoring opportunity of the day came toward the end of the first half. Paulo Murmura's pretty sideways kick near the goal bounced off the right upright and the ball bounced back toward him. But he couldn't convert the rebound either.
A few minutes later, Toombs caught AOSR goalkeeper Davide D'Auria flat-footed. He lofted a shot from the right side of the goal into the top left corner and Naples led 1-0 at halftime.
A Naples rush at the goal midway through the second half produced the second goal. Two teammates missed their chances for goals. But when D'Auria was pulled out of position by saving the second shot, Toombs was there for a shot into an empty net.
He tallied his third goal late in the contest, colliding with D'Auria in a rush to get to the ball. When the ball bounced free, Toombs kicked it in.
Naples coach Modesto Guariniello said his team got better as the season went along. About half the roster was new to the program this year.
"It's kind of tough to put together a team when you have that many new players," he said. "But we play with heart. I tell them, go out and don't leave anything left on the field."
Both teams advance to play in the European Division III finals in Germany next weekend.