McWherter helps Zama girls soccer exact revenge
---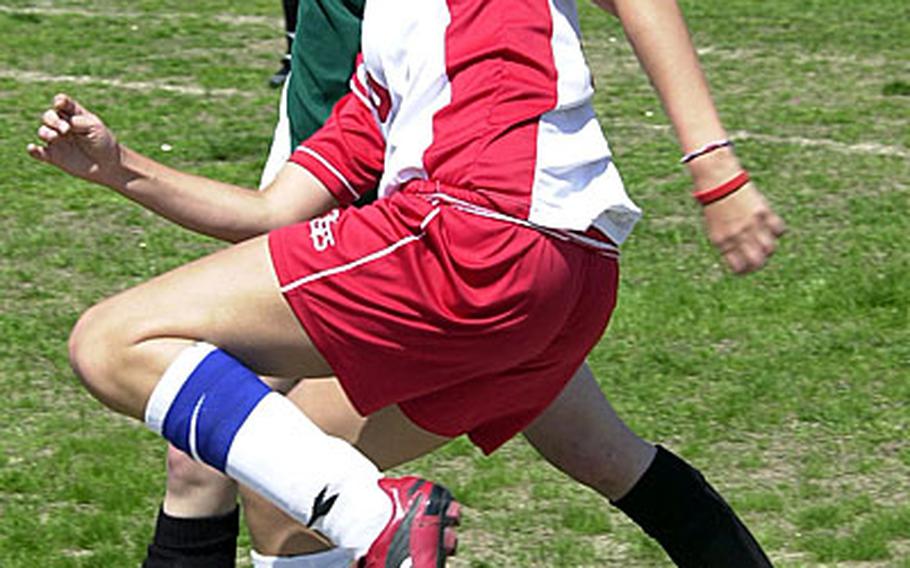 IWAKUNI MARINE CORPS AIR STATION, Japan — The last time the teams met, Matthew C. Perry's girls enjoyed a rare 3-2 victory over Zama American.
On Friday, the Trojans responded, this time with midfielder Whitney McWherter, injured for the last game March 24 at Camp Zama, in the lineup.
Aubrey Ashliman reached the 30-goal mark with two goals and Saki Johnson also scored twice as Zama downed the Samurai 4-2. McWherter, like Ashliman a newcomer and freshman, only had one assist. But her presence in the lineup meant a "night-and-day" difference, Zama coach Vanessa Little said.
"She's quite a player," Samurai coach Chris Anderson said of McWherter. "Everything goes through her on that team."
Yokota boys' 13-match streak haltedYOKOTA AIR BASE, Japan — Yokota's boys' 13-match winning streak to open the season, the best such streak in school history, came to a screeching halt at the hands of sophomore Leo Kobayashi and the Christian Academy In Japan.
Kobayashi scored on a penalty kick and a corner kick, giving him 15 goals for the season, and the Knights held the Panthers to a season-low output in a 4-1 victory at Yokota's Bonk Field.
"They played with a lot of intensity. They finished well. They're good," Yokota coach Tim Pujol said, adding that the 2005 Far East Class AA tournament champion Knights appear to be a title threat once more.
"Teams will have to be pretty good to beat those guys."
Falcons girls survive, Taegu girls fallYONGSAN GARRISON, South Korea — Eleven hours after flying back late Thursday from the DODDS-Pacific conference on Okinawa, Seoul American coach Lori Cannon returned to her girls soccer team.
And what a welcome she got.
Her Falcons needed a penalty-kick shootout to survive Taejon Christian International 4-3 to reach the finals of the Korean-American Interscholastic Activities Conference Division I tournament.
Seoul American played defending champion Seoul Foreign in Saturday's championship.
"I was worried," Cannon said of the showdown. TCIS beat Seoul 3-0 in March, then the Falcons blanked the Dragons 4-0 earlier this month in their two regular-season meetings.
The Dragons surged to a 3-1 lead before the Falcons rallied for late regulation goals by Erica Anglade and Angye Law. For the shootout, Cannon inserted midfielder Anglade into the goal, where she'd played last year's KAIAC tournament, and she stopped three of four shots.
Seoul Foreign had to survive a scare of its own. Unbeaten since the 2005 KAIAC tournament final, the Crusaders scored a season-low one goal, but escaped Taegu American 1-0.
"We had shots at it in the last five minutes. Very frustrating that none went in," Warriors coach Ed Thompson said.
Kubasaki girls halt Kadena's 45-match winning streakWhile Kadena's boys celebrated victory, Kubasaki's girls did something that no team has done to Kadena since the 2005 season — keep the Panthers from winning.
Goalkeeper Alix Mackey and the Dragons held Pacific season goal-scoring record-holder Jen Abel (70 last season, 41 this season) scoreless for the first time this year and Kubasaki and Kadena played to a scoreless draw.
Kadena had not lost since the 2005 season, a span of 45 matches. Since Abel joined the team in 2004, Kadena has gone 74-1-2, the only loss to Kubasaki.
"Nothing but defense," Kadena coach Hoa Nguyen said of Friday's match. "You have to give them credit. … We put the ball everywhere but in the goal."
---
---
---
---