Matthew C. Perry soccer program showing signs of life
by
Dave Ornauer
April 5, 2007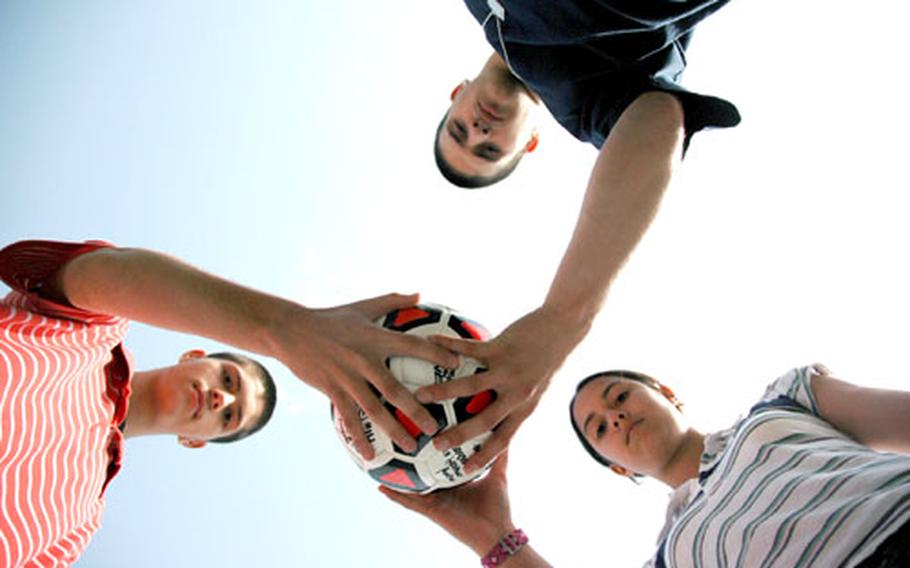 After three years of wandering in near-winless wilderness, signs of life are sprouting in the Matthew C. Perry boys and girls soccer programs.
The DODDS-Japan season was less than a month old when the Samurai boys (2-7-2) equalled the team's victory and tie total of last season, while the girls (3-2-1) got off to their best start since 2001 and exceeded their win total of the previous three seasons. Both teams are aiming for more, as Perry hosts the Far East Class A tournaments next month.
An infusion of talented freshmen and transfers and a solid group of returnees has helped. But it's mind-set that has led to Perry's turnaround, players and coaches said.
"The attitude has changed, big-time," fourth-year boys coach Mark Lange said. "We still struggle, (but) we're not interested in being the cones for other teams to run around. It's a competitive sport. We want to compete, not participate."
Proof of that came on March 24, a frigid Saturday at Camp Zama, when the Samurai girls fell behind 1-0, then 2-1, but rallied for a 3-2 victory, their first over the Trojans since 2001.
"That was huge," third-year Perry girls coach Chris Anderson said, mindful that Zama beat Perry 11-0 in 2005 and 9-0 last season. "I didn't know how we'd do against the big dogs. That had been our problem forever. If somebody got a goal on us, we'd drop our heads and say it was all over. To put the third one in the net, that was huge. We answered Zama back, not once but twice."
From 2004 to last season, the boys enjoyed a brief stretch of success, beating all four DODDS-Japan Class AA schools before fading to a fifth-place finish in the 2005 Class A tournament. The Samurai went 8-34-1 during that three-season stretch.
The girls endured a far more terrible run — one victory and one tie in 38 matches, scoring only seven times in that span.
Along came a gaggle of youngsters, sweeper Sharnice Alexander, striker Taylor Dunphy and goalkeeper Kate Cutshall, nicknamed the "Berlin Wall" in salute to her German roots, from the eighth-grade ranks.
Then there's Heather Hyson, a transfer from Okinawa who matriculated in the island's U-14 Diplomats developmental program. She has six goals and four assists at center-midfield.
"We're finally getting the pieces of the puzzle starting to come together," Anderson said. "The girls this year believe in the system that I'm coaching and themselves. The attitude is a 180-degree turn."
The girls were tired of hearing that they weren't any good, Dunphy said.
"This year, we wanted to make a difference and show we can be up there," she said.
Perhaps the biggest difference has been the addition of Hyson, Anderson said.
"We'd never had a midfielder who could play the ball forward," he said. "Her work ethic and diligence sparks the whole team, lights a fire under them."
Hyson's coach for the past three years with the Diplomats, Michael Callahan, knew the Samurai were getting a good player.
"She's aggressive, very determined to win those 50-50 balls and is pretty good at finishing in front of the net," said Callahan, an Amelia Earhart Intermediate School educator on Kadena Air Base. "She came to us in the sixth grade, and even at that age, you could see she was a soccer enthusiast, really energetic, athletic, ready to learn the game."
Most of the boys' talent revolves around returnees such as Richard Naseer and junior striker Julio Rodriguez, who has a team-leading six goals. Freshman Ricardo Rodriguez compliments his older brother at midfield.
"He's an aggressive offender," Ricardo said of Julio. "He's the type of person you can count on to finish. Pass to him, get the ball in the goal."
Perry's rejuvenation certainly has caught the attention of opposing coaches — starting with Zama girls coach Vanessa Little.
"That team that stepped on the field, they deserved to win," Little said of Perry's 3-2 victory last month at Camp Zama.
Though Kinnick scored two one-sided victories over Perry's girls at Samurai Field last weekend, Red Devils coach Nico Hindie called the Samurai "much improved" over the team Kinnick demolished by double-digit margins the past three seasons.
Just how far can the Samurai carry their rejuvenation?
"We can do a lot," Hyson said. "I think we can place at Far East, if we keep up our game, how well we played" against Zama.
"We have a long way to go," Lange said. "But it's sports. Anything can happen, which is why we play the games. Learning, progression, attitude, how much they want it. It depends on many factors. They're working hard, learning and having a good time doing it."