Matchup of Far East champs Tunis, Burnett highlights Kinnick Invitational
---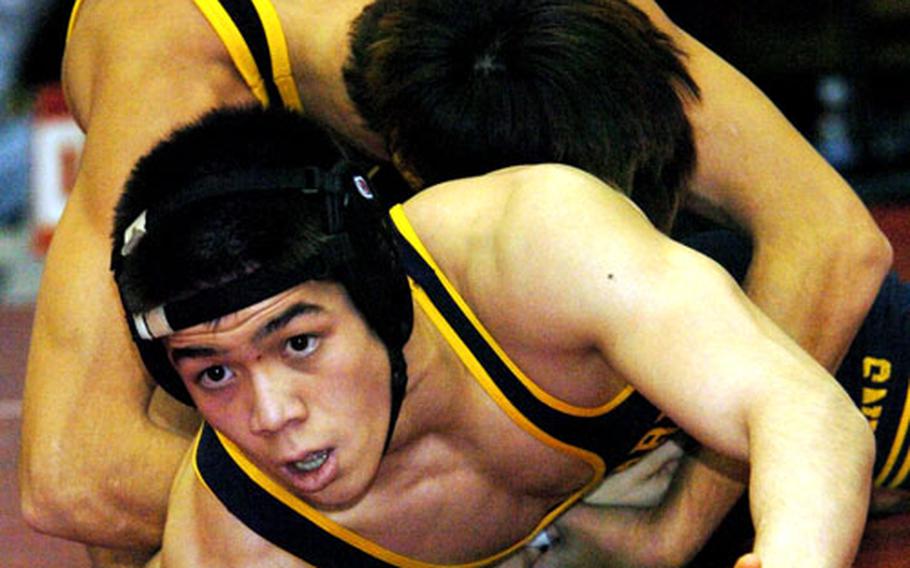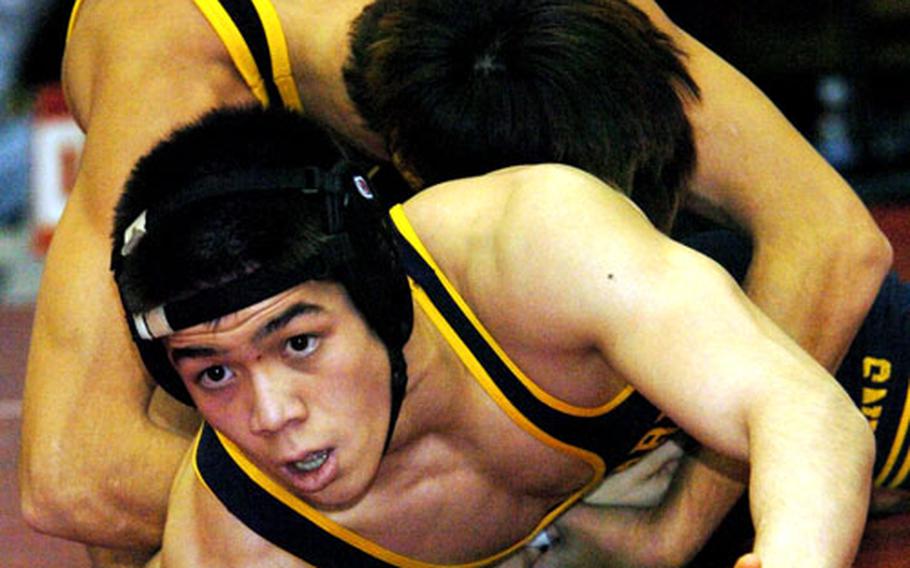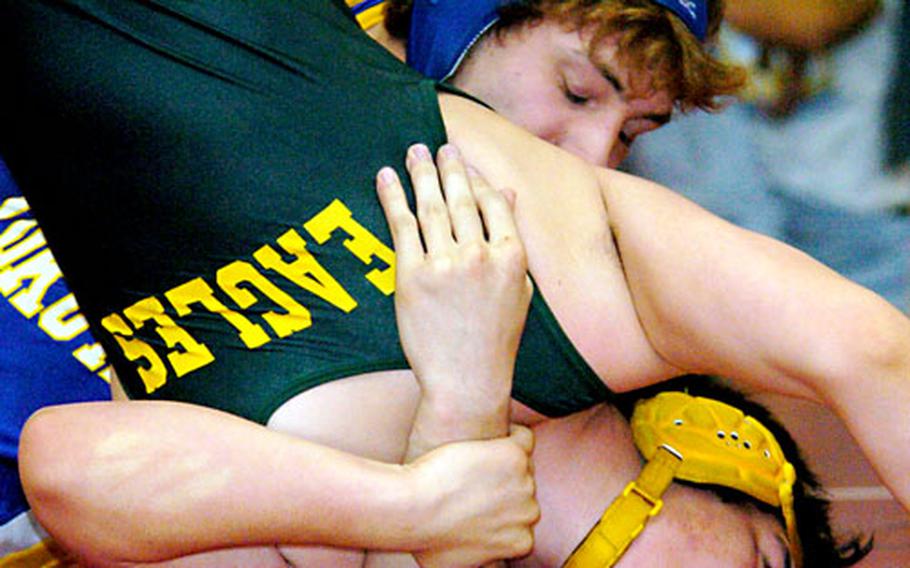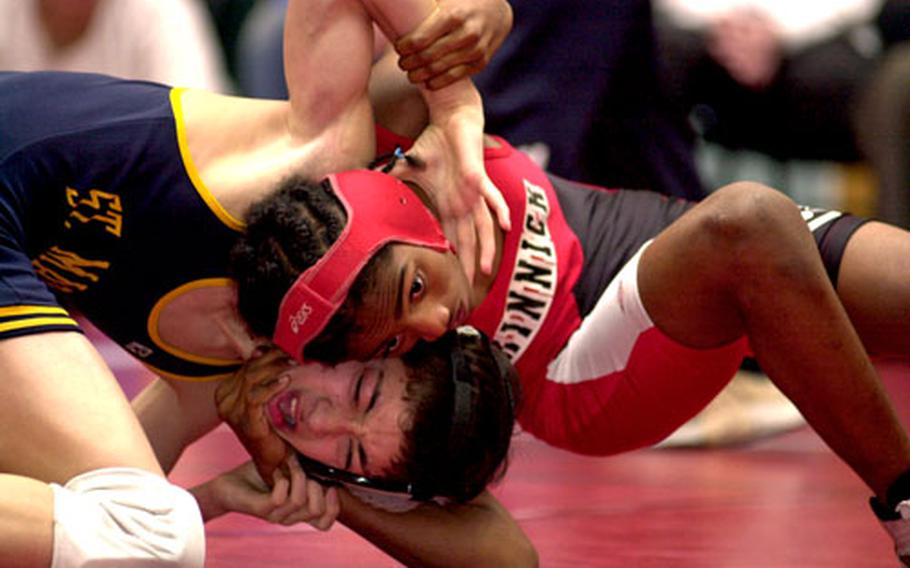 (Click here for tournament results and more photos.)
YOKOSUKA NAVAL BASE, Japan — David Burnett dropped one weight class to get what he called a "challenge." He got that and plenty more during Saturday's Nile C. Kinnick Invitational "Beast of the Far East" wrestling tournament.
In a battle of defending Far East tournament champions, quickness beat size and strength as Seoul American's Scott Tunis won an 8-1 decision over Zama American's Burnett in the 215-pound title bout.
"I came here to get more of a challenge and he gave me a challenge," said Burnett, who won the heavyweight (275-pound) Far East title last February. "Tunis was in better shape than me and moved faster than me."
Tunis, who won Far East gold last year at 180 pounds, competed for the first time this season after nursing injuries. Burnett had wrestled in 22 bouts and won four gold medals in four in-season tournaments this season.
"I had to remain calm, didn't want to get nervous, stayed within myself," said Tunis, who had wrestled only in practice. "You don't look at who they are. You don't look at their face. You just go out and do your best. If you win, you win. If you don't win, you have some work to do."
Tunis was one of four 2004 Far East champions to win gold medals in a tournament that featured nine winners from last February's Department of Defense Dependents Schools-Pacific tournament at Yokota.
Saturday's tournament was the only in-season event this season to feature DODDS and international schools from all areas of the Pacific.
The event provided an unofficial Far East championship for private schools while serving as a tuneup for DODDS schools for Far East, scheduled for Feb. 17-19 at Yokota.
"This is the best preparation we can get," said Kubasaki's Paul Haecherl, who won the 275-pound title on Saturday. "We don't wrestle as much on Okinawa. We use this to our advantage. You see where you stand in preparing for Far East. You know what you have to do to get there."
"You work on your mistakes, you condition, work on finesse and step it up," Tunis said.
Thirteen schools and more than 100 wrestlers competed in 366 bouts during Saturday's 11-hour event.
"I'm glad everybody is here that is here," host Nile C. Kinnick coach and tournament organizer Robby Rhinehart said.
"What a great day," said Yokota coach and Far East tournament organizer Brian Kitts, adding that his mostly young squad "got what we had to get out of it."
"We're seeing what we have, what the Big Three (Kadena and Kubasaki of Okinawa and Seoul American) have, and we're improving," Kitts said. "They're learning that what we say in practice is true. And by the end of the day, you know who's going to do well at Far East."
"You learn the team concept," said coach Julian Harden of Seoul American, the reigning Far East tournament dual-meet team champion. "You learn what you get when everybody from 101 pounds to heavyweight work together, like St. Mary's."
St. Mary's International, last year's Far East tournament freestyle champion, took the team gold Saturday with 61 points. Kinnick was 15 points behind, followed by Kadena (38) and Yokota (36).
While St. Mary's, the tournament favorite, did what was expected, there were a few upsets.
Zolboo Enkhbayar of Brent International-Subic, the only two-time Outstanding Wrestler in Far East tournament history, gave up two points in each of his two bouts Saturday.
During his rampage to the 148-pound title, Enkhbayar impressed one of his foes, Josh Dowers of Seoul American, who lost to him by technical fall.
"People talked about him like he was a legend, like he can't be scored on," Dowers said. "He's really a good wrestler. His gut wrench is hard to fight. He ties his moves together so well. He's one of a kind."
Defending 108-pound Far East champion Yoshiya Morita of Christian Academy In Japan entered the tournament undefeated in Japan but lost to Daisuke Kasagawa of St. Mary's. Yokota's Jason Rodriguez then beat Morita in the third-place match at 115.
The big story was freshman Ryland Geiger of Brent International-Manila, a former Seoul American Middle School student, who brought down two 2004 Far East champions.
He won a superior decision over Joey Wood of Kinnick, last year's 158-pound titlist, then won a decision against defending 168-pound champion Devon Copeland of Kadena in the 168-pound final.
"It means I have to train more, do some weight training, work on my moves, up the intensity and bring my 'A' game" to Far East, Copeland said.
"He's a good wrestler," Wood said of Geiger, the son of a Navy contractor at Manila's U.S. Embassy, who is not eligible for Far East because he does not attend a DODDS school.
Louie Lee of Robert D. Edgren boosted his confidence for Far East after winning the 129-pound title.
"It means I can do this," said Lee, noting that his gold medal came against a stronger international field than he'll see at Yokota. "This is probably better than Far East. I'm looking forward to two weeks from now."
So will Tunis and Burnett.
"I'm still going to treat everybody equally," Tunis said. "He (Burnett) may come back and beat me. I'll still have to work harder."
"You can't put too much into this tournament," Burnett said. "Everybody's going to be working harder. I have to work harder and get faster."
---
---
---
---