Marksmanship teams start run toward finals
by
Gregory Broome
January 5, 2017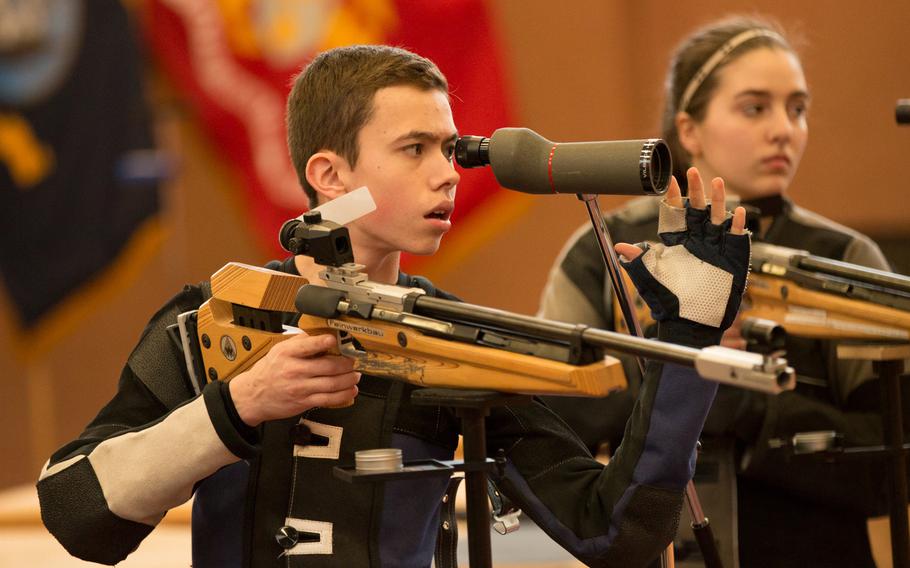 The DODEA-Europe winter sports season resumes this weekend, easing its way out of a prolonged holiday break with a pair of marksmanship meets and a relatively light slate of basketball.
Marksmanship's European tournament is the first of the calendar year, scheduled for Jan. 28 at Vilseck. With just three regular-season weekends remaining, the sport's 11 participating schools are all in action Saturday to begin the stretch run.
Reigning dynasty Stuttgart headlines a five-team eastern conference meet hosted by Hohenfels. The Panthers took first place in both of their pre-holiday meets, and Stuttgart shooters have produced the three best individual performances of the season to date. But Vilseck has proven a worthy foil to the presumed champions from Stuttgart, posting strong second-place finishes at both December meets to keep the Panthers honest. The Falcons will try again to end Stuttgart's win streak along with fellow visitors Ansbach and Vicenza.
Though its numbers are still just shy of Stuttgart's standards, Kaiserslautern has firmly established itself as the western conference's premier program. The Raiders withstood a stiff challenge from Alconbury to open the season and outscored Wiesbaden and Alconbury a week later to complete a sweep of December's conference meets. They'll look to extend that run Saturday at Wiesbaden against Alconbury, Baumholder, Bitburg, the host Warriors and a newly launched SHAPE squad.
The action is less intense on the hardwood this weekend. Just five boys and girls doubleheaders are slated for Friday and Saturday. That list includes Friday's showdown between archrivals Kaiserslautern and Ramstein, Saturday's Division I clash between SHAPE and Wiesbaden, Hohenfels' consecutive trips to Ansbach and Stuttgart and Ansbach's visit to Vilseck.
The weekend of Jan. 13 and 14 represents the return of full-fledged weekend basketball, along with the resumption of the DODEA-Europe wrestling schedule.
Twitter: @broomestripes