Marksmanship: Returnees look to give Hohenfels edge this season
---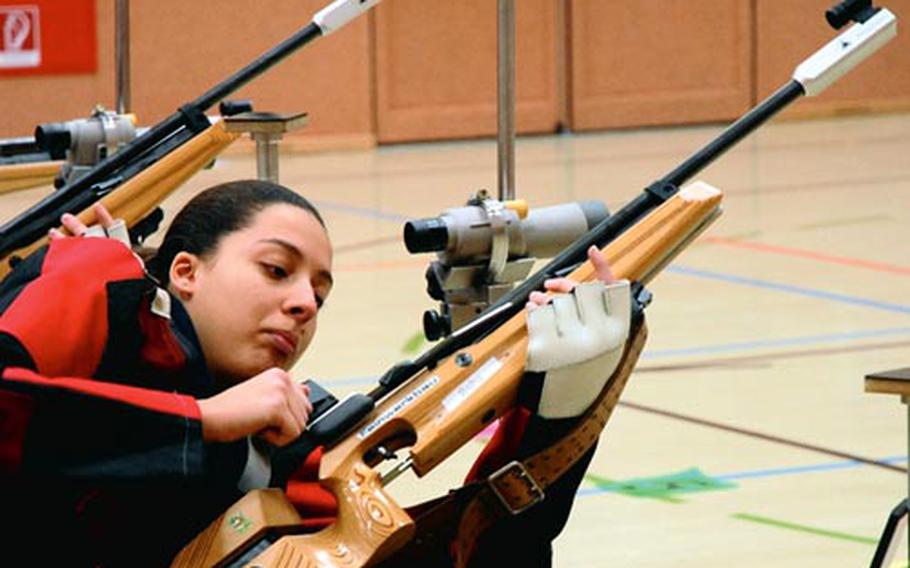 The 2009-2010 high school marksmanship season, which begins Saturday with matches at Mannheim and Hohenfels, opens with the perennial powerful Hohenfels Tigers the clear favorites in the hunt for the title, at least on paper.
Hohenfels, which lost the team title to Patch last season by two points, is loaded for bear this year, according to coach Bruce Andrews. He welcomes back European individual champion Jessica Walloch, along with Emily Adams and Jacqueline Stone, who tied for third overall in last season's European championships.
The bounty doesn't end there. Also returning is Adams' twin sister, Sarah, who along with Emily, Walloch and Stone lifted Hohenfels to a fifth-place finish in the JROTC National Match championships at Camp Perry, Ohio, last February. Andrews also can call on experienced competitors Andrew Morton and Bryce Cooper and has a dozen newcomers on his range, "several of them showing a lot of promise."
High school marksmanship in Europe uses .177-caliber precision air rifles fired from 10 meters. The bull's-eye, worth 10 points, is the diameter of pencil eraser. Each individual fires 10 shots in each of the three positions (prone, kneeling and standing), and the scores of the top five individuals are combined for the team score.
Walloch won last season's individual crown by scoring 284 of a possible 300 points. Emily Adams and Stone were nearly as accurate, with scores of 280 each.
Unlike Hohenfels, Patch returns just two performers who scored highly in last year's Europeans, Christina Lowry and Tiffany Fowler. Lowry tied for second in the kneeling position with 95 of a possible 100 points in the finale and placed third in the standing position with 93 of 100. Fowler tied for second in the kneeling position at 95.
"I lost two of my good starting lineup shooters unexpectedly," Patch coach Jack Wayne wrote Tuesday in an e-mail.
Patch's departures should be more than enough to obliterate 2009's two-point gap between the school system's best rifle programs.
DODDS-Europe's other marksmanship teams — Ansbach, Bamberg, Baumholder, Heidelberg, Mannheim, Vicenza and Vilseck — rarely approach the scoring levels Hohenfels and Patch achieve. In last season's championship match, for example, while the top two were flirting with 1,400 — 1,397 and 1,395 of a possible 1,500 — Ansbach and Vilseck fired 1,350 and 1,342, respectively, to finish third and fourth. No. 5 Mannheim and No. 6 Heidelberg were 80 points behind the leaders.
This season, Ansbach hopes to challenge for the title, according coach Randy Dolph, who has five returnees. Bamberg is eyeing the top three, according to coach Prince Young.
Heidelberg and Vilseck have holes to fill in their lineups, according to their coaches, while Mannheim and Baumholder were relatively unsettled going into the season.
The schedule calls for five weekly matches followed by the European championship on Jan. 30 at Hohenfels.
Defending European champion
PatchDivisional alignmentsEast DivisionAnsbach, Bamberg, Hohenfels, Vicenza, VilseckWest DivisionBaumholder, Heidelb erg, Mannheim, PatchMeet sitesDec. 5: Hohenfels, MannheimDec. 12: Vilseck, MannheimJan. 9: Bamberg, BaumholderJan. 16: Ansbach, PatchJan. 23: Vilseck, PatchJan. 30: European championships at Hohenfels
---
---
---
---