Girls basketball roundup
Mannozzi scores 36 as AOSR downs Vicenza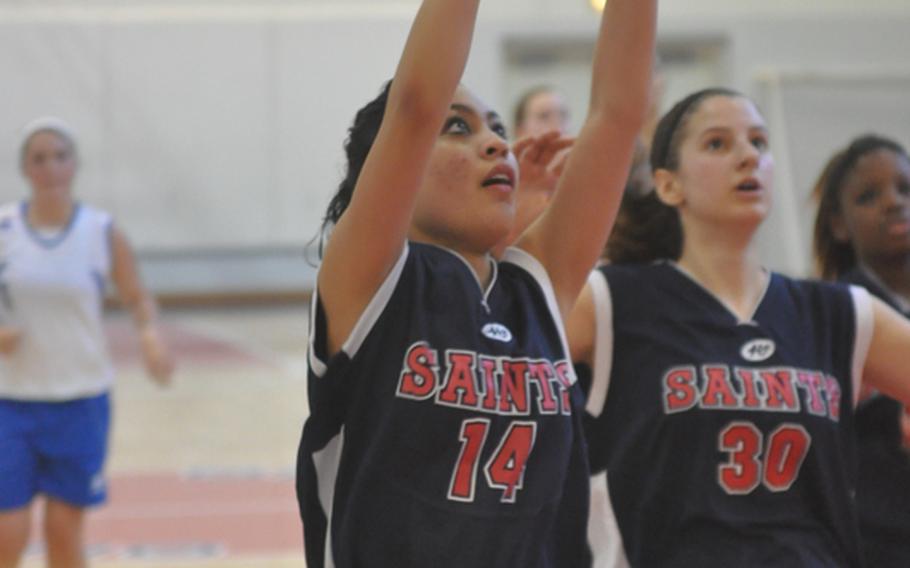 Upset by Vicenza' 45-41 on Friday night for their first loss of the season, the visiting American Overseas School of Rome Lady Falcons were in no mood Saturday to take any prisoners.
Martina Mannozzi scored a DODDS-Europe season-high 36 points,and her teammate Brittany Roberts poured in 20 as AOSR (3-1 overall and in Region IV) responded to Friday's loss with a 61-34 thumping of their hosts.
Mannozzi's output upped her weekend scoring total to 61 points.
AOSR took a 29-13 lead at halftime and put the game far out of reach with a 24-13 fourth-quarter run. Along the way, the Lady Falcons held Vicenza's Lali Baratashvilli, who led her team with 22 points Friday, to just seven on Saturday.
AOSR will not play again until Jan. 14-15 at unbeaten Aviano. Vicenza (2-2) is scheduled to host Sigonella on the same dates.
In other girls games of note on a weather-plagued weekend:
Aviano 51, Marymount International School of Rome 9: Saturday at Aviano, the Lady Saints finished the 2010 portion of their schedule 2-0 with a second straight courtesy-rule victory over the Lady Royals.
Katlyn Atchley led the scoring parade with 14 points for Aviano, which got 13 from All-European Jasmine Mailoto.
Marymount fell to 0-4 overall and in regional play.
Wiesbaden 43, Baumholder 3: Saturday at Wiesbaden, the visiting Lady Bucs can be forgiven if they wished the bad weather that wiped out Friday night's scheduled Region II match-up against the reigning European Division I champions had stayed around.
Taylor Dore scored a game-high 15 points in Saturday's courtesy-rule game, which Wiesbaden (3-0 overall, 1-0 in Region II) led 26-2 at halftime.
Wiesbaden All-European LeAndra Thomas scored eight points, pulled down a game-high nine rebounds, stole the ball five times and handed out four assists. Wendy Bryant was the bright spot for Baumholder (0-3, 0-1). She snared eight rebounds.
Brussels 17, Menwith Hill 16: Saturday at Steerebeek, Belgium, Dominique Poitier's free-throw in the final minute of play allowed the defending European Division III champions to earn a weekend split against their guests.
In addition to Poitier's clutch charity shot, the Brussels defense played a large part in Saturday's victory, according to Brussels coach Dexter Bohn. The Lady Brigands held Menwith Hill scoreless in the third period and to just six points in the final stanza to go to 3-1 overall and in Region I.
Menwith Hill (1-1 overall and in Region I) won 26-16 Friday behind Kia Pierce's 10 points. Pierce's three-point try at the buzzer Saturday just rimmed out, Bohn reported.
International School of Brussels 32, AFNORTH 19: Saturday at Brussels, 11 points each from Amanda Stewart and Lucy Wollenstein were more than enough for the Division I Lady Raiders to turn back D-II AFNORTH in a Region I game.
Black Forest Academy 36, Mannheim 23: Saturday at Mannheim, Natalie Bertrand pumped in a game-high 13 points, and her teammate Esther Shady posted 15 rebounds, six steals and three assists to help BFA take a 3-0 overall record into the winter break.
BFA doesn't play again until Jan. 21-22, when the Falcons travel to Heidelberg for two Region III games.
Mannheim (1-1) is idle until a non-regional visit to Hohenfels on Jan. 7-8.