Lynce brothers have helped Kinnick raise the bar in three sports
by
Dave Ornauer
April 15, 2004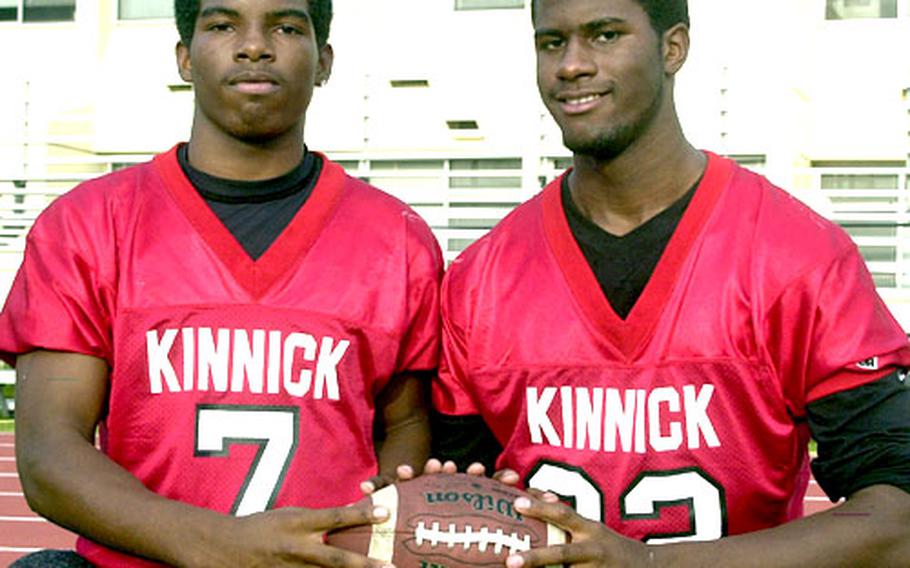 CAMP FOSTER, Okinawa — Three speedsters in red singlets led the pack as it turned the corner and sprinted for home in the 200-meter dash Mike Petty Memorial track meet.
Almost as one, Brenden Lynce, Travis Ekmark and Leonard Lynce of Nile C. Kinnick hit the line — Brenden in a meet-record 23.71 seconds, Ekmark in 23.9 and Leonard in 24.15 — for a 1-2-3 sweep by the Red Devils.
"They make me look like a helluva track coach," Kinnick coach Matt Martinez said with a smile.
"They" are the Lynce brothers, who since their arrival at Yokosuka Naval Base in Japan 15 months ago from Indian River High in Chesapeake, Va., have provided a much-needed spark for Kinnick's boys basketball, track and football teams.
Brenden, a senior sprint and hurdling specialist, and Leonard, a junior who high jumps and runs sprints, have the Red Devils competing for top Kanto Plain Association of Secondary Schools boys honors with longtime league powerhouse St. Mary's International.
"I feel like we're the power this year," said Brenden, unbeaten in seven individual Kanto Plain events and, counting the Petty meet, holder of 10 individual golds so far this season. He has not lost a hurdles race in 10 events dating to last season.
"We're almost like a diamond in the dirt. We're definitely confident," Brenden said.
Leonard hasn't enjoyed the same success, but he's a regular top-five finisher who, with Brenden, has "impacted the program," Martinez said.
"When you have two kids who potentially can place first or second in six or seven events, they can't help but impact the program."
Martinez has seen that impact in two sports, having served as defensive coordinator for a Kinnick football team that enjoyed its first winning season since 1998. The Lynces starred on both sides of the ball as the Red Devils went 7-3, a two-game improvement from 2002 and a five-game jump from 2001.
Leonard's star outshined his brother's on the gridiron, as he amassed 1,385 all-purpose yards and 17 touchdowns, at quarterback, tailback, linebacker and returner.
He averaged 10.7 yards, gained 655 yards on 61 carries, was 17-for-32 passing for 171 yards and three TDs and had 559 yards and five scores on 16 returns.
Brenden, at fullback, posted a workmanlike 847 yards and seven touchdowns on 84 attempts and terrorized many an opposing quarterback and running back from the defensive end position.
While the Lynce-pins piled up big numbers, they made it clear that it was a team effort.
"We can't take all the credit," Brenden said. "We've had good transfers and we had good people who were ready to work. Now that we have people to lead, they're ready to work twice as hard."
On the hardwood, the Lynces joined a cadre of solid returnees, including Ekmark, a sophomore guard, and senior three-point specialist Kevin Logan, in sparking a basketball renaissance at Kinnick.
From a 13-24 record and being ousted in two games from the Far East Class AA Tournament in 2002-03, the Red Devils improved to 22-9 and reached the Class AA final Feb. 21, where they lost 76-48 to Seoul American.
Without the Lynces, "we'd not have finished as well as we did," Ekmark said. "We would have had absolutely no rebounding. Leonard is the best defensive player I've ever seen and Brenden is the best post player I've ever seen."
Martinez is hoping such improvements will translate into Kanto Plain track league results.
For years, the Red Devils have been relegated to finishing well behind St. Mary's and American School In Japan, but he's hoping that will change this year. They've already beaten ASIJ and Yokota, two teams that topped Kinnick a season ago.
"The kids as a goal they set before the season, they wanted to compete with St. Mary's and ASIJ," he said. "Last year, they felt they didn't do that. This year, they feel they have a realistic chance of competing with a power like St. Mary's."
Dare the Red Devils dream that they'll overcome that St. Mary's-ASIJ hurdle on the league's biggest stage, the May 8 Kanto Plain finals at Oi Pier Ground near Haneda Airport?
"It's going to be huge," Martinez said. "They want that Kanto track title."
Though Brenden will graduate in June, another Lynce will soon be along to carry on the family tradition — Tomika, who plays basketball and will be a freshman next year. And the brothers say she may be the best player in the family.
"She can play all five positions," Leonard said of his younger sister. "She rebounds and has post moves like Brenden and plays defense like me."
"The legacy will go on," Brenden added.
---
---
---
---